Nokia Asha 502

phone Full Specifications, Price, Reviews

Price: Rs.

5349

INR

from

1

stores

It has 64 mb RAM. It is 3 inch phone. The display exhibits resolution of 320*240 pixels. 256K Colors. At 133 ppi, we don't hold high hope from the display richness. Talking about its physical form-factor, the device measures 99.6 x 59.5 x 11.1 mm. A 5 megapixel rear camera is present. Nokia Asha 502 doesn't have a front camera.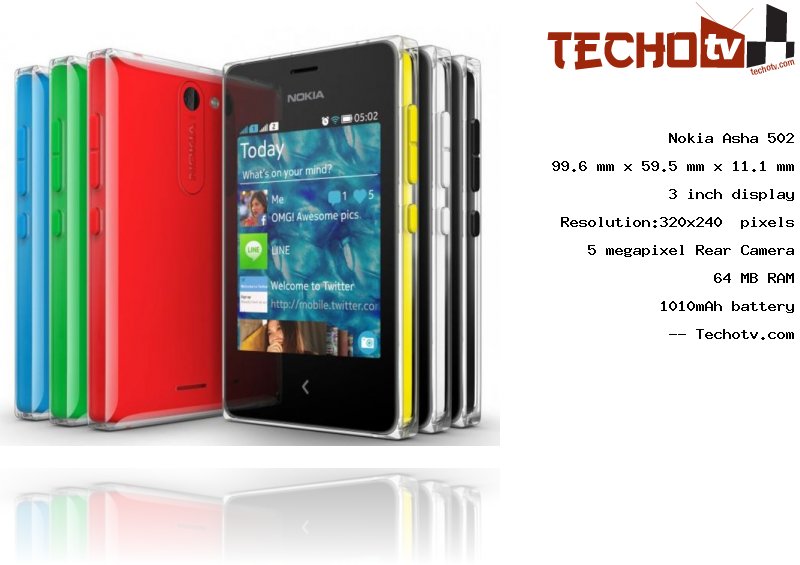 Nokia Asha 502 Price in India *
Rs.

5349


for

Nokia Asha 502 (Black)

* These are the latest prices, daily updated but this is beta(experimental) price module, and the prices may be shown for a different product or different variant/model of the same product, hence the exact product names are specified for no confusion.

You can buy Nokia Asha 502 phone from the given stores online anywhere in India
The best offer i.e. Nokia Asha 502 cheapest price is Rs. 5349
Name
Nokia Asha 502
Brand
Nokia
Screen Size
3
Screen Resolution
320x240 pixels. 256K Colors, 2-fingers touch
Pixel Density
133 ppi
Height
99.6 mm
Width
59.5 mm
Thickness
11.1 mm
Weight
100 g (3.53 oz)
RAM
64 MB
Memory Card
upto 32gb external
WiFi
Wi-Fi 802.11 b/g/n
Dual Band WiFi
no
Bluetooth
Yes, 3.0
3G
no
4G
no
Camera
5 megapixel
Flash
yes
Video Recording
yes
Video Recording Quality
QVGA @ 15fps
Front Camera
No
Release Date
October 2013
OS
Nokia Asha software platform 1.1 with Swipe UI
NFC
No
Battery
1010mAh
Other Features

available in dual sim variant as well - Nokia Asha 502 dual sim.
fm radio
preloaded apps like facebook, whatsapp, twitter
free downloadable games
available in Bright Red, Bright Green, Cyan, Yellow, White and Black colors.
Similar phones - Related Products

Nokia Lumia 510

Nokia Lumia 610

Nokia Lumia 920

Nokia Lumia 520

Nokia Lumia 720
More Nokia Phones and Tablets