I'm always wondering how come a song, dance, music video (not in international English) is so popular. After a thing has become popular, people and the so-called experts can start reasoning to account for its popularity, but did someone predict it in such a degree before the launch? Even, PSY, himself, has not had thought that his Gangnam Style will become international phenomenon of success to such a scope that the music video will claim the no.1 spot on the world's no.1 online video website, YouTube, surpassing Justin Beiber's Baby record views. PSY's Gangnam style has been watched over 810 million times since its uploading on YouTube back in July, 2012 whereas Justin Beiber's Baby has been watched over 803 million times since its February, 2010 launch. So, indeed it is surprising, astonishing, awe-inspiring that – what it took baby more than 2 years, it took horse rider just about 5 months (Well, baby will take time, a horse rider will be speedier, won't ?). Not to mention, the numbers are counting higher at a great rate still. Of course, these numbers are for the official uploads, not for countless unofficial uploads of the videos by fans on YouTube, which if added to the total, will sum upto a lot more groping number.
Watch PSY's Gangnam style official music video and share the delight!
PSY is South Korean rap star and now shares steps/moves with some of the world's eminent Hollywood and business tycoons at several occasions. Gangnam style is named after a district called Gangnam in Seoul. The music video has catchy musical tunes, comic and amusing dance moves, and distinct cinematography as well. Apart from setting top record in native country, Gangnam style held top spots on several other international charts for several weeks. Several parodies and reaction videos have surfaced on YouTube from various artists. Real name of artist PSY is Park Jai-sang. He was sent to United States for business education but he pursued music and so graduated from Berklee College of Music in Boston.
Other achievements of Gangnam Style :
Most liked video on YouTube and so, has won Guinness World Record.
Most Watched Video on YouTube.
First K-Pop Song to top UK Singles Chart
Most viewed K-Pop video on YouTube.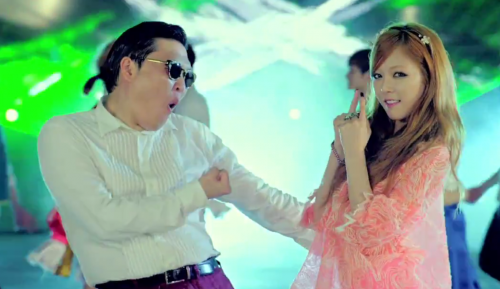 Well, such instances of astonishing success when it comes to music videos is really worth studying. Of Indian origin, 'Why this Kolaveri Di' is one such fine example. Although, we can't compare Why this kolaveri di with Gangnam style as the latter stands at much higher rank, yet we may sometimes ask ourselves – Do they deserve such success? Put your views in comments below.