In one of our previous posts, we have talked about how we can download yahoo messenger and use it to chat with friends as well as unknown people in chatroom. But, what if we want to chat with our yahoo buddies online without downloading yahoo messenger client software. In gmail, we have gmail chat option right inside the mail account. Likewise, in yahoomail, we have yahoo messenger functionality built in so that we can use it to chat with our online yahoo friends without the need of downloading any kind of software or program. Earlier,web based online yahoo messenger could be accessed on webmessenger.yahoo.com but from November, 2011, the service on the said url has been discontinued and integrated with yahoo mail. So, now you can access yahoo messenger online in your yahoo mail account. You can also user online yahoo mail account to chat with Facebook friends if you've integrated Facebook account with yahoo messenger. Here is how to do it :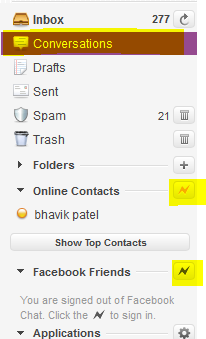 Go to mail.yahoo.com and sign in using your account details.
In the left sidebar, you'll see Online Accounts. There all your online buddies will be listed.
If no contacts are shown, you might be signed out of yahoo messenger. Just check whether the lightning bolt icon next to Online Contacts is highlighted in yellow color. If it is not, just hit the icon, it'll sign you into yahoo messenger online service and all online contacts will be shown.
To sign out of yahoo messenger, just hit on the lightning bolt icon and choose your preferences whether you just want to sign out there or everywhere when asked.
To chat with any buddy, just click on his name and a new tab will open within your yahoomail account. Start yahoo chat in the im window. You may even click on Mobile icon to start sending sms on his mobile. Hit on the emoticons icon above the message box to bring up smileys list.
To show offline contacts, hit on Show Top Contacts button. If the contact you're looking for is still not displayed. Just Hit on the Contacts button at the top just right to the Inbox tab. Now, in the contacts list, tick your desired contact. All its information will be displayed along with a tiny link to yahoo messenger id. just click on his id there and it'll open up a IM window in new tab. Send your message then.
To chat with facebook friends, just hit on the lightning like icon next to Facebook Friends label. You'll be signed in. Start chatting.
To check history of all your yahoo messenger chat conversations, just click on the conversations label in the left pane located just below inbox option. It'll list all conversations made on YM either through web interface or through YM software. Note that Yahoo started to save all your conversations online in yahoo mail account. So, yahoo chat messages will always be available online until you delete the same. Also, with this feature, you can access and read your past chat messages on any computer by signing into yahoo acc.
Of course, the web based interface is not as convenient as the software is. But online interface helps a lot in terms of portability, urgency. If you want full-fledged experience, you can always download yahoo messenger free.