If you've not used Yahoo Messenger software before, I know how excited you might be to download it and give it your go. Because, for the first time, when I used it – I felt wonderful, I was impressed, I liked it at first instance. I was able to do video chatting with my friend sitting thousand miles away from me. I was able to do some fun with unknown people in public chat rooms. I, along with my friend, were able to doodle, to draw something on the screen together. My first experience, I still remember.
Technology has distanced people, many people claim, but it has provided many ways and tools to compensate for the same by opening easier communication channel online. It has not actually made communication gap, rather changed the way we communicate. Technology with the help of internet has broadened the scope and form of communication possible in the present world. It has brought the entire world closer and has made the world, its people more communicative and open-minded than ever before because technology doesn't induce disparity, rather facilitates the same power to everyone to help them express themselves. Now lets switch back to our main topic here – Yahoo Messenger.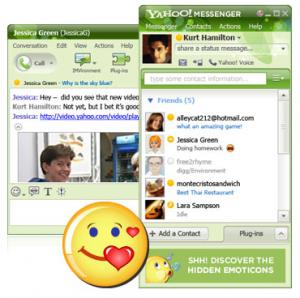 Yahoo Messenger is instant messaging software client via which we can chat with our friends, families in form of text or audio/video. Apart from acquainted, we can chat with strangers in public chat rooms based on our taste and can even make new friends. Although, spamming activities on Yahoo messenger network have increased considerably which doesn't make public-chatting experience good as it becomes hard to distinguish between real persons and intelligent programmed bots. Nevertheless, Yahoo Messenger is still one of the most popular and dominant instant messaging client for connecting with known as well as unknown persons. Given below are the features of Yahoo Messenger :
Instant Messaging with any person – You can chat (text) online with anyone on yahoo. The chat happens in realtime. It is so spontaneous that you can even see when the other person is typing a message.
PC to PC voice call – You can talk with other person for free online using the mic of your computer. There might be certain call-drop issues if you have very slow internet connection otherwise it'll be like talking over phone line.
Video-Chatting – You can do video-chatting online with your friends and families. You'll be able to see your relatives online and talk with them. Video-chatting is unique kind of experience every time I do, no matter how many times I have done this, I still feel excited about online video-chatting. Of course, for video-chatting, both sides should have working webcams.
Send SMS for free to your friends on their mobile number using Yahoo Messenger. This is great option in yahoo.
Chatting in your local language. Yahoo Messenger supports several languages and also offers transliteration based typing mechanism which makes it easy to type in other languages using our regular English keyboard.'
Ability to chat with strangers in public chat rooms and make friends.
It notifies you whenever new yahoo mail arrives for your account and thus acting as mail notifier.
Access to other yahoo services like yahoo games, news, videos, music, etc with just a few clicks.

Ability to integrate your facebook account and to chat with your facebook friends right within Yahoo Messenger

.
Several funny and emotions-depicting yahoo smileys and emoticons available to add emotional meanings to our conversation.
Support for IMvironments which change the background display of conversation window changing the mood and feel of chatting.
Tight integration with your yahoo mail account and several other features
Download Yahoo Messenger Online Installer from here
Online installer is small setup file of Yahoo Messenger but during installation of the program, internet connectivity is required.
Download

Free

Yahoo Messenger Standalone installer from here
Standalone setup file is about 10-20 mb in size but it is a one-time download and therefore during installation of the program, internet connectivity is not required.
Techotv Rating for Yahoo Messenger – 4.1/5
What do you think of Yahoo Messenger? We'd love to hear from you! Keep reading our blogs for yahoo messenger tips.