Taking leaps and bounds, it amazes us the way technology moves forward. Few years back, we were using Symbian devices from Nokia and were content with those under-powered devices while some used windows phones. Those with deep pockets started using iOS devices i.e. Apple iPhones. But then, android platform rose, initially not given due respect, but sooner stormed entire smartphone industry with growing popularity, ease of use, flexible ecosystem. Taking cue from the changing trend and market demands, Microsoft reviewed their phone platform and came up strong with Windows Phone 7, and later 7.5 (mango), but still, these were not upto what the competition were offering and lacked support for the latest multi-core processors and other hardwares that forms constituent of high-end successfully selling android smartphones. Furthermore, WP 7 platform lacked developers support and so not many great apps and games were available for this phone os. So to overcome most of these issues, Microsoft has finally come up with a more refined, retouched os i.e. Windows Phone 8.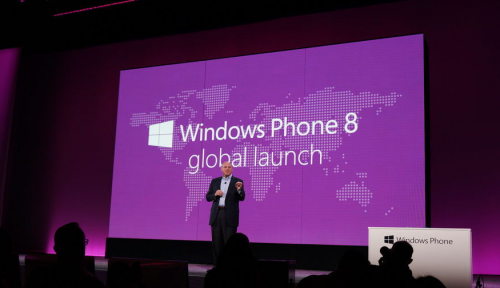 Features of Windows Phone 8 : What's new
Let's see what we can expect from a Windows Phone 8 smartphone :
Support for multi-core CPU – WP 8 now fully support processors with dual-core or quad-core i.e. upto 64 cores. But, there is difference between supporting and actual implementation. Currently we're seeing wp8 devices with dual-core capabilities, but we're hopeful of seeing quad-core windows phones in upcoming time soon.
Support for higher screen resolution – Windows Phone 7 supported display resolution of just 800 x 480, but Windows phone 8 supports resolution of WXGA (1,280 x 768), 720p (1,280 x 720) in addition to 800*480. This bring windows phones at par with current-generation android smartphones, but not at par with upcoming lineup of exotic android phones, as we've reported about HTC J Butterfly which sports 1080p display and  taking this example as starting hint, we expect more android phones to rock 1080p Full HD display soon.
Support for external memory cards so you can now easily add extra storage capacity to WP 8 phones.
Native Support for NFC as NFC is catching up on more and more devices.
Minimum requirements for devices running Windows Phone 8: 512 mb RAM, 4Gb flash memory and dual-core processor, multi-touch capacitive display supporting atleast four simultaneous points of touch.

The live tiles can be easily resized

. The live metro tiles now occupy the full width of your phone, not leaving unused space as was the case with previous edition of windows phone. The Lock Screen is now more customizable as direct wipe in access to unread text message, email or missed call logs. Apps can make use of dynamic lockscreen background to present useful and relevant content directly on the lock screen without the need to unlock the phone to divulge details.
The keyboard with wordflow technology has improved as it predicts better and helps you in typing really fast, something similar to prediction algorithm of Android swiftkey app. About 60 keyboard languages support along with support for 50 UI languages.
Free 7 GB cloud storage, cloud backup of your data, automatic uploading of pictures on the cloud while you snap it, office documents syncing, etc.
With xbox Music pass subscription, access to millions of songs. Songs bought via xbox music on windows pc/tablets or xbox game console is also stored on cloud so that you can play those on your phone.
Beside syncing with cloud, you can sync your windows pc or mac pc, windows media player or itunes easily with a free application provided by Microsoft. Windows 8 has inbuilt support for direct syncing of windows phone 8 devices.
Deep skype integration with always on feature. You can receive calls and messages like cellular call.
With Kid's corner, you can enable a guest account/user profile on your smartphone and thereby, limiting access to certain apps and games without being worried about your personal data or stuff. This is great for parents to share their phone with kids without being concerned of something unexpected.
Microsoft's tellme service which acts on your voice to open apps or execute certain commands. It can be activated by long-pressing start button.
You can now take screenshots by pressing start key and power button together on Windows Phone 8 smartphones.
A new wallet app is there which combines goodness of Apple's passbook and Google's wallet. It can be used to save deals, remind you of expiring deals, make payments via NFC-enabled mobile payments mechanism.
 DataSense feature is there which keeps track of your data usage to warn you if you're exceeding the default subscribed data plan. It also helps you find wifi hotspot and compress webpages on fly to allow you to do more on the same data plan.

Windows Phone maps now combine the features and usability of Nokia maps

. Taking help of Nokia mapping technology, windows phone 8 maps now provide you offline access to maps, improved traffic data coverage, etc.
Another useful touted addition is People Hub via which you can group certain contacts and interact with them via messaging, posting pictures, sharing ideas, location ,etc. It's like your family chat-gossip room or a social network limited to select people.
Lens apps for camera for adding effects and filters to default camera app.
Other useful additions are Internet Explorer 10, Company hub, more color themes (upto 20), several other new features and improvements.
High-end Windows Phone 8 Smartphones
These three WP8 phones are prospective to Microsoft for the spread of Windows Phone 8 ecosystem among high-end users and so Microsoft has featured these three even in their demo and ads.
Samsung ATIV S Windows Phone
Samsung ATIV S flagship smartphone from Samsung on Windows Phone 8 platform features 4.8 inch display similar to that of android flagship counterpart i.e. Samsung Galaxy S3. The display is of Super Amoled type and is magnificent on WP8. It measures 5.40 inch in height and 2.78 inch in width. It is just 0.34 inch thick which makes it undoubtedly the thinnest windows phone 8 device at current, unlike HTC 8x which is curved around edge to give an impression of thin profile.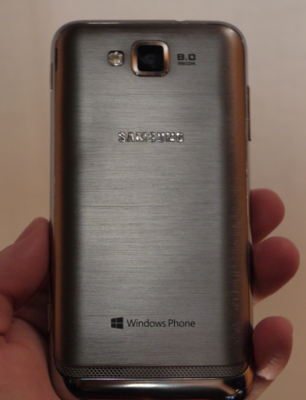 Design wise, it beats its android counterpart i.e. Samsung Galaxy S3 as ATIV S has brushed metallic back with ample sound grill at the bottom. Technically, it is as powerful as other flagship phones from other manufacturers like HTC and Nokia featuring 1.5 GHz dual-core processor and 1GB RAM. It has 8 mp rear camera and 1.9 mp at front, which are not as good as Nokia Lumia 920 PureView camera. It doesn't have LTE capabilities, just HSPA +. It does have NFC support, Micro-SD card slot. It will be released in two size variants namely 16 GB model and 32 GB model, but its availability and price of Samsung ATIV S is not revealed but is likely to be in November.
HTC 8X WP8 phone
HTC 8X is smaller than Samsung ATIV S but touts great design and native touch and feel of WP8 color schemes. Sporting similar processor and RAM capabilities as other high-end WP8 devices i.e. 1.5 GHz Snapdragon S4 dual-core processor with RAM of 1 GB. It features 8 megapixel camera with backside illumination and ultra-wide angle supporting front camera of 2.1 megapixel. It has display of size 4.3 inch.The price of HTC 8X is not yet revealed, but it is likely to be available from November in stores. Check out HTC 8X. HTC 8X is featured in Windows phone 8 ad by Steve Ballmer, so this hints that this phone has caught fancy of folks at WP 8 team.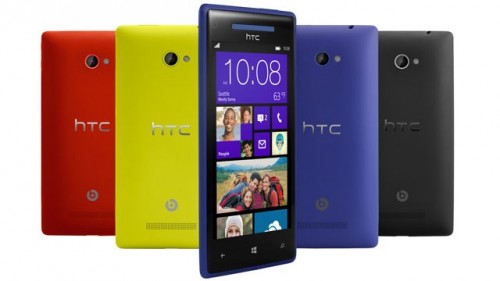 Nokia Lumia 920 Smartphone
Nokia Lumia 920 is wp8 phone with the best camera, and the flagship phone from Nokia, on which the finnish handset maker has laid its hope for revival of its position in smartphone market. PureView camera with floating lens technology is one of its own kind and is touted to be the best camera on any smartphone in the market (Exception is Nokia 808 PureView). Powered by 1.5GHz snapdragon dual-core S4 processor, 1GB RAM, Adreno 225 GPU, Nokia Lumia 920 promises the same performance as HTC 8X or Samsung ATIV S. The display is 0f 4.5 inch size which makes it between 8x and ATIV S. The display is of PureMotion HD+ IPS type which promises improved legibility outdoors. And did I mention support for wireless charging?Learn more about Nokia Lumia 920. The price and release date of Nokia Lumia 920 will vary from region to region, but you don't have to wait much longer to get your hand on this beautiful phone.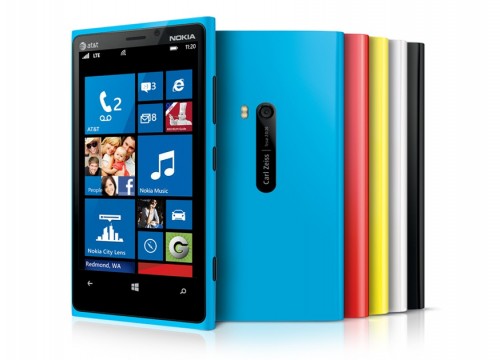 Windows Phone Store has already crossed 100,000 apps mark. Developers can now easily port their windows 8 apps to windows phone 8 because of support for C, C++ and DirectX. We'll keep you posted with recent developments and reviews, hand-on with latest windows phones. Of late, Gameloft has announced 12 new windows phone 8 games including Ice Age Village, N.O.V.A. 3: Near Orbit Vanguard Alliance, Modern Combat 4: Zero Hour, Shark Dash, Asphalt 7: Heat, The Dark Knight Rises, UNO & Friends, Order & Chaos Online, The Amazing Spider-Man, Fashion Icon, Texas Poker for Prizes and Real Soccer 2013. So, get ready for some hardcore gaming on your new WP8 handset. Like us on Facebook or Subscribe to our blog to keep your gadgets love alive.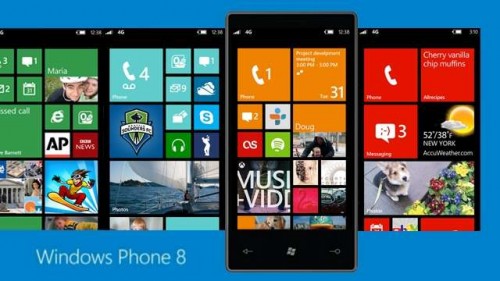 Share your views about WP8 in comments below.