In one of our previous posts, we described tutorial on how to create wireless ad-hoc connection on windows 8 computer to share internet of your pc/laptop with any other devices running any OS be it android or anything else. This feature is popularly known as WiFi HotSport and Tethering on android phones. We can share the internet connection on our laptop via WiFi with other devices by using a router, but for router we need to invest our money to buy it. Hence, in this article, we're listing other alternatives that can help us with internet sharing without the need of a physical router. For this, we need to turn our computer into WiFi HotSpot via virtual router program. If you do not want to use any third-party program, let me tell you that Windows 7 or Windows 8 has inbuilt feature to create such WiFi Hotspot and we've already discussed that in the linked article. But, those users who want ready-made tools for this purpose, use Virtual Router freeware program. This tiny utility is free and doesn't contain any ads. Here is how to use it: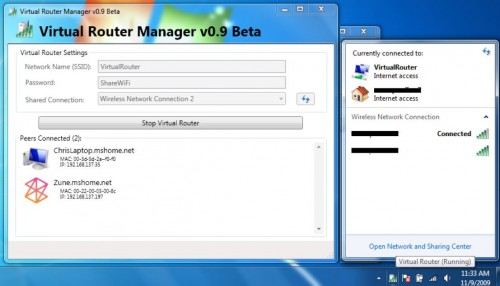 Download Virtual Router for windows 7, 8 from here.
Make sure your computer is connected to internet.
Install and launch this program.
Under Virtual Network Settings, Enter network name and password of your choice. You'll have to enter the password on other devices that you wish to connect with your computer's WiFi internet.
In the shared connection, select the internet connection of your computer. This must be working internet connection that you computer uses to access internet.
Now hit on Start Virtual Router button. Done!
Click on Stop virtual router button when you wish to stop sharing.
It also displays the devices connected to virtual router.
If you face any problem using virtual router program, you can follow the link given in the first paragraph on how to do this manually or watch the video given below on how to do the same without using any program. For other issues, use the comment section.