Heeding to the request of helpful windows community, Microsoft has finally made ISO file of the latest windows 10 build, which is build 9879 at the time of writing, available for direct download from its official website so that users can easily update their windows 10 running machine with the latest build instead of logging agonizing hours in frustration, anxiousness and wait for the inbuilt automatic update/download process to complete, which are always enabled and can not be disabled by user so those with slow internet connection or multiple systems know the agony. This is helpful as updates are usually large in size for Windows 10 technical preview. User can also make fresh clean installation of the downloaded iso file on a new system or several, or on virtual machines/platforms.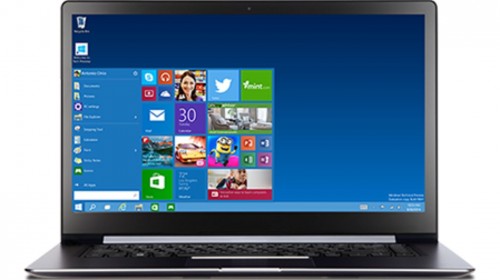 Windows 10 technical preview is free to download and use until April 15, 2015. As is the custom with Microsoft before releasing any new operation system, the company usually releases beta/preview version for free so that thousands of windows enthusiasts could test it and help Microsoft refine it further for final public release. Hence, Microsoft also collects certain data about installation, usage of the free preview version from its users, so if you're worried about privacy, don't forget to check their terms of privacy statements. Also, since this is pre-release version, it comes with its own set of bugs, issues, which are being fixed based on feedback collected, so this is not considered stable for your precise work environment of uninterrupted digital life.
Windows 10 ISO files are available in x86 and well as x64 version for 32-bit as and 64-bit systems respectively, so download the correct version based on your system (If you've 4gb or RAM or higher, you need x64 or 64-bit version). It is available in four languages – English (UK and US), Chinese, Portuguese.
Download latest Windows 10 Technical Preview for Free from Official link here.
To install windows 10 on a new system, you can either create bootable dvd disc by burning the downloaded iso file or you can create Windows 10 bootable usb drive/pen drive by using windows usb/dvd download tool from here. It is a tiny program simple to use. Launch the software > Select the iso file > select usb drive > It'll prompt you to format usb drive > Proceed > Wait for the copying process to complete. Done! Then boot your system via the pen drive (Make sure usb is selected as the priority boot device in system BIOS).
The official free key for Win 10 tech preview release is:
NKJFK-GPHP7-G8C3J-P6JXR-HQRJR
Don't forget to note it down before beginning installation. If you decide to revert back to your old windows 7 or 8, you'll have to reinstall your old windows. For any further doubts or questions, feel free to ping us here via comments.