Panasonic entered Indian market with the supposedly high-end handset – Panasonic P51 priced at Rs.26,990, a quad-core phone with 1GB RAM, 5-inch HD Display, 8mp camera, dual sim capabilities. This is the first smartphone from the company that's been launched in India and the company aims to bring 8 more smartphones in targeting entry-level to high-level segment varying between price bracket of 7,000 to 35,000 INR. That's good news. We welcome wholeheartedly the Japanese company that is well-known for its wide array of electronics products. But something isn't right about their smartphone strategy.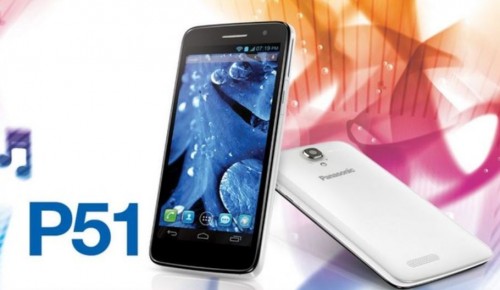 In India, we've have two distinct categories, strictly speaking, two distinct divisions of smartphone market. One is the category ruled by the likes of Micromax, Lava, Karbonn, Spice, etc. The other one is, as you guessed, ruled by Samsung, Sony, HTC, etc. The competition, product specifications, the standard way of marketing – everything differs between the two broad categories that're being narrowed day by day, thanks to the successful push and moves by the former category (mmx, karbonn, lava, etc.). The product specifications of Panasonic P51 matches very much to that of Micromax A114 Canvas HD phone. P51 is powered by the same MediaTek chipset. It has HD screen like that of MMX's. In fact, apart from the very minor/subtle differences, there're not much considerable differences in the specifications of the two phones, but the price difference is as high as anything. P51 costs double the amount that you need to buy Micromax Canvas HD.
So, the question is – Is Panasonic really in such a position that it can get away with pricing its product doubly higher?
Panasonic is not Samsung. Furthermore, at the P51's price, you can buy Samsung Galaxy S3, which is much better than P51 in terms of specifications and performance power, features, developer's support, etc. If Panasonic really wanted to enter above 20K priced smartphone segment, it should have come up with products matching the likes of Samsung or Sony products, rather than that of Micromax. Or at least, something really innovative, unique or different that justified the pricing. We need to find words in the dictionary to comment on the courage shown by Panasonic to launch Canvas HD's alternative at SGS3's price, or shall we say that, Panasonic's pricing strategy is sign of weak market study and analysis (if we can't say it foolish).
As far as I know, Indian market is the best of budget-conscious markets. We, consumers, spend more time researching products than actually buying it. Of course, Panasonic could get a few rich and wealthy customers who either don't care about what they're buying or who doesn't know that a product like Micromax Canvas HD exists. Else, I don't find any compelling reasons to choose Panasonic P51 over Canvas HD.
So, Panasonic didn't enter our market with a bang, rather with an unreasonably priced smartphone that is destined to stay put in store shelves hitting dust. If the pricing strategy is not adjusted as per device's technical catalog, future products launch from Panasonic may not strike our impressions at all. We await healthy competitive entry of Panasonic in Indian market.
A quick recap of Panasonic P51 Specfications:
Screen Size of 5 inch (12.7 cm).
Display Resolution: 1280x720
Display Type: , IPS Display with scratch resistant Asahi Dragontrail glass protection
CPU: 1.2GHz Quad core processor
There is 1 GB RAM.
It comes with internal memory of 4 GB.
WiFi- Wi-Fi 802.11 b/g/n
Bluetooth: Yes, 4.0
Primary Camera at the rear: 8 megapixel
Front-facing camera- 1.3mp, 720p video recording
Out of box, it is loaded with Android 4.2 Jelly Bean OS.
Battery Juice of 2500mAh.
More here: Panasonic P51 Full Specification, price