Just when Google announced the next major android update in form of Lollipop release, you wondered how long before you get it on your current smartphone. Android 5.0 Lollipop is major update as Android 4 and further sub-versions have had a long run and three distinct flavors – Ice cream Sandwich, Jellybean and Kitkat – all these under 4.x.x. With Android 5, several new features and design changes are on board – material design, new notification style, default ART runtime, 64-bit support, enhanced security, performance and battery benefits, RAW image support, etc.
Flagship HTC phones users have their answers from the official mouths on Twitter – within 90 days.
So, if you own HTC One M7 or M8, you've all the more reasons to rejoice as HTC will release Android 5.0 Lollipop firmware update to your devices within 3 months i.e. by January 2015. Frequent and faster updates are one of the benefits promised under "HTC Advantage" campaign. Google Play Edition devices will receive lollipop update faster, probably in Nov-December. These two devices are not the only ones to get Lollipop love, reportedly, other devices like HTC Butterfly 2, HTC One E8, One Dual SIM, Desire Eye, etc are also in the queue.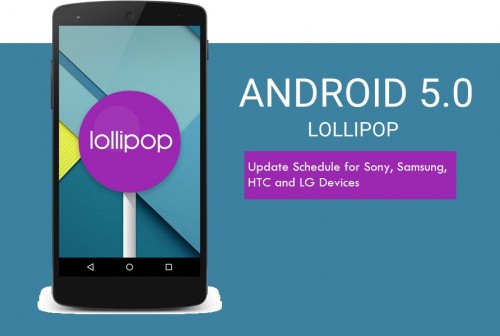 However, as per another source (upleaks), HTC M8 will not get Android 5.0 update with Sense 7 as it has not yet been ported to M8. So, Android Lollipop with Sense 6 will be released first and sense 7 update might be pushed at a later date.
Samsung flagship phones like Galaxy S4, S5, Note 3, 4, etc will also get Android 5 firmware update, albeit, Google play edition will get it faster. Expect leaked build sooner and final release of lollipop touchwhiz firmware by January, 2015.
Sony is also not behind. The company has officially stated on its blog earlier that it will release the newest android version to its entire range of Xperia Z series products including smartphones and tablets: Xperia Z, Xperia ZL, Xperia ZR, Xperia Tablet Z, Xperia Z1, Xperia Z1S, Xperia Z Ultra, Xperia Z1 Compact, Xperia Z2, Xperia Z2 Tablet, Xperia Z3, Xperia Z3v, Xperia Z3 Compact and Xperia Z3 Tablet Compact. Of course, the latest devices will be the first to get the update i.e. Z3 and Z2, and gradually, other xperia z devices will be updated too. Sony has not yet declared exact update schedule but January, 15 is what it meant by stating 'beginning of the next year'.
LG has also confirmed Lollipop upgrade for its flagship devices like G3 and G2. LG Germany spilled the beans about the release date of the said upgrade for G3 in December. Lg G2 Android 5 upgrade will be pushed in the beginning of the next year. For other devices, LG has kept mum yet.
Google has started pushing Android 5.0 source code to AOSP repository and hence soon, third-party ROM users of CyanogenMod, Paranoid Android, etc. will get the pinch of lollipop flavor. Nexus smartphones and tablets will get android 5 upgrade in November. Motorola has also already confirmed for its latest devices.
If your device is not covered above, do not worry. Still, there are chances of getting update as it is still early. The premium high-end products will always be among the first to be updated. Keep connected with us and we'll inform you of any related news. You may also ask us in comments!