IPL 6 Season is about to begin and our cricket-crazy minds have already started wondering, making ideas and opinions, contemplating success and failures of teams and players. In short, we're excited and why shouldn't we? The first match of the IPL 6 tournament will start tomorrow i.e. April 3rd at Eden Garden in Kolkata between Kolkata Knight Riders and Delhi Daredevils. IPL 2013 matches will be broadcasted live on SetMax tv channel in India, but not everyone will get time to watch it on TV, so if you're looking for online sources to watch IPL 6, let us inform you that the online sources have not changed. It's the same as in the previous seasons. Indiatimes still hold exclusive rights of IPL streaming online.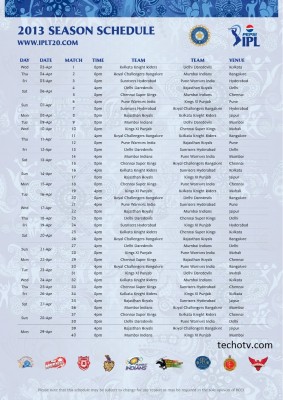 You can watch IPL 6 live streaming on Indiatimes official website here.
You can also watch IPL 2013 live online for free on Indiatimes channel on YouTube here. Highlights of matches will also be available on Indiatimes YouTube Channel. This is the fastest steaming option for IPL live Online.
If you're smartphone user, you can download nexGtv app for free, but to watch IPL 6 on mobile, you need to subscribe for small fee via this app. This app is available on android, iOS, blackberry, symbian also. Just visit respective apps store of the concerned platform to download it.
You can also visit iplt20.com – the official website of IPL.
We've also written about top android apps to get IPL livescores and stats. With growing internet popularity in country, online sources have proved to be very much worthy and useful. Previous year, YouTube had reported a combined pageviews of 113million, which is 55% increase in viewership (72 million pageviews in IPL 4).
For watching online, you need fast internet connection. If you've slow internet speed, the safe bet for you is to switch your TV on and navigate to SetMax channel. Do share your favorite IPL teams and which one do you expect to win this year?