As I have mentioned several times in our several posts on windows 8 tablets that those running on intel atom z2760 processor do not sport full HD 1080p display which is kind of disappointing because even upcoming smartphones are daringly sporting 1080p display. Well, that's not the case with Vizio Windows 8 tablet pc. Vizio has announced the launch of Windows 8 tablet of screen size 11.6 inch running on 1GHz dual core processor, but wait, it's not an Intel machine. The processor is AMD z60 which is the competing chip against atom processor. Running on AMD Z60 processor, this Vizio Windows 8 tablet has 1080p Full HD display, which makes it first of its kind. Also, note that this is the first win 8 tab based on AMD z60 processor. It runs full win 8, not win RT. The display is expectedly stunning, vivid, gorgeous.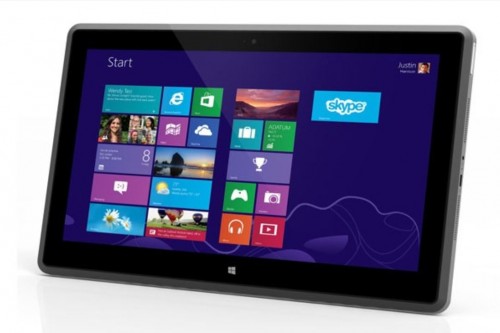 Apart from processor and display, the rest of specs are similar to those atom based windows 8 tablets. It has 2GB RAM,  64GB of SSD storage. It has 2 megapixel front camera. Micro HDMI, Micro USB are ports on this tablet. It also has micro-sd card slot for adding external memory card.
Is it better than intel atom based tablets? Well, the graphics is better, the performance will be just about fine (not very good – since the clock speed is just 1GHz while intel based machines sport clock speed of 1.8GHz). We have doubts for the battery backup of this tablet, especially since it has full HD display, and AMD processors have had heating issues. Like all other vizio computers, this has Windows 8 installed without any bloatware. The price of Vizio Windows 8 tablet has not yet been revealed, but we expect it to be competitively priced. It'll start selling from February. We can not put our points yet on its weight and thickness, which also matter. We'll update this post with full details and specifications as soon as we get more info. Connect with us on FB, Gplus, Twitter. Also, subscribe to our feeds via email.