Good news for MMX Canvas HD users! Micromax has released Android 4.2 Jelly Bean firmware update for A116 Canvas HD phone. This is official! To get this update on your phone, you need to visit Micromax Service Center as this is not available OTA (Over the air). Before visiting Micromax service center, contact them first via phone call to confirm if the service center has the required firmware update and will be able to update your device. (Credit: Reported first by MMXNewsCaster)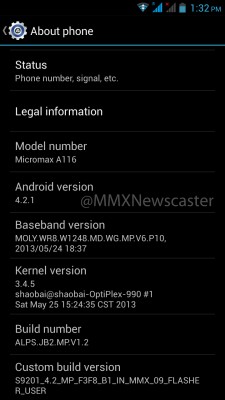 This Android JB 4.2 update of Micromax Canvas HD has features like (Changelog):
Improvement in overall UI appearance.
Better color reproduction.
OTA software update feature integrated for direct OTA updates in future.
Semi-transparent notification panel/window.
GPS issues fixed. Faster GPS locking enabled now.
Camera update with Panaroma features.
More faster, smooth experience and more stable Project Butter implementation.
Offline voice typing.
More quick toggles in notification panel.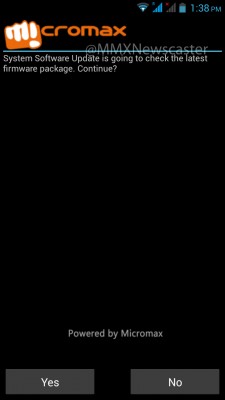 If you've received this update on your phone, do share your feedback in comments section below. With integration of OTA update feature in Micromax Canvas HD, users will be able to upgrade firmware without going to service center in future. So, this means that Android 4.3 update will be rolled out over OTA when it comes. This update was quick and the way Micromax has been serious towards providing after-sales support with regular firmware updates, it's definitely good sign. This phone is powered by Cortex A7 quad core processor, 1GB RAM, 5-inch HD display, 8mp camera. Canvas HD has been launched in February this year, but due to huge demand, it was sold out very quickly. This phone has not been available easily in stores for about 1 or 2 months leading to inflation in its price. Now, it's readily available and also the price has dropped down. You can check our regularly updated page for latest Micromax Canvas HD price. If you don't want to go through the hassle of going to service center, stay tuned with us as we'll publish tutorial on How to update Android 4.2.1 firmware on Micromax Canvas HD manually.