As soon as hangouts app was available on Google Play Store, I went ahead and tried to install it, but was unable to do so because of Google Talk app already installed on my phone as system app. So, I sideloaded hangouts apk on my phone and installed it. I posted a tutorial even for those other users who want to get it as early as possible on their phone. Later after a day, Google rolled out to everybody and every android user was able to update to Hangouts replacing the talk app on their phone. Soon, I realized that it's not the Hangout app that I wanted. The same experience and feedback was received from my friends.
People do love the modern-oriented interface, but how Google has compromised on usability aspect cannot be overruled.
After a day of usage, I found out that I'm using hangouts much lesser than the former Talk app that I used to. It appears as if Hangouts app is made for convenience of Google, rather than of its users. Here are few reasons why Hangouts is not meant for users as of now: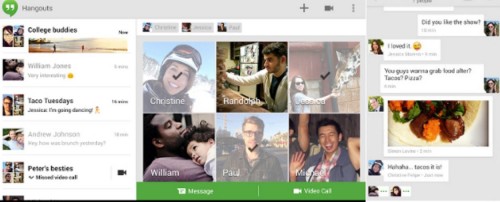 It's not a complete/finished product. In fact, it should be rolled out with 'beta' tag. In some cases, it acts slow. It takes a while to sign in to your account. It doesn't present you detailed status of what's going on.
It's not easy to figure out the status of your contacts. The names of offline friends are little faded, but that is confusing sometimes. We know that with hangouts, you can not go invisible, but you can not determine whether your online friend is in idle state or active state. I wonder what stopped Googlers from putting those green/orange colored dots beside contact names for a more manifest declaration of their status. Moreover, the six contact pictures at the top, bigger than the rest, can not be arranged. They're automatically arranged and you can not determine their online status by looking at their pictures.
You can not arrange contacts or sort contacts based on their online or offline status.
You can not initiate voice chatting. You'll have to initiate video chat and turn off your video feed, but the other person might be under the impression that you're initiating video-call instead of voice call.
You can send and share pictures in hangouts, but what about video, audio and other files?
You can not create shortcuts to selected contacts on your android homescreen, the way you can in whatsapp.
The integration of Google Plus Messenger, Google Talk, gmail chat, etc is not for users' sake, but for Google's sake. They want to maintain the unified messaging and communication service to make it more effective. We, users, have not seen much of practical significance and advantage in comparison to earlier times. In fact, the experience has not been more worthy compared to Talk app.
So, finally I uninstalled Hangouts app, which automatically brought back Talk app on my phone. I don't want Hangouts app just for the sake of those funny emoticons. It's not that I hate Hangouts app completely, but I think I'd wait more for a proper update to Hangouts app so that things would be less complicated and more usable by then. Your opinion in comments below!