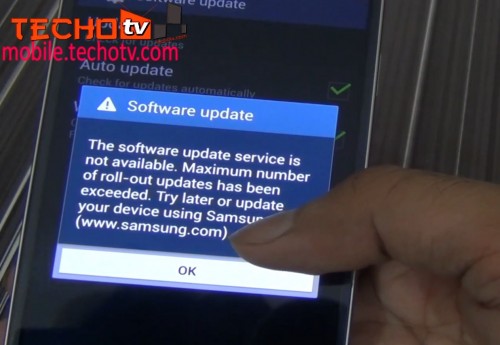 With OTA update (Over the Air), you enjoy the convenience of firmware update on smartphones without the need of a pc. As smartphones are gradually taking the role of a mini portable pc, OTA update makes great sense as long as it works well without issues. For Samsung, the story is not the same.
The OTA Firmware Update Issue?
Of late, I bought Samsung Galaxy S4 (I9500 – Exynos Octa version). Since, I bought it after about 2 months of its general availability in the market, Samsung has rolled out few firmware updates in the meantime, I knew about the same. So, among my 'top things to do with my s4' list, firmware update was one of them. So, I initialised firmware update via OTA (Over the Air) from the phone itself. I received 1st firmware update of about 55mb. Phone was successfully able to download the update and install the same without any issue. I again made check of software update via OTA and received another update of about 300+mb. This update was huge and so the download took time, but finally all was good. It was successful. Now, I again visited software update check feature on my phone because I knew that the current build number is still not the latest one, but this time, instead of update check, it threw me an error –
The Software Update service is not available. Maximum number of roll-out updates has been exceeded. Try later or update your device using Samsung Kies
Samsung Kies to no rescue?
It was like slap on my face. Have I been too greedy to get the latest update on my phone? Come On Sammy, why do you put such a hold in place? This signals us that Samsung may not yet have the required infrastructure to maintain flawless OTA updates. It's taking caution by limiting the number of updates request from a device. This is hard to grasp, at least from a consumer who has spent good amount of money on purchase of s4. Galaxy S4 is premium flagship series and Samsung should have taken measures to ensure that users of this smartphone shall not face any such problem. Well, my rant may seem little aggressive, but let me add more drama to the troubles, I've been facing. I downloaded Samsung Kies program in the hope that I'll get the update through kies. After downloading and installing kies on my pc, I connected the phone. It was painless, easy. Kies recognized the phone in an instant, but there comes the disappointing picture. Kies is not displaying the current firmware version of the phone nor any info on the latest firmware or if any update is available. This was adding to frustration. I visited Tools menu and tried initialize firmware update manually, but it presented me with another error that Galaxy S4 (GT-I9500) doesnot support firmware update initialization. WTF?
The Fix, really?
So, my last resort was to wait, but for how long was not clear. So, I waited 24 hours and then tried to update via OTA on my phone. It failed with the same error as earlier. Another 24 hours and then finally it's back to play. Now, it shows update available. Without wasting any moment further, I downloaded it and installed it. This is not really a fix, but a compromise you've to make – just wait for 48 hours if you're getting similar issues. There is nothing wrong with the phone. Samsung's firmware update mechanism is all messed up.
Another solution is to download the latest firmware from the web and flash galaxy s4 using ODIN program, but that's little technical for average users.