Realme X50 pro is the latest and the mightiest of all Realme smartphones. Not only is it flagship model from the brand, but also is one of the few released smartphones with 5G feature. Indeed, this is a powerful phone and highest priced model from the brand. Add to its top-notch specifications, it has glass body which the current generation of smartphone users love. To no-one's surprise, that glass body of the phone needs protection and so one should snap back cover on it to keep it from breaking. Smartphone beauty is fragile because it is used rigorously by us, and we don't handle things gently, do we?
Realme X50 pro is bundled with back cover inside its brand packaging box. So if you want to use that, don't worry because the brand has got you covered. Though, these brands (value for money) don't bundle earphones, but they do bundle back cover; as if back covers are more complimentary to smartphone experience than earphones. Anyways, sticking to the topic of this article, I am going to list top five best back cover for Realme X50 pro (as of writing this post – not many choices are available, so we'll update this post whenever we find any new back cover worth listing in this article) along with their price and link to purchase so that if you decide (now or later) to cover your phone with a beautiful case, you can do it easily, as we have shortlisted the best for you here.
ValueActive Carbon Fiber Rugged Armor Case for Realme X50 Pro
This case is made up of TPU material with carbon fiber design and rugged armor finish. As you can see in the pic, the top-half portion is also slightly raised to offer camera bump protection to quad camera lens module of X50 pro. There is also separate flashlight hole in the cover. The case is slightly raised on the front side as well to offer protection from fall. This case is available at Rs. 299.
Black Color Slim Soft Realme X50 Pro back cover
This cover is also black in color but doesn't have the rugged and bulky feel like the one mentioned above. This one is comparatively slim. It is made of soft TPU material and the case offers more flexibility. The fit of the case is snug. It has camera protection bump on the back as well as display protection bump on the front. It is a simple black color matte case. It is available for Rs. 199.
Rugged Armor Case with Ring Holder for Realme X50 pro
You can consider this case apt for rough and tough use scenario. It is bulky, strong and comes with a ring holder for easy attachment of the phone to your hand. The ring holder also lets you use the phone on kickstand. The look of this case kind of gives military-grade feel of protection. It is made of Hard polycarbonate material on the outside and soft TPU on the inside. This case is not flexible.
Realme X50 Pro Transparent Soft Back cover By Spazy Case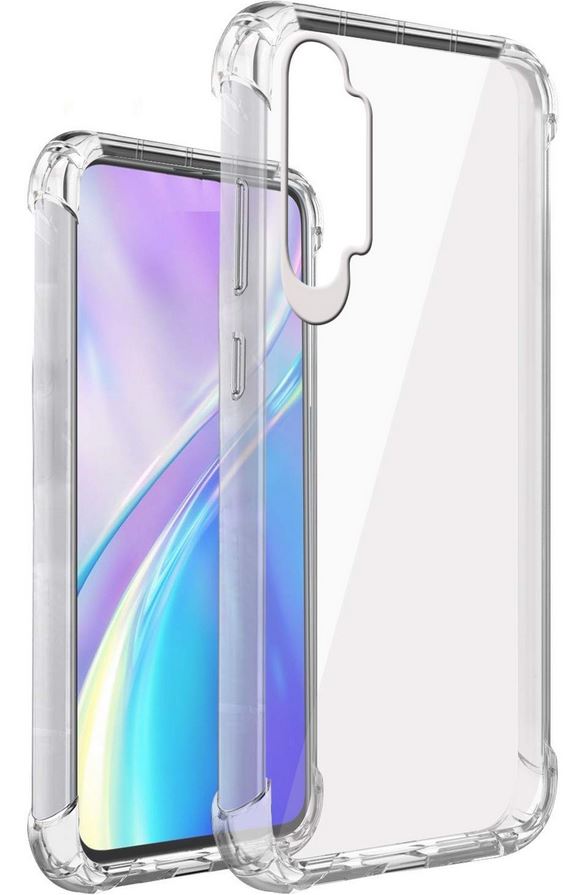 The phone comes with bundled transparent back cover inside the box so usually you don't need to buy it, however, if the cover has become dirty or soiled with scratches, you may want to replace the same. As of writing this article, not many choices are available. You can get this for Rs.249. The camera and flash cutout are a single unit i.e. merged. All four corners are elevated in comparison to the sides for added protection on fall. Cover is raised slightly on the front side as well i.e. protection for display as well.
Folks, for now, these are the covers that I could find online. Furthermore, there are custom covers with several designs printed on the back side, all of which are made from the same material, just the print is different on each one of them. You can even get your own images printed on the back cover as many sellers offer such customization option.