Motorola, the company which has downsized its business in major parts of Asia, including India, is now back with bang, or rather say with sound understanding of price-pinching Indian smartphone market. The company has earlier launched Moto G, a really affordable smartphone with great specs, and sold it successfully via its exclusive launch partner and online retailer, Flipkart. The alliance turned prospectively rewarding for both the side and so Motorola launched its latest Moto E in India via Flipkart again. The company is also planning to launch android wear Motorola Moto 360 smartwatch later in August via the online shopping site, Flipkart. Since the launch of moto e; bloggers, experts, all are singing praise of the smartphone. Nothing appeases us more than heart-reasonable pricing. The smartphone is already sold out resulting in 10-15 days shipping/delivery promises for fresh orders.
What makes this smartphone, Moto e, a value for money phone? It has Snapdragon 200 processor (Cortex A7). The processor is dual core clocked at 1.2GHz. It has 1GB RAM, good enough for multitasking. It has 1980mAh battery, sufficient to last a day, at least. It has 4.3-inches qHD display with Gorilla Glass 3 protection and anti smudge and splash guard coating for water resistance, display is designed to last. It has 5 megapixel rear camera capable of shooting FWVGA videos, alebit without flash and no front camera. It comes with the latest Android 4.4 KitKat OS with promise of future upgrades. It comes bearing a price tag (Rs. 6,999) that might make you buy one now.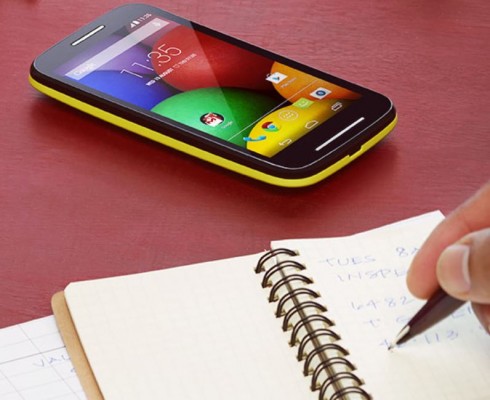 In this post, I am not here to discuss all the good that comes with Moto e, but all those features or specs that I wished moto e should have been equipped with to make a great phone with virtually no seeming compromises. So, here are the 5 reasons why you shouldn't buy Motorola Moto E.
Non-removable battery: Convenience of removable battery makes more sense to me especially for a budget phone. You could easily swap batteries anytime you want if it runs out of juice, or You could even add a higher capacity battery in future. You wouldn't have to visit service center to get the battery replaced( Also, service centers are not located at all places, or in rural areas). For premium high-end handsets, I may say yes to non-removable battery but not for budget-targeted smartphone. Moto e doesn't come with removable battery so it's not for you if you want such ease.
No Front camera: Everyone loves to take selfie. Video conversations are increasingly becoming part of our lives. Budget phones like Moto e also attract youths and modern youths want to indulge in self-shooting or video chatting. In fact, many buy phones like Moto e for communication ease via several online platforms like hangout, whatsapp, facebook, line, wechat, etc. Unfortunately, without front camera Moto e might not be the phone you wanted.
No Flash: Rear camera doesn't even have flash. Flash makes sense for budget phones. High-end smartphones have great cameras capable of capturing good enough low-light shots, but for a phone like Moto e, lowlight shots could be a nightmare. Also, flash could be used as occasional lighting accessory in dark. Flash has good utility in India and Motorola should have paid attention to this.
No HD video recording / Full HD Video playback not supported: Its camera can record FWVGA resolution videos only i.e. 854 x 480. If it could record 720p videos, it would have been great. Moto e can play 720p video but not 1080p videos, which means you have to be selective when pushing videos to memory card of your phone. This is in fact annoying, in my opinion. Convert videos before playing – should be a thing of past.
Low internal memory:

Out of 4gb internal memory, only 2.2gb is user available.

This means that installing as many app as you want could be a real problem causing slowness and frustration. I've also heard reports of trouble when moving apps from internal to external sd on this phone. Apps like folder mount or others could help by allowing you to install apps on memory card, but these apps require root. Rooting phone is technical process and it voids warranty. At least, Motorola could launch other variants with higher inbuilt storage capacity.
Motorola Moto e is good phone at the price at which it sells. It certainly is not the great phone. Otherwise the Moto e demerits/deficiencies listed here (at least the first 3) would not have made this list. A budget phone like Moto e should be made with rural population in mind as well. That way, Motorola would really serve Indian population by contributing to digitalization of the rurals. Also, selling exclusively via Flipkart further restricts rural access to this phone as Flipkart doesn't deliver in all areas. Selling via Flipkart certainly gives Motorola strict control over pricing and distribution avoiding market-based price interference, but it does hamper not only rural access but to those also who are not yet approving of online shopping.
The opinions expressed here are completely mine. I'm not trying to dissuade you from buying Moto e, but Moto e cons listed here are the deficiencies I wanted to point out so you should not feel buyers remorse later if any of these matter to you a lot. There are other Moto e alternatives as well available at around the same price (with discount coupons when purchased online), but remember no phone is perfect. Something of your choice will always be missing!