The beauty of modern web browsers is their flexibility. They serve as mini OS (in laymen terms) as they allow addons to be installed which could add exceptional unexpected features to your browser. So, this way, you don't need to leave your browser to execute certain tasks. Mozilla's addons repository is full of thousands of useful extensions. In this article, I'm listing top 5 firefox addons for dictionary lookup convenience. We all know that we can use search engines to lookup a particular word (For example, just type define:theWord on Google and it will show your its meaning), but this approach takes one extra step and it disturbs our reading or regular browsing experience. How expert you're in English, you'll encounter new and unknown words while you browse the web and you'd love to know the meaning of that particular word to add to your vocabulary. SO, by installing any of these preferred addons on your firefox browser, you can easily lookup words definitions without leaving the current webpage. This ensures smooth reading experience without much of hassle. So, let's take a look:
Dictionary Pop-Up by Dictionary.com (Official)
This if official Firefox extension from one of the most popular free online dictionary website. While on any webpage, you just need to click on the word of whose meaning you want to know. A small popup would appear on the page with its definitions and a link to know more. It also presents synonyms from Thesaurus.com.. It also includes pronunciation feature. You'll just need to click on the audio icon in the small popup and you'll be able to listen to the word's exact pronunciation (although, pronunciation require quicktime plugin to be installed). Moreover, you can customize the popup box to your comfort – you can adjust the pop-up display position (top of the word or below it), what triggers the pop-up display, whether to show synonyms or not, how many definitions to display, the font-size of the dictionary definitions shown, etc.
Go to this page from your firefox browser and press on Continue to Download button. Hit on Accept and Install in the next step.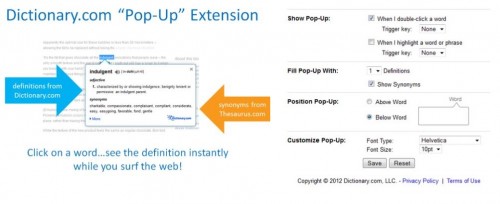 Dictionary Lookup Extension
This addon uses reference.dictionary.com to lookup selected words' meanings. Just highlight the word by selecting it, right click on the highlighted word, you'll see Define option. Go to the menu and it will show you the definition and explanation of the word. Add Dictionary Lookup Extension for Mozilla Firefox.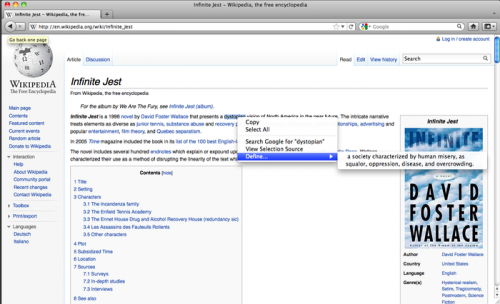 Multi Dictionary Lookup
This is also a very interesting firefox extension for dictionary lookup. As the name suggests, this addon provides you choices so that you can select the preferred dictionary be it babylon, the free dictionary, thesaurus, wikipedia, etc. You can specify list of preferred dictionaries which would appear in the context menu when you highlight a word. So, select a word, right click it and it'll display you few options to retrieve the definitions, meanings of the concerned word in a small popup box. Download and install Multi Dictionary Lookup firefox addon.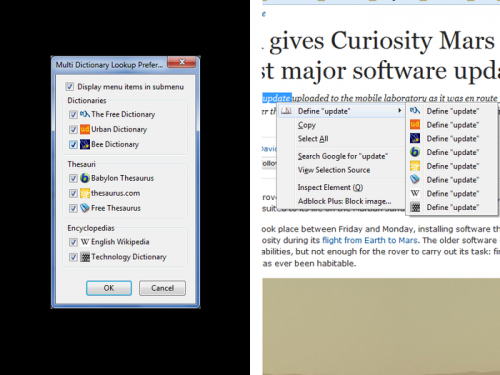 Dictionary Tooltip
This is also one of the popular firefox extension for dictionary lookup in the browser without leaving the currently viewed webpage. Select a word and then right-click it and choose view definition from the context menu. A popup will be displayed on the same page with relevant meanings, definitions and explanation of the concerned word or phrase. It also works by shortcut key ctrl+shift+K or double-click on a word. Moreover, you can customize the keys to adjust to your liking. You can also customize the dictionary source or add more dictionary websites to retrieve results from. It also gives you the ability to add note and review your history at a later time. Get Dictionary Tooltip on your firefox browser.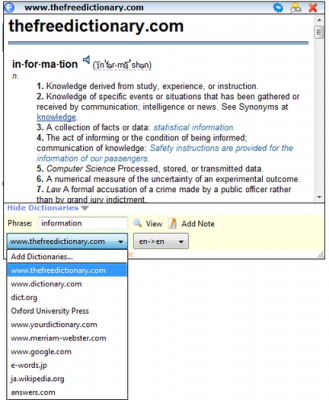 Quick Dictionary Lookup From BeeDictionary.com
This firefox addon provides word meanings, phonetics, pronunciation with audio option, usages in a neat popup when you press shift+right-click on the desired word. As the name of the extension suggests, it retrives definitions from BeeDictionary.com.. The only complaint that most users have with this extension is that it doesn't contain option dialog to change the shortcut key. We hope this may improve in future release of this addon. Add this firefox addon from here.

So, we've listed above best 5 extensions based on user reviews, ratings and popularity for dictionary lookup. We'd also like to mention another very useful addon which combines the feature of dictionary and translator. The name of the extension is Wikitionary and Google Translate. As the name suggests, this addon fetches words meanings from wikitionary and uses Google Translate to translate the words, sentences into the desired language inline. Double-click the word or phrase to see its definition or hold ctrl key and move your mouse over the text to translate the content into preferred language. You can even translate the whole page by hitting on translate button added to browser by this addon. It also has option dialog to customize shortcut key and the popup box style. Download Wikitionary and Google Translate firefox addon from here.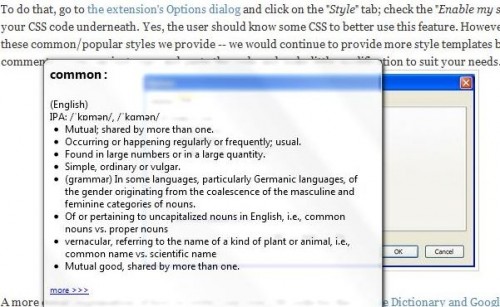 If you know of some other related firefox addons, feel free to point out in comments.