Downloading on pc is fast, easy and convenient, thanks to several third-party softwares and browser extensions available. But when we try to download large files on our android devices be it smartphone or tablet, we may encounter several issues, like not being able to resume downloads in case of internet failure or the downloading speed in slow compared to downloading on pc or the downloads not starting or retrying automatically after possible failure. Several such hiccups come when we download from our mobile device or tablet. Several browser apps like Mozilla Firefox, Google Chrome, Dolphin or stock browser, etc are there but none of them provide full-fledged download manager. My friend who downloads a lot on his mobile didn't even know that download managers for android existed which could provide users with same level of ease that they get on pc while downloading. In this article, we'll discuss the best android download manager with tons of features and options to manage downloading on our android phone or tablet, and the best thing about these apps are that they are all available for free:
1. Advanced Download Manager:
Out of all the downloader apps that I tested, I preferred ADM as it is the best in my opinion and experience, but I do ask you to try others as well and choose the one you like the most as most of these are relatively close in usage mechanism and features set. It tries to auto-capture downloadable files and links from supported browsers or just long-tap on the downloadable link in your default browser and choose open with app or share link and then select this app to initiate downloading via ADM. The same method applies for any other download manager app listed here in this article.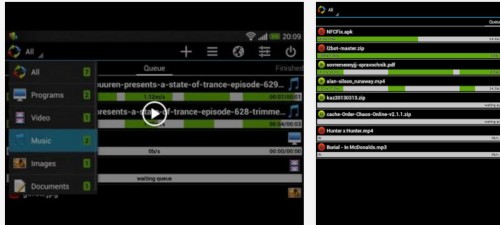 It runs the downloads in background. You can also easily quit its background running service from application interface.
It supports queuing, auto-retry, pause and resume.
It supports breaking the download into several parts (you can set how many parts) and initiating parallel/simultaneous downloads of all those parts using multiple connection to speed up downloads. (This particular mechanism is applied in various download manager programs on pc which makes the downloading faster)
It also has the option to enable cataloging. If this option is turned on, all your downloaded files are neatly arranged based on the file format into categories like programs, archives, video, music, images, others.
It also allows you to specify schedule for downloading. This is pretty neat and useful feature and you can set whether the download should use mobile internet or WiFi. For example, you can specify your home hours and WiFi downloading to use your home internet connection for downloads.
It also has auto-start on boot option so that it could automatically initiate pending downloads.
It also has the option to auto-stop its service after defined periods of inactivity so as to keep your android device free of its resources and to save battery. Furthermore you can specify downloads to pause automatically if the battery level is low.
Two Theme mode(Dark and Light) and option for customizing colors of the various elements of interface.
Inbuilt browser to capture downloads if you're unable to do so from your default browser, as well as the ability to specify user-agent.
It also indicates downloading speed and other details in notification panel so that you could easily peek at the progress without launching the program or switching to it.
Get Advanced Download Manager for Android from here
2. Loader Droid:
As I told you earlier, most of these download manager apps come with similar set of features. So, basically it comes down to what suits you the best, what appeals to you the most. UI experience varies a bit. It also has almost similar download capturing mechanism as in ADM.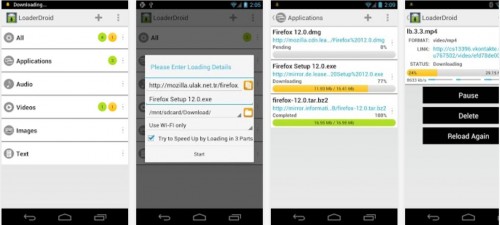 It has the option for setting default connection profile for all your downloads as well as individual ones i.e. you can specify whether to use WiFi only or WiFi + Mobile data.
It also supports pause/resume, multiple connection/parts parallel downloading, queuing.
You can specify the number of retries attempts to be made before declaring failed message.
It also has download scheduler to start downloads at specified time using specified connection type (WiFi or Mobile net)
Every time it captures downloads or it receives a link to download, it will present a dialog box to specify file storage location and other details. It doesn't automatically add and process downloads, because Auto-add feature is restricted to pro version of this app, not free version unlike ADM.
It also supports cataloging for organizing downloads into specific categories based on the file type.
Dark and Light theme.
Get LoaderDroid for android from here
3. Turbo download manager
The interface is quite simple. This app also comes with similar number of features as the two above: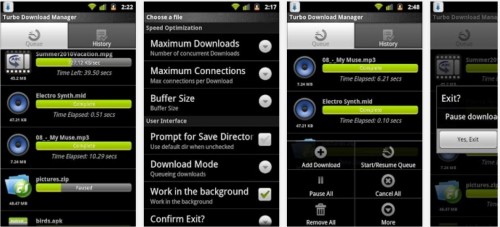 You can specifiy number of connections per download.
Whether to queue or start download immediately.
You can also specify buffer size and connection timeout values.
There is also Defensive connection option in preferences which is aimed to reduce errors on such servers which do not support multiple connections.
Get Turbo Download Manager from here
4. Download Manager For Android
Not many download managers are available on android. By default this app opens in browser mode. Its privacy policy looks kind of deterring and so is aggressive advertising. This app doesn't offer more options in preferences apart from the basic multi-part, downloads folder, etc. options.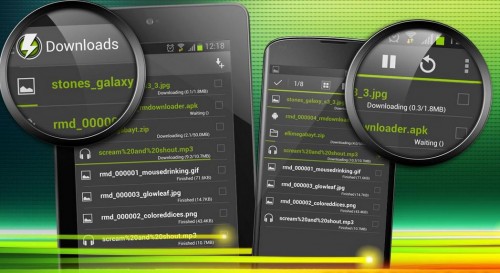 Get Download Manager for Android app from here
5. Easy Downloader pro
When you launch this app for the first time, it presents a nice and easy to understand startup wizard which shows you how to add downloads to this app and prompts you whether you want to limit downloading just to WiFi or to any network. There isn't much option in settings. It comes with browser mode and it uses Dolphin, firefox, etc as the browser if one of these apps are already installed on your device..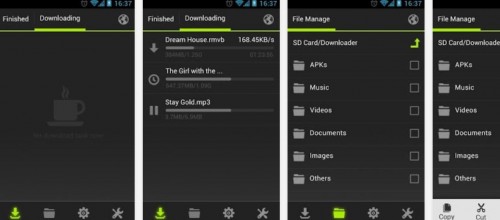 Get Easy Downloader pro from here
Feel free to suggest your favorite app in comments!