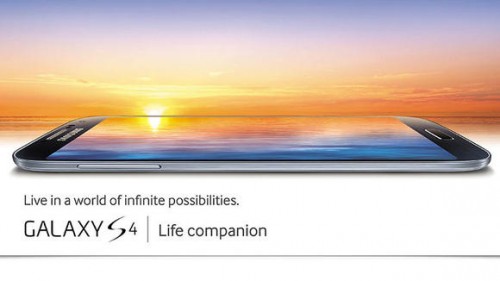 After long weeks of speculation & rumor Samsung has finally unveiled its latest flagship phone, the "iPhone killer" – Galaxy S4, at Radio Music City Hall in New York, USA on last Thursday the 14th of March at 7 pm in front of a packed audience. In terms of design, the phone does not look much different from its predecessor, the Galaxy S3, but now the S4 has become much slimmer and weighs less than S3. Galaxy S4 has the world's 1st Full HD 1080p Super AMOLED 5 inch(~441 ppi) display screen into body slightly smaller than the previous S3's and made of polycarbonate which weighs only 130gm. This new model is 69mm wide and just 7.9mm thick.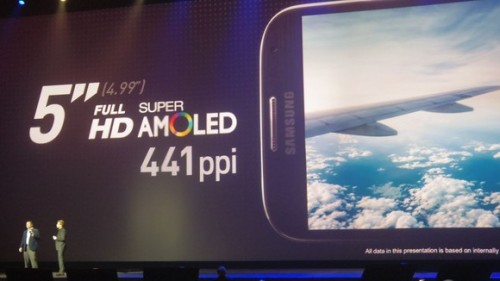 Analysts assume these days Samsung is the leader of all smartphones and it has launched their flagship model at the right time as this Korean company is the main competitor to Apple's high end smartphone range, including the iPhone 4S & iPhone 5. The new Galaxy S4 has the faster new processor and loads several exiting new features those you can't find in any other smartphone available in the market till date. We can say Apple is also anxiously watching and busy developing its new innovating ideas for their next iPhone probably iPhone 5S as Samsung already put Apple in a big business rumble. Here are the top 17 new features you need to know about the Galaxy S4, or say, Top 17 reasons why you should buy Samsung Galaxy S4: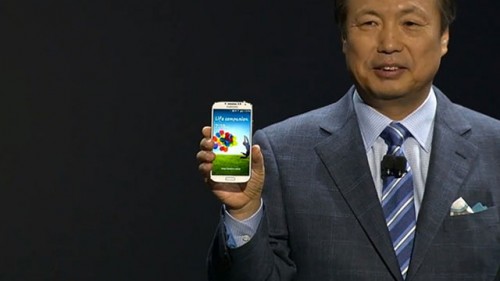 1. Smart Scroll: One of the best and most interesting features of the new Samsung Galaxy S4 is 'Smart Scroll'; which allows user to scroll the screen just by using their eyes; you don't even need to flick your finger down the screen while you are reading on something. This is the innovation that will change the future of smartphones when we will be able to control the entire device with our eyes.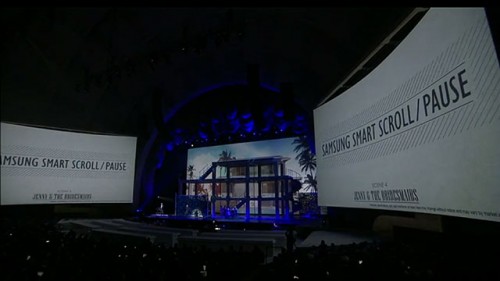 2. Smart Pause / Play: This is also a new feature that also requires eye tracking. "Smart Pause / Play" features detect your head movements while watching videos on S4. It automatically pauses videos when it detects your head going away from the display screen and starts right up again when it observes you are back.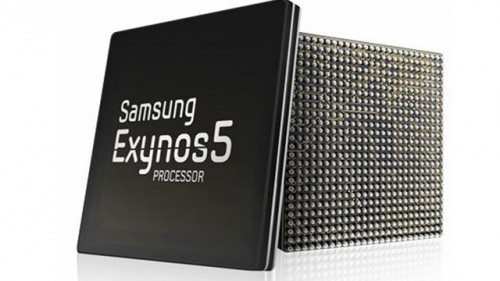 3. Faster new processor for real time performance: Galaxy S4 is now powered with the world's first Octa Core processor that is clocked @1.6GHz. This "Exynos 5 Octa" processor is equipped with four ARM Cortex A15 for performance boost and another four ARM Cortex A7 for handling common tasks. This new smartphone also features 2GB of RAM, 16/32/64 GB of internal storage and will run on latest Android v4.2.2 Jelly Bean operating system having a 2600mAh battery under its hood.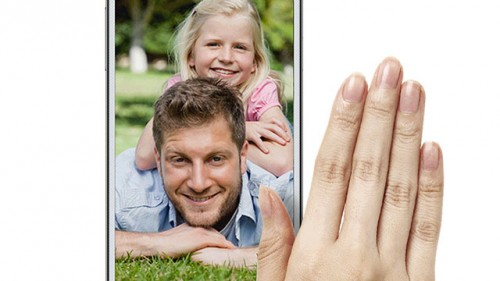 4. Air View: 'Air View' allows users to hover just over the screen with their fingers to preview the content of an email, S Planner, image gallery or video, and accessing speed dial favorites or magnifying content without touching the display physically. It is a wonderful feature of S4 "TouchWiz" UI that does not require a stylus like the Samsung Note 2, which also can do the same.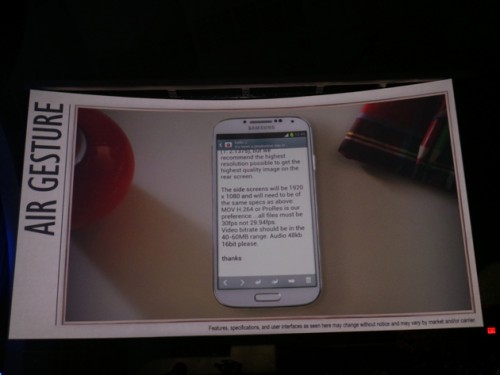 5. Air Gesture: This is another way to interact with your phone and once again not touching the display screen. With 'Air Gesture', user can now browse internet, change music tracks, scroll up and down and can even take calls by waving hand over the display screen.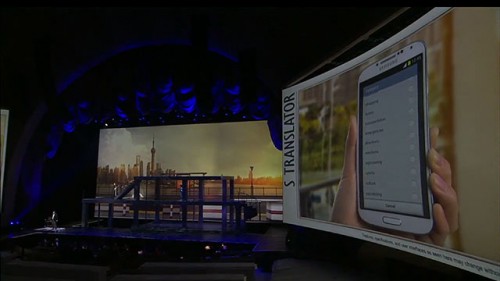 6. S – Translator: The frequent business travelers will find this application very handy speaking to the local people while not knowing the local language. This new very nifty 'S – Translator' tool can translate 9 different languages including English, French, Latin American Spanish, German, Italian, Chinese, Japanese, Korean and Brazilian Portuguese. However, being a standalone application this tool is also integrated with the e-mail and messaging app, and also supports text-to-speech, speech-to-speech, or speech-to-text.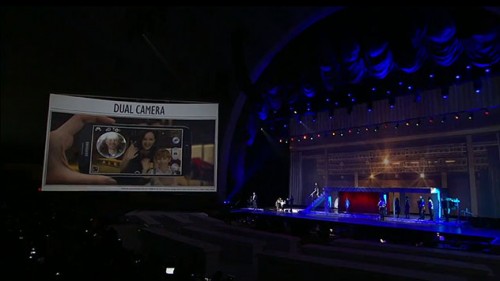 7. Dual-camera mode: Samsung has equipped the new S4 with a 13 Megapixel auto-focus rear camera and a 2 Megapixel front auto-focus camera. S4 includes a 'Dual camera' mode that is capable of using both front and rear cameras simultaneously at the same time. You can now take snaps while being on a video call.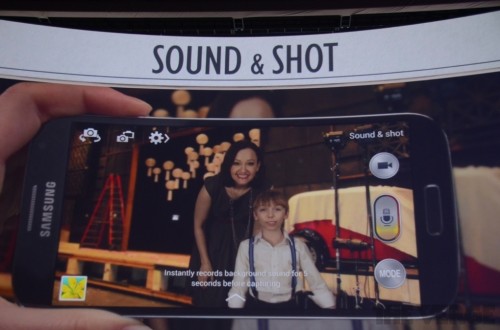 8. Sound & Shot: Now, this is another cool camera feature that enables user to record an audio clip of maximum 9 seconds while capturing a picture. This 'Sound & Shot' feature adds background sounds to enrich your captured image.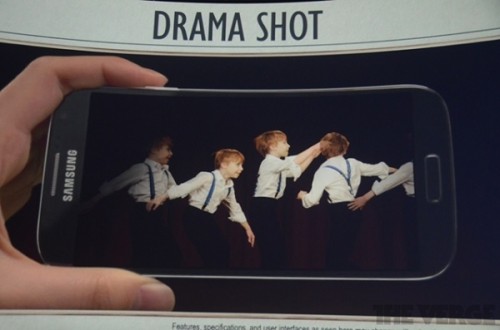 9. Drama-Shot: S4 comes with a camera feature named "Drama-Shot" that allows user to take 100 quick burst shots in just 4 seconds and represents a collage from which user can choose as many images to create a single image.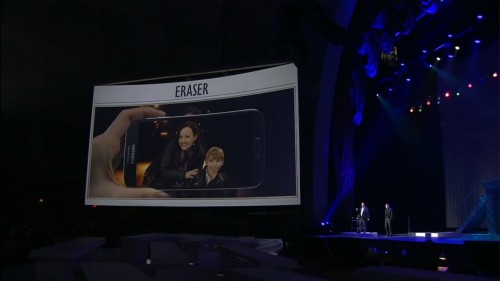 10. Eraser: Now, this is also a must have feature incorporated into Galaxy S4. 'Eraser' is another camera feature that identifies unwanted elements in a recently captured photo and allows you to remove them such as someone that happened to pass by; just you have touched the shutter button on the display.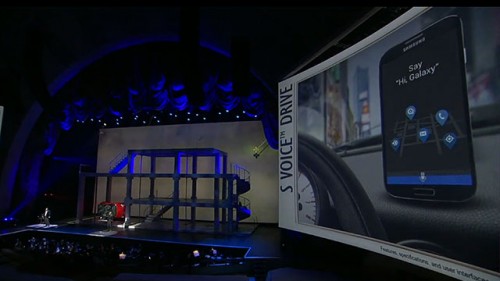 11. S – Voice: The Galaxy S4 comes with a personal assistant dubbed as 'S – Voice' which is capable of recognizing voice to offer assistance functionality while you are driving. The S4 automatically turns into driving mode, once you connect the phone to your car via Bluetooth. It is capable of reading out your mails, texts to you and let you dictate a reply, or you can command S4 to call someone.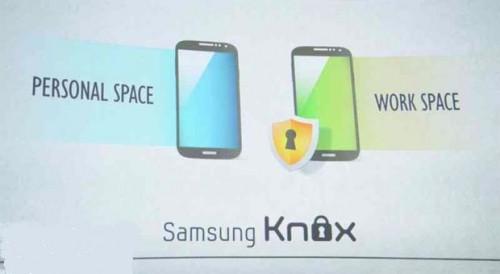 12. Knox Security Suite: Samsung has offered its "Knox Service" to protect S4 from the inherently vulnerable, unsecured environment of Android OS platform by providing the ability to create safe, separate, secured environments to the corporate, professional and personal users. We can say Samsung's new Galaxy S4 is more safe and secure than the previous Samsung Android smartphones variants.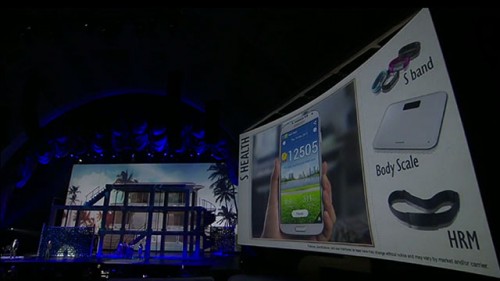 13. S – Health: The new Galaxy S4 is now equipped with a fitness application called 'S – Health' which is similar to "MyFitnessPal" application available in Google Play store. With this S – Health application now you will be able to calculate your calories intake and how much you burn by the end of the day and you will also be able to monitor your weight, blood pressure and glucose level of your blood with the built-in sensors. This device is so intelligent that can work out how efficient you slept last night.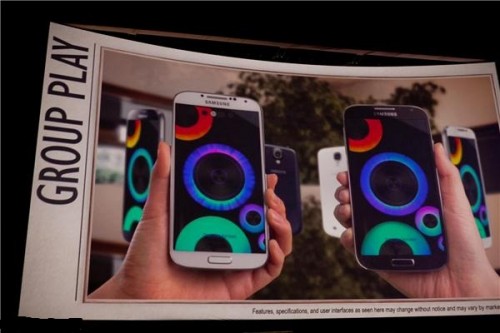 14. Group Play: Samsung has now come up with something more innovative and dynamic named 'Group Play'. By this application; users can enjoy music, photos, documents and games with those around them. Group Play works with the help of NFC functionality. Even, using Wi-Fi Direct; the new S4 can play music & games together and up to eight players can play games together with each other at the same time.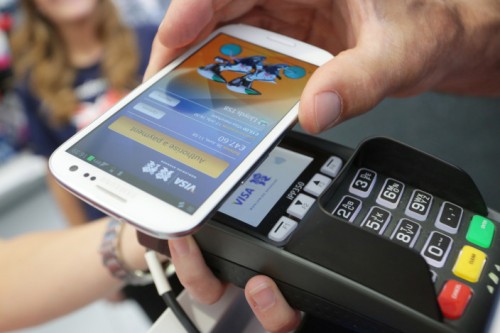 15. Visa payWave Technology: Another new feature comes preloaded with the Galaxy S4 is "Visa payWave" technology that allows the users to pay for items in shops like Spencers, Pret etc. with their S4. This technology also works with NFC and Samsung has put a lot of new useful features to meet the needs of the users into their new flagship device.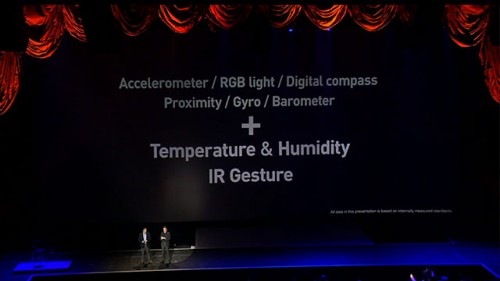 16. WatchOn: It is another application that uses the Infrared (IR) functionality of Samsung S4 to allow you to replace your home appliances' remotes with your S4. These days Universal Remotes are well-knowned and preferred. So, Samsung this time again read the pulse of the users and put its new 'WatchOn' application into the S4 and yet, Samsung has not limited this application only to work with their appliances – all major manufacturers are on the list.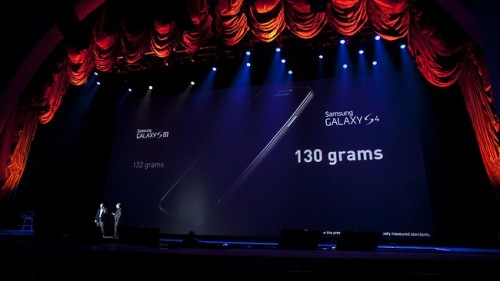 17. New improved design: The new S4 comes with a shell made of polycarbonate which is very light-weight (only 130gm) and makes S4 superior to other devices on the market. And another thing, now S4 is one of the slimmest smartphones out there at just 7.9mm thin.
Put your valuable opinions in comment section about Galaxy S4 !