Since, we've heard news of fixing of HTC One supply issues, it's time we ponder as what should be out next buy. Is HTC One going to be ours dream phone? Does it offer what we expect? Are there any caveats you should know before making your purchase. What about HTC One disadvantages? Well, that's why I'm writing this, just so that you could get a distinct perspective on this. So, here are the top 10 reasons why you should not buy HTC One. Before proceeding, let me assure you that I'm not partial and my views are unbiased. Of course, to account for the topic of this article, I'll need to compare it with its closest competitor i.e. you'll get HTC One VS Galaxy S4 arguments wherever required. So, you can read this article as Why buy Galaxy S4 over HTC One if you want to read in such implication. Before proceeding ahead, take a good look at HTC One specifications, price.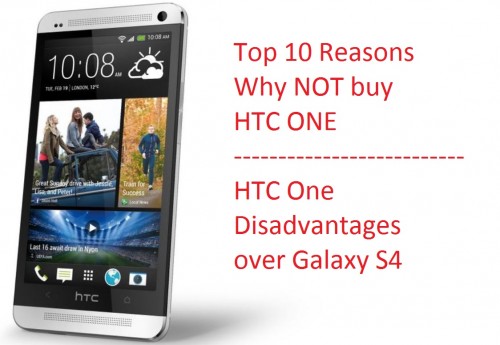 Camera:
Ultrapixel is compromise, not really an effective solution!
They gave it a new term – ultrapixel. What the heck is this? Consumers were surprised, curious, but the veil was lifted off at last. Ultrapixel camera of HTC One is supposedly a better camera, but it compromises on the megapixel count. The final resulting image is just of 4 megapixel. The resulting images of contemporaries smartphones in this segment produce 13 megapixels. Why megapixels count matter, well, because they give you more details in soft copy as well as in hard copy. Nonetheless, it has been proved in camera tests and comparison among top smartphones that HTC One's camera is only marginally better than SGS4 in lowlight conditions. Moreover, the ultrapixel feel is further minimized by using SGS4's camera in night mode. In good lighting conditions, SGS4's camera excels. In short, HTC One's camera is not worth the compromise in megapixels count, just for the sake of marginally better, if not equal, output in lowlight conditions.
Software:
Sense UI in HTC fails in usability aspects compared to Samsung Galaxy S4's.
HTC One has simplistic Sense UI, which has received good acclaim from users for its simplistic approach, yet Samsung's Touchwhiz UI in SGS4 finds more usability scores from users. TouchWhiz give users more native feel. Furthermore, Samsung has really worked on a number of software tweaks and features in SGS4 and clearly wins over HTC One's software. Multi Window, Pop up Play, Smart Stay, etc really add more usability and productivity to the way you use your phones. Of course, there is valid argument that some of the new features that Samsung touts about, doesn't work so well; but at least you've a choice and things do improve. Take example of Smart Stay, which has now evolved a lot. Multitasking with Multi-window option really works great. Even, when it comes to third-party developers' support, SGS4 receives more attention. GS4 has more video/audio codecs inside out of box and so most of the video formats play without hiccups on GS4 compared to HTC One. When it comes to pushing firmware updates, Samsung has been much more reliable than HTC, based on yesteryear record. So, you want a phone that is being readily updated with latest features, fixes and improvements.
Screen Size :
Screen Size difference does matter when the overall length of the phones remain same.
I don't know if 0.3-inch screen size difference matters to you a lot, but this is another thing to make note of (Also note that 0.3 inch screen size difference is measured diagonally). SGS4 comes with 5-inch screen in a size that is about the same as HTC One, meaning that you've a bigger screen in similar form-factor.  There is about 1mm of difference in length, width and thickness of both the devices. HTC One is about 1mm more in height, then SGS4 in width. But in thickness, SGS4 is thinner. Talking about pixel density, since the screen size is smaller in case of HTC One, it's has got more pixel density; but the pixel density difference between the two handsets are not perceivable to users.
Non-removable battery:
Removable battery is easy to swap, replace, use and maintain!
Well, if you want a phone with removable battery, HTC One is not for you. The battery is packed inside with no option for users to eject it out under any condition. Well, don't be confused as how will you reset your device in case the phone hangs. HTC has provided solution for that. You just need to hold the power button for few seconds and the handset will reboot as if you re-inserted the battery. But the concept of non-removable battery simply doesn't click minds of many users. In fact, in country like India, it is mostly not preferred at all. People do want option to be able to swap the battery themselves instead of approaching service center. Moreover, phones with removable battery also allows users to replace the battery with more heavy battery of larger capacity and recharge cycles. However, there are certain arguments in favor of non-removable batteries as well, like non-removable batteries are supposed to last more than removable battery. They also keep the components and structure intact. Still, these arguments are not convincing enough to go in favor of non-removable battery equipped phones like HTC One.
No micro-sd card slot:
Memory card slot not only adds to storage capacity, but also to the scope of scalability, flexibility and convenience
No memory card slot is there in HTC One, which means that you're basically limited to what you're buying. If your needs grow, if you want to store more on your smartphone, you'll feel helpless in future. The power of scalability and flexibility provided by memory card slot in phones really matter. It's not just about the storage capacity. It's also about convenience. You can swap memory cards of your smartphone in jiffy. You can take out the memory card along with it your personal files and data and plug it in any device to get started, rather than wasting hours copying your files from one device to another in certain specific situations. Since HTC One doesn't support external memory cards, it doesn't offer you these usage convenience. Don't jump here suggesting cloud storage as viable solution.
Availability, Repairability, Coverage:
If HTC One's availability has been a major concern till now. I wonder about after-sales service issues and repairability.
HTC One is yet not so widely available in many markets. In fact, in India, it's not available in many cities. Although, reports have come that the supply issues will now be solved and that the handset will soon be available along all sale points. To add to the problem, HTC doesn't have that wider coverage in India as Samsung has. In fact, it's hard to find after-sales service and support in smaller cities in India, unlike Samsung. Furthermore, the repairability score of HTC One is not that good as SGS4. This makes HTC One harder to repair in case of service issues, therefore, be ready to part with your phone for days in case of manufacturing defect or problems. Facing battery issues, drop the phone to the service center and then await for repair. HTC has had problems with making the phone available for sale in timely fashion, I wonder what kind of delays one may face in case of manufacturing defect or shortage of supply of problematic parts, because the replacement for defective parts may not be readily available. Moreover, it doesn't have memory card slot, which means that in case of handset defects, all your important files and data might get lost, unless you've proper backup of the same, or at least, you'd have to part with your phone including all your personal and private files and rely on the kind ethics of technician and hope that they don't intrude on your personal stuff.
Not Waterproof phone:
HTC should have accounted for non-removable battery and lack of memory card slot by making this phone waterproof.
Well, HTC made this phone unified with no removable parts – non-removable battery, no memory card slot, non-removable backplate. What stop them from making this phone waterproof? Sony Xperia Z suffers from these inconvenience, but there is strong argument in its favor – its waterproof capabilities, and that's a great advantage of Xperia Z. In fact, the customer response has been so positive that Sony launched younger brother to its Xperia Z, known as Xperia ZR. HTC should have leveraged its position and turned One into waterproof phone adding more sense to account for lack of memory-card slot or removable backplate.
High Price :
When it's a close call between two phones, the price difference should not be considerable (higher)
It's a tough call deciding between HTC One and Samsung Galaxy S4. People are confused. They seek experts' opinion, but there is one clear difference between the two best phones. The difference is in price of the two phones. Samsung Galaxy S4  general selling price is Rs.40,300, but the best buy price for SGS4 is around Rs.37,000-39,000 in India. HTC One, on the other hand, is selling at Rs.42,900. There is clear difference of Rs.3000-5000 in price of the two handsets.
Design, Strength:
With premium design and finish, comes premium amount of worries!
HTC One looks and feels premium. The aluminum unibody design is remarkable, but what if you use it covered in a case or cover. The more premium something feels, the more careful users become. In fact, most Indians like to keep their phones in covers and cases, that are of course unobtrusive and protective at the same time. I do love the design of HTC One, I appreciate it a lot; but what if that design is kept covered with cases. SGS4 is thinner and so adding cases to it doesn't make it much more thicker. Furthermore, the aluminum surface is more prone to scratches than the plastic of GS4. Also, the repairability costs are higher. We also prefer phones that don't require 'caretaker level' attention, that is strong, sturdy and carefree. The display of SGS4 is protected by Gorilla Glass 3, whereas HTC One has Gorilla Glass 2 protection.
No for previous top smartphone owners:
Already own one of the flagships launched in 2012, no need to upgrade
2013 has been the year when the top flagships display sport Full HD resolution and 13 megapixel camera instead of 2012's HD resolution and 8 megapixel camera. Apart from these two upgrades, not much has been done in other technical departments. There is no radical or really revolutionizing or transforming needs for you to upgrade if you already own one of the top flagship phones launched in 2012, unless you want to remain on the edge of technology.
No Dual SIM phone – Dual SIM capabilities are not even offered by Galaxy S4, and not by HTC One. It would have been great it top phone companies like Samsung and HTC could come up with dual sim variant of flagship model. Sadly, Indians are left with no choice than to opt for flagship phones from Micromax, Karbonn or Xolo.
I didn't comment on the speed of the two phones, even when Galaxy S4 has scored higher points in benchmark scores, because in real life, the speed difference is not noticeable. I didn't even comment on the battery backup because that depends on usage patterns. Both the phones give very similar battery backup. Of course, over course of time, you'll find out which one's battery life degrades worse. I'm not convincing you to anything. I'm just giving you few points of consideration to help you convince yourself to whatever you want to! Feel free to share your opinion in comments below.