LG G2, officially announced yesterday, comes with tons of software features, tweaks and personalization options. LG definitely seems to be following the path of Samsung by going for the specs and features war. Being powered by the latest and mighty Snapdragon 800 chipset and 2GB RAM, LG G2 has top-notch specifications with OIS enabled 13mp camera, 5.2-inches 1080p display and tons of software features!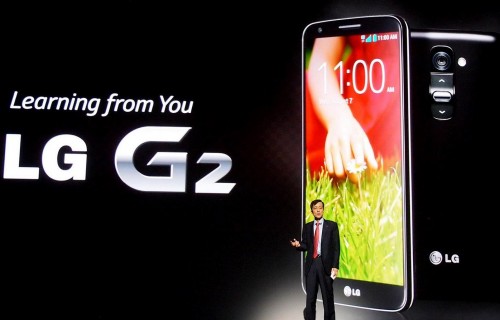 Guest Mode : User can enable guest mode on their phone in which the phone will be limited to certain apps and services. The guest mode can be directly activated by drawing custom pattern on lock screen. So, the next time you hand over your phone to your friend, just unlock the phone by drawing your custom pattern on the screen. This is, indeed, nice and very useful feature for privacy, security. This multi-user support is usually available for jelly bean based tablets, but LG has made it to smartphones as well with LG G2.
Slide Aside – This is for easier switching between apps and for faster, convenient multitasking. Using three fingers to slide off apps to stack them in invisible apps drawer. Swiping again in the reverse direction brings them back to view to select one of them to continue working on the phone.
Text Link – This is not uncommon. This enables user to select relevant info in text messages to be saved in memo, calendar, searched on map or internet. Such relevant information are automatically highlighted in messages for easier and one tap selection.
QuickRemote – LG takes the whole universal infrared based smartphone remote concept one step further. Thanks to its learning ability. With QuickRemote, LG G2 acts as universal remote for most of the electronics in our household. There is another advantage here though. Samsung Galaxy S4 doesn't have the ability to learn new remote functions, but LG G2 can also learn from your conventional remotes.
Plug & Pop – This is nothing new. This happens with Galaxy S4 handset as well. When you plug earphone or usb cable, it presents recommended, relevant apps and features suggestion to choose.
Answer Me – When your phone is rining, you can bring the phone close to your ear and the ringtone volume will be automatically lowered and then the call will be answered. So, you don't need to tap on answer button before taking any call on LG G2.
Knock On – Just knock twice on the display and your phone will be unlocked. Knock twice again to turn off the screen.
Ability to customize on-screen keys layout (front touch buttons) for home, back, menu buttons etc, to suit your own needs and preferences.
Ability to customize notification drawer toggles and apps icons.
Several features in camera, like, dual camera for simultaneous shooting from front and rear camera, vr panaroma, shot & clear, beauty shot, etc. Another new feature, called tracking zoom for video recording.
Q Slide – This allows for multitasking. You can have several apps floating on the screen and work on them at the same time. You can even resize those apps, set their transparency.
Quick Memo – With this, you can quickly take notes, write memo from anywhere on your phone.
Volume down key located at the back of the phone can be pressed for few seconds to directly launch camera app.
Which feature do you like? Did LG miss any of your desired features?