Xiaomi Mi 3 is truly in league of high-end smartphones and not to be seen as just the best value for money niche. It acts and reacts like those top-end smartphones from reputed and popular brands like Samsung, Sony, LG, HTC. In fact, I bought it because I just wanted to feel that less-known, much-less experienced buyer's satisfaction received when buying something really worthy and at half price. And it felt like the best thing my fourteen thousand bucks could buy. In fact, I am among the first 100 Mi3 buyers in India and Xiaomi greeted me by sending a greeting card.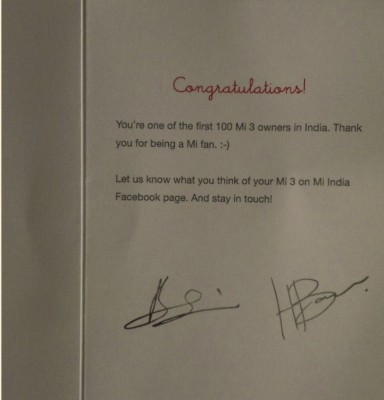 Anyways, Xiaomi Mi 3 is a great smartphone, very competitive of other high-end phones, and it has its own faults. Lets talk about those demerits and deficiencies that prevent Mi3 from becoming the perfect phone in Indian context: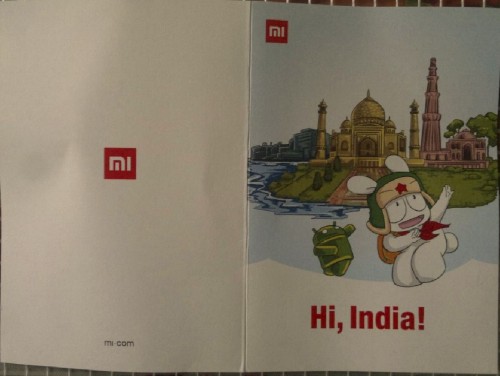 No Memory card slot: The deeply felt and most talked about demerit of the handset is lack of micro-sd card slot. It just has 16gb internal memory. In China, Xiaomi also sells 64gb variant of Mi 3 but it didn't launch that in India nor has any plans to do so in near future. So, we, Indians, do not have a lot of choices than to be very selective about what to store on our phone and what not to.


For a user like me, coming from Samsung Galaxy S4 with 64gb additional memory card, living digital has become budgetary issue on Mi 3.

No Custom ROM: MIUI is feature-rich os. It is a forked android version with regular updates and lots of features and has been ported to other companies smartphones also. However, Xiaomi has not released kernel sources of Mi3 which restricts third-party involvement in ROMs, kernel development.

That's why AOSP based ROMs like Paranoid Android, CyanogenMod, or others are not available for Mi 3.

Likewise, no third-party optimized kernels are available. All these have led to very low support from third-party sources. Users do not have choice other than to stick with MiUi. What if users want simplicity? What if users want to have pure android? Custom ROMs choices are not available to Mi3 users.
No native compatibility with Xposed framework: If you've read one of my posts titled indispensable apps for rooted phones, you know how much valuable xposed framework is. Since third-party ROMs are not available for Mi3, the importance and indispensability of xposed framework increase manifold. I've tried installing xposed and its modules. They work but they conflict with MiUi resulting in inconsistencies and instability. I had to reboot my phone every one or two hours because Mi3 displayed "com.android.process.acore stopped responding" error and the whole phone UI became non-responsive until I reboot. Thankfully, third-party developers have made a workaround – "WSM Tools". You can think of WSM Tools as xposed installer for MiUi ROM. WSM tools make xposed framework compatible with MiUi ROM and all xposed modules are also available and they work without issues. However, I'd still prefer native support and compatibility with xposed framework.
Form factor – This handset looks good but I can not appreciate its form factor. I hate its corners. It points/strikes strongly in your palms when holding for longer duration and doesn't feel ergonomic. The corners should be vertically rounded. The bezels are not narrow. It is considerably longer and wider in comparison to other 5-inch smartphones. Its back has a great finish and it's shiny, but slippery.
Sim card slot: I hate the sim card slot in Mi3. It needs sim ejector pin tool whenever you wish to replace sim card. It is unconventional. Many users have reported issues with Xiaomi Mi3 sim card tray. It doesn't feel easy to eject the sim card tray. On the go when you don't the ejector pin tool, it would be very difficult to replace sim card in case of emergency.
Non-removable battery: Battery is non-removable, which is another burden for Indian users as Xiaomi has just 30 service centers in 20 cities for now.

So, getting battery replaced would be very troublesome for users who are located in such towns and cities where Xiaomi doesn't have any presence

.
After-sales Service concerns: Xiaomi is Chinese company which just started here in India. It doesn't have nationwide presence. Its service centers are limited to 20 cities only. So, we have concerns about after-sales service. Furthermore, since the handset's availability is so scarce, I wonder about availability of replacement parts and components. Most likely, you'll enjoy no defects in your phone under normal conditions because the components inside Mi3 is of a-grade i.e. good quality. But sometimes, you may get it damaged or defective due to accidental drop or liquid soaking or for some other reason, and in such cases, readily available after-sales service and support matter a lot.
Flipkart limited logistics: Flipkart is trusted online shopping site. However, the company doesn't deliver to all towns and cities, even where other online retailers like Snapdeal or Shopclues deliver. Its primary logistic partner is Bluedart. In fact, I don't understand Flipkart logistics. Last year I purchased Samsung Galaxy S4 worth Rs.38000 from Flipkart and it delivered to my location(Muzaffarpur, Bihar), but when I tried purchasing Xiaomi Mi3, it displayed error that its logistic partner doesn't handle items worth more than Rs.10,000 to my location. It's really odd as its logistic partner is the same and I was making prepaid order. So, finally, I had to get Xiaomi Mi3 shipped to my friend in Rajasthan. Then, my friend shipped it to my place. In a nutshell, I didn't get Flipkart logistics. Bluedart readily delivers in my area for items worth much more.
No dual sim – Other than HTC, no company in India comes with dual sim functionality for high-end specs (currently Snapdragon 800/801 chipset based). Xiaomi fails here as well.


Dual sim feature is very popular among us, Indians, and we aspire for this to be present in our favorite smartphone.

Unfortunately, Xiaomi couldn't meet our aspiration here.

No waterproof – Since the handset doesn't have removable back cover nor does it have memory card slot, Waterproof capacity makes sense for such a handset.

In fact, waterproof feature would have justified the lack of memory card slot and non-removable back cover

. Unfortunately, with no waterproof capacity, Xiaomi didn't turn its head right on this.
Xiaomi Mi3 limited availability is major concern among all. Not all users can wait for weeks to be able to purchase this phone. And for this reason, the company has received tons of backlash from lots of frustrated users. Despite its demerits listed in this post, this phone is a steal – a great deal you can't do without. In fact, no smartphone is perfect. About every top-end smartphone, you can make a top-10 demerits list like this.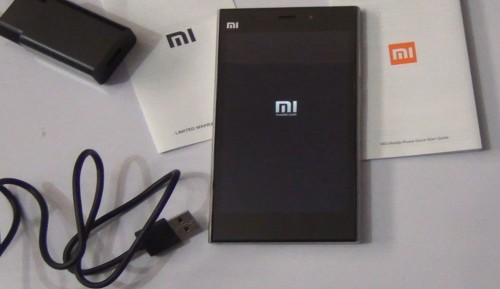 I'm using Mi3 as my primary phone so if you have any concerns, questions, doubts, feel free to ask me here, I'll reply personally to each comment.