Swiftkey is one of the most popular android keyboard even when it is paid app. Its powerful prediction algorithm and several personalization options, quick learning, flow feature (swype like) have made it our favorite keyboard. Swiftkey Developer has launched SwiftKey Cloud Beta, which is available for free for all. If you've not tried Swiftkey android keyboard before, this is your chance. As the name suggests, this is move towards cloud, but hey don't panic. This feature is for you. With Swiftkey Cloud, user will be able to synchronize his typing habits and personalization profile on to the cloud and so all android devices connected with the same account will remain always updated with your typing patterns and behavior. This addresses one of major problems. Now, user will no longer be required to make Swiftkey learn again if the user tries Swiftkey on new android devices be it phones and tablets.
Three of the most notable improvements in Swiftkey Cloud beta version are:
Cloud feature with backup, syncing, restore – Your typing profile will be backed up on cloud and will be synced across all your android devices giving you unified, updated and common typing experiences. Lost your android device, bought a new android phone/tablet, no problem, Swiftkey cloud has all your typing profile backed up. Just sign in with the same Google account.
Trending Phrases – When some important historic events take place, the world starts talking about this. The developer has realized this and so Swiftkey cloud updates itself with what's trending on social web to predict your typing behavior as you might want to discuss what the rest of the world have been discussing.
More personalization options and Simplified approach – More personalization options are being added. The recent addition has been of Yahoo mail. The developer has promised to bring more services and apps under personalization.
Download Swiftkey Cloud Beta from here
You may have to enable Unknown sources or Allow Non-market apps option under security in phone settings for direct apk installation from the above link.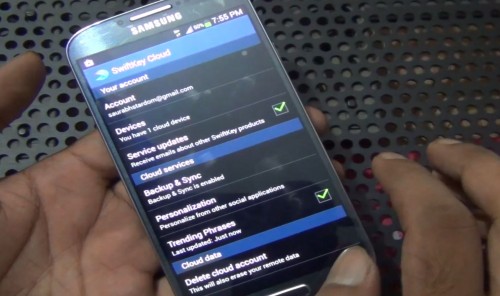 As we launch the program, the setup is quite similar to regular version of SwiftKey, First of all you need to select and download primary language. Then Enable Swiftkey Cloud beta and then set it as default input method. And finally whether you want to enable flow feature or not. Till now there was nothing new, but here comes the cloud part. Now you'll be asked to enable cloud feature by signing in with your Google account. It automatically retrieves account details from your phone. So you just need to select your account and tap on Sign in. It won't ask you your password. The cloud feature enables you to keep your typing habits, personalization synchronized on the cloud so that you'll get the same typing experience, speed and personalization on all android devices used with the same google account. This is a lot more useful and saves us trouble of making swiftkey learn again when we get a new android phone or tablet. Cloud setup process is effortless. It has also worked on simplifying the personalization process with one-tap approach. You just need to tap on gmail, facebook, etc and it will start personalization process. You no longer need to input password and account details to authorize the personalization.
There is dedicated SwiftKey cloud option in the app. Under device option, we can check all the connected devices with the specified account. Under Backup and Sync, we can setup sync frequency to daily or hourly. Set it to hourly if you do a lot of typing on your android devices and often use more than 1 android devices in a day. Under personalization, we've Yahoo mail as new option. Rest of the options are present in the regular version of Swiftkey as well, though the process has changed. Still some of the important apps and services are missing like WhatsApp, etc. It has now been made easy and simple to set up the personalization. One tap on facebook and then Ok and the information is submitted. Fairly easy. We can even delete our cloud account if we want to disable cloud feature of Swiftkey.
I'd like to point one thing though that SwiftKey Cloud doesn't utilizes the current typing database and personalization profile of regular version of Swiftkey. The developer's argument in such a move is that SwiftKey cloud is beta version and they want to get feedback on how it learns from user and therefore they don't want it to take data from the regular version of Swiftkey yet. The regular version and cloud beta both are like two separate keyboards for now. So, you need to feed Swiftkey cloud all your typing habits and behavior before it could actually predict your typing accurately.
If you don't want to feed all these data again, you'll have to wait for the official release of SwiftKey Cloud in Google Play Store, not as beta version. Meanwhile you can switch to regular version of swiftkey by going to phone settings – language and input and selecting desired keyboard under default option. Or you can also change input method on the fly while typing by pulling down notification drawer and activating the desired keyboard.
If you've any questions or confusion, ask us in comments!