Indigenous company, Genesys International, has launched its new mapping service Wonobo, with street view feature, beating Google Maps in India. Head over to Wonobo.com and you'll be amazed to see your local street with 3D buildings, roads, landscape, traffic, shops, billboards, everything, on display; popularized as street view, though not realtime. The company behind this product has clicked pictures of the streets of various cities and merged them together to create 360-degree panoramic view of the streets of Mumbai, Delhi, Bangalore, Kolkata, Goa, Chennai, etc. The resulting is amazing, but the only disappointment is that it's not realtime, rather compiled with high-resolution photographs taken at earlier date.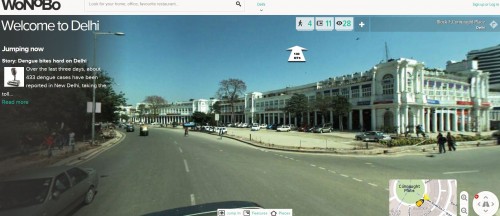 Google Map has not been able to provide street view in India due to regulatory and permission issues, but Wonobo somehow managed to comply with regulations and achieving permission to produce something like this. Wonobo doesn't mention "beta" tag anywhere on the website, but the product is relatively new and is in fact in beta stage. It's continuously growing, regularly updated as stated by its founders. The Wonobo street view service will cover 54 Indian cities covering over 70% of urban regions. Initially starting with 12 cities, it will soon include 20 more cities in coming weeks. Over 10 million points of interest have been targeted. Beside street view feature, they include inside maps, directions and routing, walking tours, guides, stories, etc.
Inside Maps – Over 2000 interiors have already been covered. With Inside maps, user will be able to take a peek inside popular establishments.
Directions and Routing features are also available so that users could use it as navigation service to get directions and find suitable routs to reach particular destination.
Walking Tours are also implemented in WoNoBo in partnership with Government of India to provide walking tours with printable pdf maps.
Related stories to maps, places, points of interest.
WoNoBo mobile app for android will soon be launched
Street View images will not be older than 6 months and the update schedule depends on the change dynamics of a particular place as per the words of founder of this service.
This service is relatively new. We tried to check India Gate of Delhi on street view, but unfortunately it was not there. Soon more data will be available with WoNoBo. This is prospective, promising service, something to look upon in future as how this evolves. Keep reading us for updates and we'll notify you whenever the WoNoBo android app would be available. On a related note, Google Maps has also been trying to provide street view tour of heritage places, monuments in India.