The highly priced tablet – Sony Xperia Z, which was launched officially by Sony India on 29th June here, originally priced at Rs.46,990, is now selling at Rs. 42,740 on Snapdeal ecommerce website without applying any discount coupons. It's available in two colors – black, white. On most of other online shopping sites, this tab is available at Rs.44,990.The price discount on Snapdeal is yet another indication that the price will go down in coming weeks on other online stores also, because we all know how competitive these online retailers are. So, if you can not hold your urge to get your hands-on, you may want to buy this tab from Snapdeal as it's a good deal there, otherwise, have patience and within few weeks, we expect the price to go down considerably, selling at around Rs.40,000. To get the best price, visit this page – Sony Xperia Z tablet price in India – as this page is updated daily with latest price from major online shopping sites so that you can get your favorite gadget at the best possible price.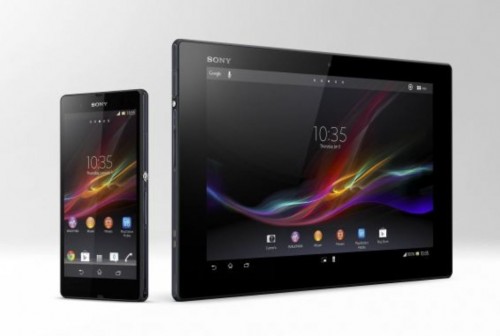 The tablet sports

Full HD Display (1200*1920)

and very thin form-factor.

Though, it's not retina display like that of Apple iPad 4, yet it is appreciable

.  It also

weighs very less

.
On the power and performance side, this tablet boasts of Snapdragon S4 Pro processor, 2GB RAM, 8mp rear camera, 2.2mp front camera.
This is indeed premium tablet from Sony and is also capable of withstanding water immersion upto 1m for upto 30 minutes as it is IP57 certified, the same as Xperia Z smartphone.

The battery is of 6000mAh capacity, and we think that weight and size factor might be the primary reasons for not embedding battery of higher capacity.

In fact, the internal memory is also low for high-end tablet. 16GB of inbuilt storage is quite low for a tablet of this price, but the best thing is that you can insert memory cards to increase the storage capacity, unlike Xperia Z smartphone in which there is no memory card slot.
What's your view on this tablet. Do you want to buy it at the price at which this tab currently sells? Give us your opinion in comments and Stay tuned with us for more gadget news and updates!