After hours of stressful day, I, an average person, want to spend my leisure time watching my favorite movies at home (I'd rather say invest my time because watching movies is investment for me:), not in theaters because I don't have any spring to make my way there out of weak pulses. But getting theater-like experience in home is and always have been my aspiration. To this, TV manufacturers have already built large TVs but lately, they've also started shipping large TVs with resolution four times more than Full HD. They call it 4k (3840 x 2160) or UD resolution. Usually, 4K TV come in size of either 80 inch or greater than this because such UD resolution is appreciable on such larger TVs. Sony has already opened its doors for pre-orders of recently announced Sony Bravia XBR-84X900 4K 84 inch TV with general availability in stores in late November, 2012. As you read, we've provided pictures of this tv, so click on these images given below to view them in bigger size.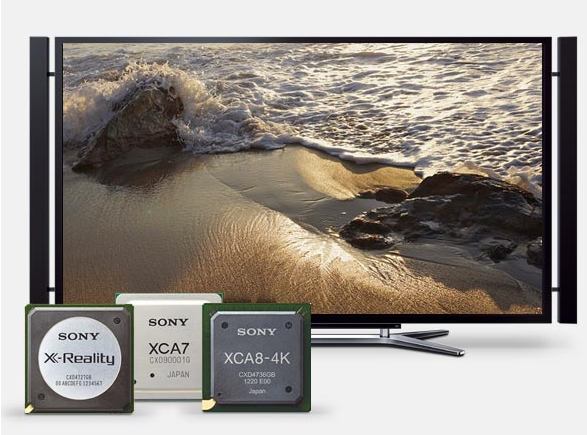 Display quality: Let's talk about what this Sony Bravia 4k LED TV has to offer to us. We all know what kind of experience we get when we watch a Full HD movie on our HDTV. If you've been habituated to watching tv with FHD content, you know how much you hate when you're offered content with low resolution quality. Now imagine the breakthrough appeal and experience you'll feel when you watch something in 4k resolution on 84 inch TV. Although, the viewing angle is just up to 60 degree, yet it promises to provide wholesome experience when when watching something on this big TV with your family and friends together.
The main problem with adoption of such ultra resolution TV is that 4k content is available second to negligible. Our movies, TV broadcast are usually in Full HD resolution. We don't have 4k content easily available nor is there a 4k blu-ray standard. Since we don't have native 4k content, there is a XCA8-4K chip in Sony 4k Bravia TV which upscales HD content by analyzing, processing and refining it to match 4k res, but we all know how these upscaling concept isn't very rewarding, still, we have choice available to go with. Something is better than nothing. Moreover, Without doubt, even up-scaled content will look better than Full HD content in most of cases. If you've been reading this article on 4k resolution, this entire website would have appeared very small and you've had to zoom the page due to which the text would appear brilliant but the images would appear stretched and pixeleted.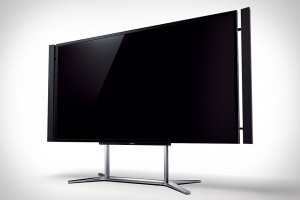 Passive Full HD 3D compatibility: Buying a 4k tv and not considering 3D option is naive. Sorry if you expected this Sony 4k 84 inch TV to support 4k resolution in 3D mode. However, it does provide Full HD 1080p resolution in 3D mode. It follows passive 3d technology and so 3D resolution is absolutely a jump in comparison to passive 3d resolution on Full HD TV because the latter supports just 1920*540 whereas the former supports 1920*1080 res. With passive 3D, we get several other benefits. So, 3D on this Sony TV seriously gets you close to theater-experience.Find more about differences in Active 3D vs Passive 3D .
Gaming: While, we do not have 4k movies and alike content available, but we can enjoy two-player gaming on this Sony 4k TV in a new way. There is a feature called SimulView gaming which presents different Full HD picture to each player sitting in front on the same 84 inch TV without split screen troubles. Here each player watches his own gameplay as if he was watching on a separate TV with the help of a compatible wearable glass. Yeah, for experiencing this amazing so-called SimulView gaming, you and your friend need to wear glasses (battery free). The game titles should also support SimulView option and Sony has been propelling such concept choices and 4k support in PlayStation 4 also. Even, I expect that Gamers will be the first to experience more of the 4k content before such content make its way to general public.
Sound System: If display quality is of immense importance, sound quality holds no less of it. Sony has equipped Bravia 84 inch 4k LED TV with front facing 2 way (left and right) 10 unit speakers. To punch heavy bass with a strong and immersive feel are present 4 sub-woofers in the sound unit. S-Force Front Surround 3D presents to you simulated 5.1 sound output to make everyone in the room appreciate every tone wanting to tune their heart. Well, if someone is ready to pay a heft price to buy this tv, I bet he has enough to support his home entertainment system with a better home theater sound system, but there is nothing wrong if your precious and prized TV has enough capacity on its own to stand at its glory to whatever aspect your visitor wants to test it.
Other usual features are of Smart TV like internet browsing, online video streaming, premium content from Sony Entertainment Network, etc.
What about competition : LG has also launched 4k UD 84LM9600 84 inch LED TV for a price of $19,999 USD. This is priced relatively cheaper than Sony's with few recognizable differences. If you want 4k TV in a smaller form factor, you may vie for 55 inch glasses-free 3D 4k LED TV 55ZL2 from Toshiba..
Sony 84 inch 4k TV Price, Release Date
The price of Sony Bravia 84 inch 4k tv is $25000 USD. It is available for pre-order since September with shipment/delivery processing in November. In India, the price is Rs.16,99,900 INR and the pre-booking in India starts from October 20, 2012. The general availability of this tv in stores is from November in all markets. It comes with limited 3 years warranty plus membership in Sony's exclusive Concierge program plus free delivery and in-home setup & installation.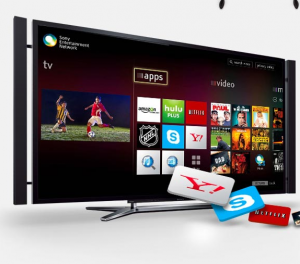 Now, the question arises, Should I buy this Sony 4k TV? Well, if you've deep pockets, or rather say you're of the upscale kind with money burning hole in one of your unused cash suitcases for a long time, you can go for this TV but if you're just tempted to buy it, you may want to hold your aspiration for little longer time (To resist my buying temptation, I usually read stuff about the desired thing online and content myself with the reading while making a conclusion at last that the thing is not of my use for now) because the prices are skyrocketing high since launch of 4k TV is new thing and new things are always considered privilege to own and you know it costs heck a lot to own that privileged honor. Furthermore, let this market become mature and stable, or just ask to me to shut up if you want to be the privileged early bird.
Before making any purchase decision, make sure you read our LED TV Shopping guide. Based on your interest in 4k TV and to content yourself, we also suggest you to read about 8k TV.