Last month Samsung has unveiled their Java based new 'Rex' series of budget phones in the Indian market which is according to the Company a "Smart Feature Phone" and we did try its features and now let's talk about our experience to you. The price of this newly launched only GSM based dual SIM handset "[sch i="itemReviewed" c="Samsung Rex 90 S5292 Phone"]" is INR 6,590/- but you can easily find that under INR 6,000/-. [sch i="description c="Rex 90 is the top end device in the Rex Series and still, you can find a TouchWiz interface similar to the UI interface you would find on an Android based Samsung device. This dual SIM supported device also features True Hot Swap. Samsung have launched this series against Nokia's "Asha" Series which has been doing business quite successfully these days."] What we think, Samsung just have re-branded their old Star series which had lost to Android powered phones.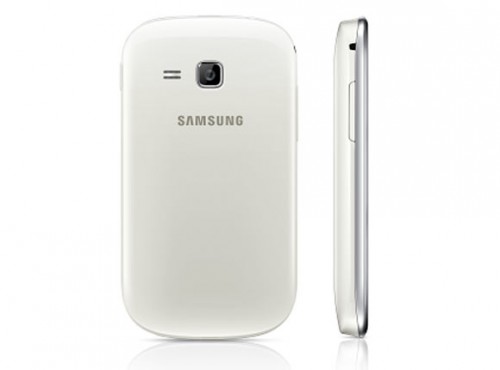 Now the design, the Rex 90 look similar to other Android based Samsung handsets; like Galaxy s3, Note 2 and recently launched Galaxy Grand. The handset is much thicker with dimensions of 113 x 61.9 x 11.9 mm, featuring the same white color frame with a 3.5 inches Capacitive HVGA display having 320 x 480 resolution (~ 165 ppi pixel density) and color depth of 262,000. The display quality is not up to the mark, images are very average and under sun visibility is very poor due to its reflective screen. The touch screen is not so responsive; we have faced a lot of trouble while typing text with its stock keyboard. The TouchWiz UI skin is a new added feature with which the Company have tried to give this device a flavor of Android based phones' UI. Rex 90 is powered by 312 MHz XMM2230 chip set which is not as fast as compared to Nokia's Asha 311 that have a 1GHz processor. A large physical home button and two touch sensitive buttons for call attending & call ending can be seen below the display. The power button is on the right side and volume rocker is on the left side; again similar to the design of Company's other Galaxy Series phones. The phone has a plastic back cover and a 3.15 Megapixel fixed focus camera without any flash along with a speaker grill, next to it can be seen.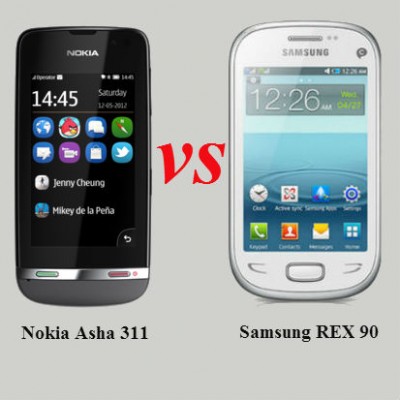 The phone can have maximum 7 home screens and user can add widgets and application shortcuts according to their preference. Home screen transitions are very slow and shortcuts for dialer, contacts, messages and menu at the bottom of the home screen. You can spot a notification tray with Wi-Fi, Bluetooth, Flight Mode, Sound settings and active SIM settings. User can directly launch some applications just by swiping the lock screen. Primary SIM card slot is given under its battery and the secondary SIM card slot is hot-swappable that can be found after opening the back cover on the right bottom side. There is also a microSD memory card slot that can be expanded up to 32GB and the phone is not coming with any free memory card. You won't believe; you really need to purchase a memory card for sure as the phone has just 20MB of Internal memory which is a big disappointment for all of us.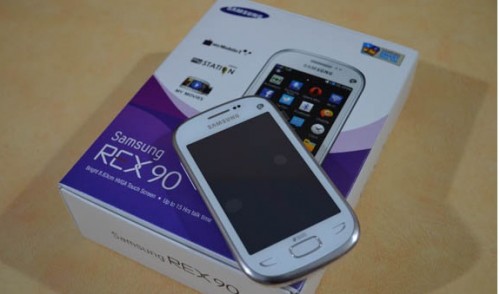 The phone comes with a 3.15 Mega Pixel fixed focus camera with no flash as we stated above. The image quality is average captured in daylight and indoor images are not so good. There is no auto focus that means you can't take macro shots. There are exposure value settings, timer (ranging from 2-10 seconds), effects (Grey, Negative & Sepia), night mode, white balance and a grid mode available. You can also review image after capture, set an image as wallpaper or caller image by going directly to the gallery and share those images via e-mail or Bluetooth. It is capable of recording videos but you need to have sufficient light for good videography. There is no secondary front facing camera.
Rex 90 comes with a simple music player capable of showing large album art, 3.5 mm headphone jack and a FM transmitter. The menu of the music player is simple, can play variety of music files, loud speaker volume is pretty good, and sounds from the earphones are ok. The video playing capability again is a big disappointment. We were unable to play high resolution mp4 videos; watching high quality videos even on YouTube were not possible and low quality videos also did not run smoothly while connected to a high speed Wi-Fi network. It is a big glitch giving only 20MB Internal memory which restricted us from playing videos on Rex 90. You can't even open many websites on this phone; only some simple websites not having much graphics and texture can be opened. You can't think of playing big high quality games on this handset; simple Java based games are recommended for playing. The FM radio has recording and RDS feature.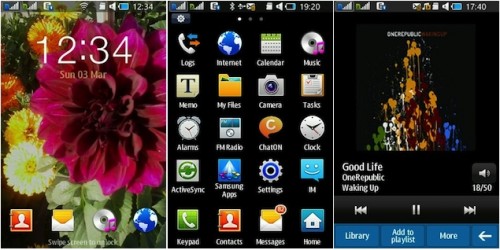 Samsung have surprised us by not giving 3G supports on their new Rex 90 in 21st century at this price tag. The phone has dual SIM GSM support and a feature called Smart Dual SIM which allows you receive calls from SIM 1 even when SIM 2 is in use, but we were unable to use this feature with 1 Airtel & 1 Reliance GSM SIM. Company mentioned that this feature is network dependent and we don't know which network is capable of supporting that. It has Wi-Fi and Bluetooth v3. The call function is simple. The microphone and the ear speaker are good, network signal is strong and talking over supplied headphone was hassle free. Samsung have promised that this handset will give you 15 hrs of talk time and for that Rex 90 comes with a Li-Ion 1,000 mAh battery. The phone will give you 2 days stand by support. It comes with micro USB v2.0 port for data transmission and charging the battery. There are no multitasking, no GPS, no video chat/calling, no high quality video support. There are some inbuilt apps and games; handset available in 2 colors – White & Brown.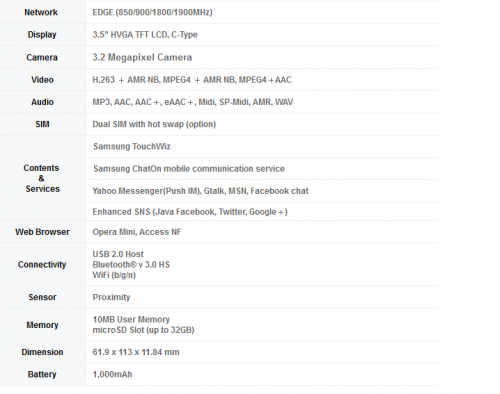 Verdict : After reading the specifications and features offered by this new Rex 90 you can think first what would be your other preferences at this INR 6,500/- price range? Well, we also recommend you to go for Nokia Asha 311 which is a better phone and you can even think of other Android based Smartphones offered by Micromax & Karbonn. In fact we even cannot find any special features that make this touch screen talking device anywhere close to 'smart'. It is just another release of Samsung to give Nokia's Asha range a competition but Asha range is better than Samsung's Rex. Hence, Asha 311 also does not support GPS, no multitasking and comes with fewer apps; but it's 3G enabled, have smooth touch screen and priced under INR 6,000/-. We also don't understand why Samsung launched "Java based touch phones" and running towards the past as today there is no space for Java based OS as it does not support multitasking and also very slow compared to Android OS. Samsung could have launched this phone based on their "Bada" operating system. Rex 90's poor multimedia support, dull display, slow touchscreen response and average camera that also doesn't have flash makes this device in our opinion not value for money choice. Only the positive things we experienced are its battery standby and in call quality. We only can give Rex 90 "2.5 out of 5" based on overall specs and features.
Rating: [sch i="reviewRating" c="2.5″]/5 – Review by [sch i="author" c="Shubhrajit Chakraborty"].
[Disclaimer: Samsung REX 90 phone review is written based on inputs from various sources.]