When Sony launched its Xperia Z phone with water-proof capabilties, the world seemed moved, feelings moistened with consumers' heart ready to pour out its kindness to Sony this year, but we knew that Samsung won't let the company ride on the water-proof capabilities alone. And so, Samsung pushed its new Galaxy Xcover 2 phone with IP67 certification promising water-proof of upto 1 meter and 30 minutes. What's interesting to note here is that Galaxy Xcover 2 is not high-end handset, whereas Sony Xperia Z is high-end handset, so this gives us a feeling that Water-proof capabilities will soon be among the mainstream features in smartphones of this year.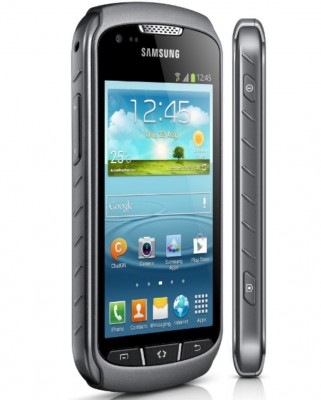 Samsung Galaxy Xcover 2 Specification
Apart from being waterproof phone and its resistance to dust/sand, lets see what else is there on inside of this phone as far as its practical usability is concerned. Galaxy Xcover 2 is mid-range android phone as it has dual-core processor of 1GHz and 1GB RAM. It has screen size of 4 inch and resolution of 800*400 pixels. So, whats disappointing here is that Samsung is still not bumping up screen resolution scale in its mid-range phone, even in year – 2013. I mean atleast move to qHD resolution could have done more justice and won our hearts. On the rear is embedded camera of 5mp with LED flash, on the front, we've meager vga 0.3mp camera. There is nothing to boast here, but we do have dedicated physical camera key on Galaxy Xcover 2, which is not easily seen on android smartphone these days. On the design level, this phone looks different. Just look at the image of Galaxy Xcover 2 and you'll have idea of what I'm referring to here. The resistance capabilities are the pros of this phone, while such features might have added to its thickness and weight as this phone weighs about 148.5 gram and is 12mm thick. Let's have a look at full specification below:
Screen Size of 4 inch (10.16 cm).
Display Resolution: 800x480
Display Type: , capacitive touchscreen
CPU: 1GHz Dual Core processor
There is 1GB RAM.
It comes with internal memory of 4 GB.
WiFi- yes
Bluetooth: Yes, 4.0
Primary Camera at the rear: 5 megapixel
Front-facing camera- VGA
Out of box, it is loaded with Android 4.1 Jelly Bean OS.
Battery Juice of 1700.
More here: Samsung Galaxy Xcover 2 Full Specification, price
Galaxy Xcover 2 Release Date, Price
Like every people who love gadgets, you're curious to know what this phone will be released so that you could get your hands on this device. Well, the release date of Galaxy Xcover 2 is not announced, but we're certain that it'll be available for purchase/sale post MWC event i.e. March. The price of Galaxy Xcover 2 will also be  announced at MWC hopefully. As with any other phone, the price and release date varies from country to country so keep your eyes on us as we'll keep you updated. Don't forget to connect with us on Facebook, Twitter, Google Plus. Feel free to put your opinion in comment section about this Samsung Galaxy Xcover 2 waterproof android phone.