I remained awake whole night, here in India, till morning to witness the next big thing, in Samsung words, because of the timezone differences as the s4 launch event was being held at Radio City Music Hall, New York at 7pm (in NY Time), just to find that the next big thing is just an upgrade of SGS3 (galaxy s3) and not another revolutionary chapter in android flagship series. Now, I feel I should have slept instead of forcibly peeling my eyes out of tiring eyebrows. Watching the unpacked event at 4 am in India after a tiring day is really hard work. As the event started, I was very excited. I calmly and patiently listened to every words being said, each demo being presented and then I hear the word 'conclude', I was taken aback. Is that all? I had just started to enjoy the event and I was now warming up to galaxy s4, but the event ends, which puts an end to my growing expectation and reminds me 101's of not having high hopes. Furthermore, most of the details including the phone design and core specifications have already been leaked few hours before the launch so watching the event was like watching highlights or recap somehow as nothing greatly surprising, unique or innovative came up. Anyways, let me give you the whole perspective and what's there on Samsung Galaxy S4 – All You need to know.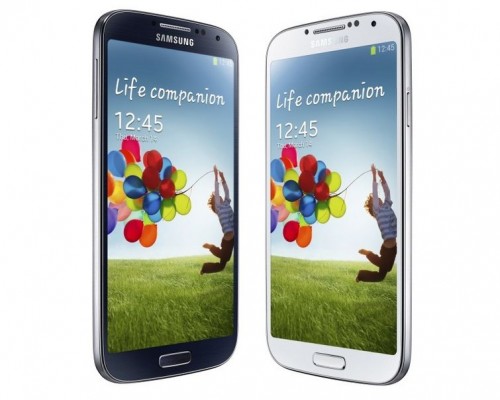 Samsung Galaxy S4 Full Specification, Features
GS4 Design:
We all knew since the beginning of time that Samsung will not give up its 'plastic affair'. SGS4 is designed along the same design rhythm as SGS3 is. In fact, the two handsets look a lot similar in such a way that you may find hard to differentiate among the two by just looking at their photos. So, Samsung has finally settled on this design language, but that's surprising because when you settle onto something, it should be the best, not a compromised scheme. Consumers have always demanded for a better build quality and premium look n feel, which Samsung has failed to deliver, yet again. Its competitor, HTC One delivers that premium look n feel with its aluminum unibody design, which consumers aspire from their investment in high-end phone. Galaxy S4 is of the same height as galaxy s3 which means that S4 is not physically longer or wider, even when it has 5 inch screen. This is where we give Samsung solid positive point. In fact, Samsung has gone to the extent of making Galaxy S4 little less wide and thick in comparison to S3. Galaxy S4 has 136.6 mm height, 69.8 mm width, and 7.9mm thickness (whereas S3 measures 136.6 x 70.6 x 8.6 mm). Even it weighs just 130 gram or 4.59 ounces (S3 has weight of 133g). So, Samsung has taken due care of device ergonomics and s4 scores positive accolades on its physical dimension and it beats HTC One as well as Xperia Z in this aspect (HTC One which has 4.7 inch screen, but still measures 137.4 mm height, which is higher than s4's, but HTC One measures 68.2 mm width, which is lesser than s4 making it more easy to hold in hand, but then HTC One is thicker than S4. So overall, Galaxy S4 wins).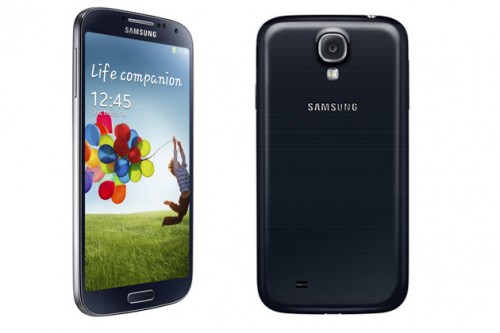 The ports location on s4 is neatly arranged and in the same fashion as in s3. Since S4 also houses IR Blaster, it is located on the top edge of the phone. Volume rocker, power button, speaker grill – all are there. No new buttons (presence of physical camera button is still a dream). Galaxy S4 is not water-proof. The back panel is removable. Micro-sim card slot and micro-sd card slot are all located just above the battery and can be accessed by removing the back panel. There are no dual-sim card slots, nor such announcement for a dual-sim variant model.
SGS 4 Display
Galaxy S4 features Full HD 1080p Super Amoled Display with pixel density of 441 ppi. So, it's not PHOLED, or SoLux display, as rumored; but it's still PenTile. With Super Amoled display type, the colors, contrasts, saturation, vividness – all seem great. The viewing angles are also superb, as the text and stuff on the screen can be seen easily even at full sideways angle. The touchscreen even supports glove-fingers i.e. we can touch and tap our fingers on touchscreen with gloves on.
Samsung Galaxy S4 Performance
Now, let's talk about core performance power of Galaxy S4. Although, during the event, we didn't hear of anything in particular about processor. Galaxy S4 debuts with Exynos 5 Octa processor. Eynos 5 Octa contains Cortex-A15 1.7GHz quad-core and 1.2GHz quad-core Cortex A7 processors. Cortex-A15 part is for high and demanding performance while A-7 part is for general performance and saving battery power. We can't say much about the exact horsepower that this chipset contains and how it competes against Snapdragon 600 in various benchmark tests, but given the past record of Exynos processors, we're certain that the chipset is certainly of the top-notch type. But, there is a catch! Not all regions will get their s4 with Exynos chipset. There will be Galaxy S4 variants based on processor, especially due to LTE. So, if you're going for Galaxy S4 LTE variant, Snapdragon processor might be housed inside instead of Exynos. The Snapdragon alternative is supposed to be 1.9GHz quad-core Snapdragon 600, although it is not yet established.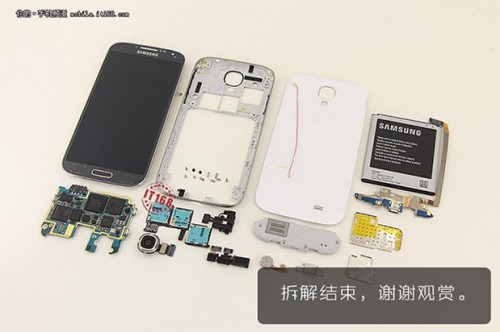 It has 2GB LPDDR3 RAM. LPDDR3 RAM offers higher data rate, more bandwidth and power efficiency, and higher memory density as well. This will ensure easy and speedy multitasking as Galaxy S4 also features Multi-window mode, which allows us to work on two apps at the same time. On the GPU side, it has PowerVR SGX 544MP3 GPU from Imagination Technologies running at up to 533MHz. So, Samsung finally ditched Mali GPU in favor of PowerVR. In fact, Apple uses PowerVR GPUs in its chipset as in the latest iPhone or iPad. PowerVR SGX544MP3 is triple-core GPU capable of 51.1 GFLOPS. This GPU is more powerful than that used in iPhone 5, but little less powerful than the GPU used in Apple A6X chipset used in iPad 4. But, hey, we should not compare phones GPU power with tablets, right?
Let's wait for retail unit for galaxy s4 reviews and then we'll be able to figure out if gs4 is worth the hype.
Connectivity:
Samsung has made Galaxy S4 to cater to all markets and so it supports every network band out there. Even, when it comes to 4G LTE support, Samsung has announced that Galaxy S4 will come with support for FDD-LTE as well as TD-LTE. In fact, SGS 4 packs radios for HSPA+ (850/900/1900/2100MHz) and LTE (six different bands in total), as per the regional demands and variants. With HSPA+, it supports download speed of 42.2 mbps and in LTE Cat 3, the maximum download speed could reach upto 100mbps. It has dual-band WiFi (Wi-Fi 802.11 a/ac/b/g/n) and Bluetooth 4.0. It also has micro-USB (USB OTG support obviously), MHL 2.0 for HDTV-out (HDMI) support. It also has NFC. Although, Samsung didn't announce it officially that Galaxy S4 supports Wireless charging, but we've heard from multiple sources that SGS 4 does support wireless charging based on qi-standard and that the compatible backplates and charging pad will ship depending upon regions and carrier.
Apart from regular sensors like accelerometer, barometer, digital compass, proximity sensor, gyro, etc, there are RGB light, IR Gesture, Temperature & Humidity sensors also present. Galaxy S4 also comes with embedded Light Based Communication technology from Mobeam that allows it to beam traditional 2D bar codes making it compatible with existing POS Systems as Mobeam will onvert barcodes, coupons, loyalty cards and gift cards into a beam of light that can be read and recognized by every one of the estimated 165 million laser scanners in use today by several retailers around the world.
Galaxy S4 Camera
Galaxy S4 has 13 megapixel rear camera and 2mp front camera. The camera module has back-illuminated sensor (BIS) for enhanced shooting in low-light conditions. The camera features Zero Shutter Lag. The camera lens has f/2.2 aperture, and it is faster. There are lots of tweaks and software-based customizations available in camera module on sgs 4. The most interesting one is dual camera recording or shooting support. With DualShot mode, user can capture whatever is at rear view of phone as well as what's in front of the phone at the same time. You can use this feature during video-chats as well featuring yourself on the top using front camera with the sighting of rear camera in the background of video-chats. The dual still and video capture ensures that the person taking snaps of others can be part of the snaps as well. The same applies for video captures. The camera app on Galaxy S4 also features templates (like., stamp, heart shape, window, fisheye) for the picture-in-picture stills, Eraser mode to correct accidental snaps or intrusion, or background blur, Cinema Photo for still captures with moving backgrounds, a Sound & Shot option to record up to 9 sec of audio to accompany a still. Moreover, there is also 'Drama Shot', that activates burst mode to capture several pics and produce them into animated GIFs. And of course, all these can be easily shared among your buddies.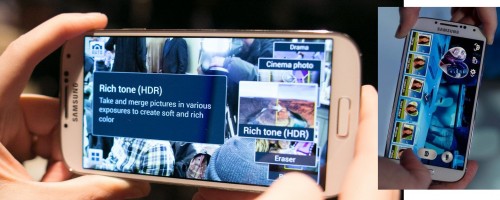 Galaxy S4 Software:
Samsung Galaxy S4 comes with the latest version of Android i.e. Jelly Bean Android 4.2.2 OS with TouchWhiz UI on top of it. On Galaxy S4, all those features of galaxy s3 are present, like Popup play, Smart Stay, Multi Window, Smart Dial, etc. In addition, there are some new features as well:
S translator which supports translation of audio or text in upto 9 languages. S translator can translate sounds and well as the text. It can also translate text in a picture. So, this app seems to be useful for international travelers.
Air View – with this, you can just hover your finger over email, thumbnails, etc to preview the content. This doesn't require S pen. It works just with your fingers. You don't even need to touch the screen. One may wonder why such a feature is needed, but be assured that there are certain scenarios where this feature can prove really useful.
Smart Scroll/ Smart Pause – With Smart scroll, you don't need to touch the screen to scroll contents on webpage or any other app. Although, it doesn't work with your eyes as was rumored. Smart scroll works on the device tilt basis. Smart Pause utilizes Smart stay feature and it pauses video playback if you look away from the screen and resumes back when you're looking at the screen.
S Voice Drive – S Voice is now more optimized for better accessibility during driving conditions as it responds to your voice commands and act accordingly without the need to actually touch the phone.
Samsung Watch On –

Since Galaxy S4 is equipped with IR Blaster, it can act as universal remote to control your HDTV, DTH, DVD, air conditioner and other such equipments. So, this feature makes good sense and is worthy addition to GS4.

S Health – Since Galaxy S4 comes with bunch of additional sensors like Temperature, Humidity, Pedometer, etc, those sensors are there for special purposes. S Health app acts as your health advisor and monitor. You can use it to plan your workouts, feed info about your eating and sleeping activity, keep track of calories intake and burning, etc.
Group Play – This is another unique feature that lets you play a song/music in group. If you're partying with a small group of friends and all your friends own GS4, you can use Group Play feature to create a surround-sound setup. Your phone acts as main station while other phones server as speaker channels. You can even control volume levels from the main station i.e. your phone. This will create surround-sound music system in an instant, but of course, for this to work, all your friends should have galaxy s4, which is not going to be the case in practical scenario. With Group play, you can also play local multi-player games if the games support this. As reported, Asphalt 7 and Gun Bros 2 do support this group play feature allowing you to play these games with your friends locally.
Samsung Knox Security for enterprise-level protection and personal level privacy in the same phone. With this, business and personal content could co-exist on the same handset with a wall between them so that you can keep your business stuff under security containers while the usual stuff usually.
Galaxy S4 Price, Release Date
The release date of Galaxy S4 is not exactly detailed, but Samsung promised that the phone will start selling from the end of April. Its availability depends on the carrier as well as the markets. Sprint, T-Mobile, AT&T, U.S. Cellular – all these are bringing Galaxy S4 on their network. In UK, you can buy Galaxy S4 on LTE network, EE , both online and in its bricks and mortar establishments, from 26th April, while the pre-order page will go live from March 28th. In India, Galaxy S4 will be released in 1st week of May, 2013. The price of Galaxy S4 is also not revealed, but on contract-basis, the price will be subsidized heavily by carriers. The price of unlocked galaxy s4 will be almost similar to that of HTC One. Since, this is Samsung flagship handset, expect the price to be high, atleast at the launch. As usual, the price will go down after few months of initial launch. Initially, Galaxy S4 will be available in White and black colors, but within few months, expect other magnificent colors of Galaxy S4 for sure.
Samsung Galaxy S4 Accessories:
Well, we've few exciting accessories from Samsung to accompany galaxy S4, but of course, these are extra and optional which means you'll have to buy these separately.
Samsung Prototype wireless gamepad is xbox-like controller which connects with GS4 via bluetooth. It holds the phone through a clamp-up structure that can be extended to fit other phones as well. We hope that it might be compatible with other phones. The release date, pricing and availability is not clear yet, because this is just a prototype and it may take few months before debuting in the market. This Samsung wireless gamepad has face buttons, dual analog sticks, a D-pad and shoulder buttons on the back. It is powered by Dual AAA batteries.
Another useful accessory is S View Cover. This is protective flip cover to safeguard your phone from dust, scratches, etc. It has a small window at front that lets you see incoming calls and respond to them without opening the cover i.e. exposing the device.


For health conscious users, S band and Samsung Body scale accessories are there which sync with S health app on Galaxy S4.
Of course, third-party accessories will be available in plenty soon.
Keep reading our blog for more updates about your favorite android phone and do share your views in comment section below.