So those rumored info and leaked images were not false, those were indeed true, and now Samsung has taken wraps off its next camera phone – Galaxy S4 Zoom. Running Android 4.2 JB OS, packing dual core processor and 1.5GB RAM, qHD display of 4.3-inches and 16mp camera with Xenon flash, 10x optical zoom; it comes with 2G/3G/4G network support and sim card slot for cellular calling.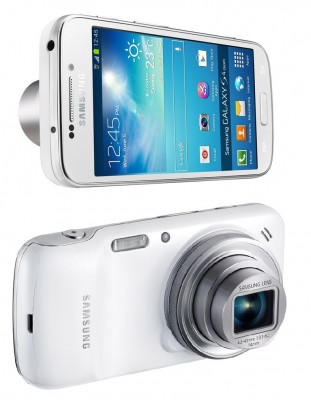 We've heard of phablets, so what's appropriate term for s4 zoom? Should it be camphone (camera+phone)? Well, Samsung might push a lot to present Galaxy S4 Zoom as camera and phone (instead of android smart camera), but with its look, design, dimension, we can say that it is android camera with calling capabilities, rather than android phone with advanced camera, because this device is camera first. The added advantage is that it features network connectivity. It's basically android camera in disguise of phone. This is Samsung's attempt to market this camera (maybe, galaxy camera, released earlier, didn't make good sales for Samsung so they needed new marketing concept). Samsung does follow marketing ideas confusing for consumers as they've done with this – it's called as Galaxy S4 Zoom, my question is – Why 'Galaxy S4' in its name when it doesn't sport hardware specifications similar to sgs4? This is another marketing tactic by Samsung to capitalize on its investment in s4 branding, and it is not healthy from the perspective on consumers. It is simply confusing, illusionary to consumers as consumers might assume the specifications and features to be similar to that of galaxy s4 smartphone, whereas in reality, it is otherwise.
Talking about its specifications in detail, Galaxy S4 Zoom doesn't have high-end quad-core chipset, instead it features average dual-core cpu with clockspeed of 1.5GHz and 1.5GB RAM. Even the display is of 4.3-inch only. A bigger display on such kind of device makes more sense. The resolution is 540*960 pixels. Being a camera device, higher screen resolution would have made it more appealing. NFC, Bluetooth 4.0, Dual Band WiFi, etc, are all present. It even supports LTE connectivity.It has 2330mAh battery. The internal storage is 8GB, out of which about 5GB is available to user. So, this is another area of complaint. Higher internal storage would have been appreciable. Storage capacity can be maxed upto 64gb via micro-sd card. It measures 125.5 x 63.5 x 15.4 mm and weighs 208 grams.
So, connectivity is the one aspect where Samsung has not made any sort of compromise, but the raw specifications are not powerful enough to deserve Galaxy S4 branding.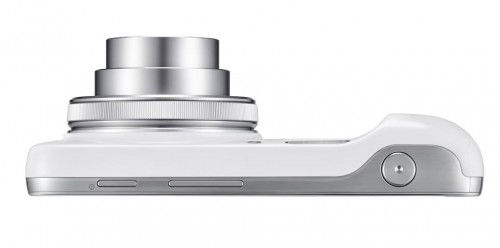 About its camera, it has 16 megapixel shooter at the rear, while 1.9 megapixel at the front. The rear camera is powerful camera with optical image stabilization, 10x optical zoom. It has BSI CMOS Sensor. Camera comes with lots of software based optimization features and modes, like, panaroma, hdr, best photo, sound & shot, eraser, drama, continuous shot, etc.  Features like Story Album and paper artist are also there.
Galaxy S4 Zoom Release Date, Price
The price of Samsung Galaxy S4 Zoom is not announced nor its release date but some sources have revealed price to be around $620 and the release date to be in July. This device will also be showcased at Samsung Premiere Event, 2013 in London on June 20. At the event, more info on its pricing and release date are likely to be announced. We're curious about its price because all our arguments, views finally come down to device's pricing. If the price is reasonably cheap, all the compromises are overlooked and we happily embrace the technology, otherwise you know! Galaxy S4 Zoom will head to India as well for sure.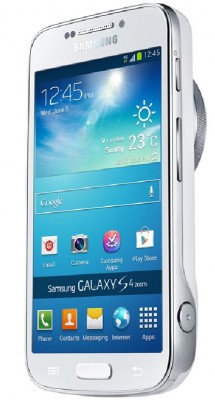 A quick recap of Galaxy S4 Zoon Specifications
Screen Size of 4.3 inch (10.922 cm).
Display Resolution: 960x540
Display Type: , capacitive multitouch, Super Amoled Display
CPU: 1.5GHz Dual core processor
There is 1.5 GB RAM.
It comes with internal memory of 8 GB.
WiFi- Wi-Fi 802.11 a/b/g/n
Bluetooth: Yes, 4.0
Primary Camera at the rear: 16 megapixel
Front-facing camera- 1.9mp
Out of box, it is loaded with Android 4.2 Jelly Bean OS.
Battery Juice of 2330mAh.