Currently, there are two smartphones in the market that carry 'best smartphone' tag – Samsung Galaxy S4 or HTC One. Deciding between the two is close call. So, finally I bought Samsung Galaxy S4 after much pondering since it felt hard to choose between HTC One and galaxy s4. I had to buy either but I settled onto this one. I'll talk about the 'why' in my galaxy s4 review later. Here, let's continue with galaxy s4 unboxing: (Video is embedded at the bottom of the article. Hit on the images to view them in larger size.)
This is not one of the common boxes. The design and look of this box is different. It has wooden kinda look and feel, which I appreciate, but this is ironical as well that a handset that costs so much is packed into such a box that the entire package doesn't look that premium. I still remember box of my old Motorola Razr V3i. That box, its design was impressive. Here we've specifications listed: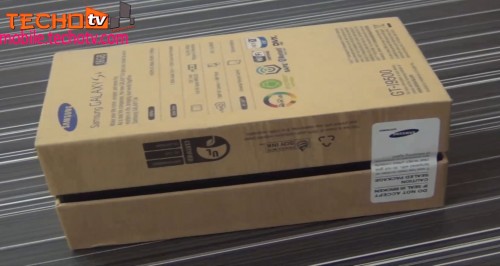 Galaxy S4 16 GB,
HSPA+, (We don't have 4G LTE feature on this smartphone in India)
Octa Core,
Full HD Super Amoled display
13mp rear camera, 2mp front camera
Universal Remote Control
2600mAh battery
and then we've bunch of logos and certifications.
On one side, we have some details about environmental friendly efforts of Samsung as the box is made of recyclable material and printed with Soy Ink.
First impression : It feels really light. Well, because the battery is not fitted inside yet.It is nicely wrapped with plastic covering on all sides.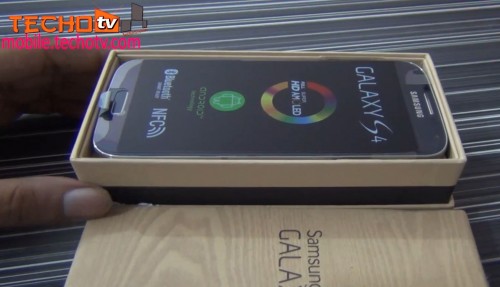 We've user manual that is quick start guide with colorful impression inside. We also have few cards inside it probably warranty card and safety information pamplet.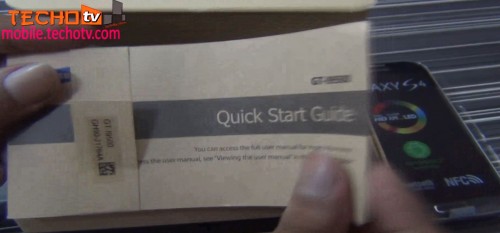 Here it is data cable, that also acts as charger wire for connecting it with charger adapter. Data cable or charger wire is really short and this will not be liked by many users including me. The wire seems to be durable and strong though.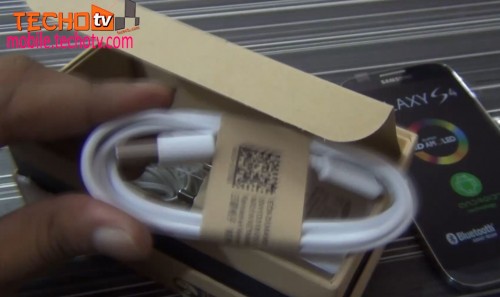 Samsung has stopped providing separate standalone full-fledged chargers. Talking about charger, It feels kinda weird. I mean I ordered black galaxy s4. Apart from the handset itself, everything else is of white color. The charger feels tough. The charger has usb port for connecting data cable as charger wire. It's also wrapped in plastic.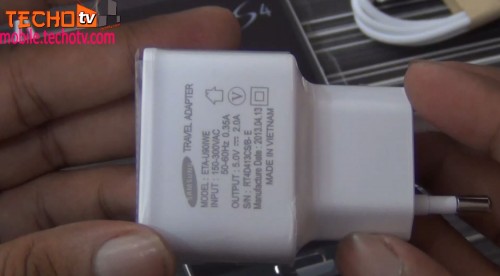 Here, we've usual earphone, although its build quality is good. The earphone has mic and volume controls. I wonder why Samsung doesn't bundle unique earphone with its flagship lineup.

The battery is light. Samsung has provided 2600mAh battery with this phone. Battery is also wrapped in plastic. Even with higher capacity, the battery doesn't weigh much. It feels light. We've the Samsung logo here. Battery capacity and Serial number is mentioned right on the bottom part.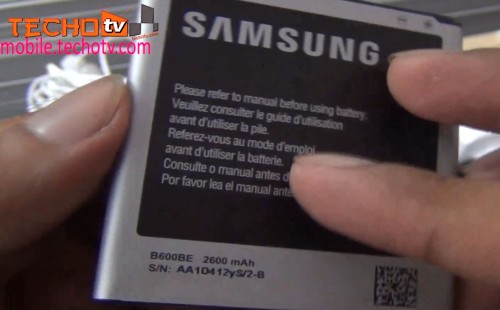 So, these are the box contents together. User manual, earphone, earbuds, battery, charger, data cable, handset. No extra accessories, no leather flip cover, no cases, no screen guard, no S View Flip cover or any similar thing in the box.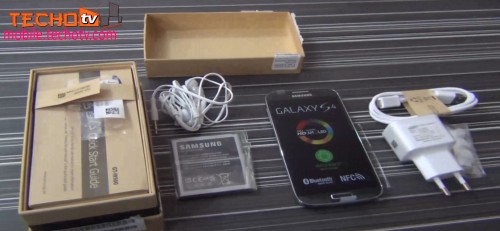 Now lets come to the main part. The handset! It's also wrapped with plastic covering on the back which can be easily peeled off. On the front we've the usual transparent plastic sticker with Galaxy s4 label, Super Amoled Display label and NFC, and android logo. Both the surfaces (front and back) are very reflective.
We've 13 megapixel rear camera at the top and led flash located just below it. I've not much to complain about camera placement, but I always like the square kinda look of galaxy s2's camera.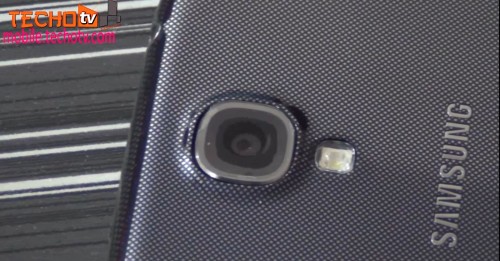 On the bottom we've micro-usb or charging port. It's not covered and doesn't have any kind of door built. and then we've microphone there. On the right, we've power button. The button is also very thin. On the top, here it is infra-red blaster for universal remote functionality. We've another microphone here next to 3.5mm audio jack.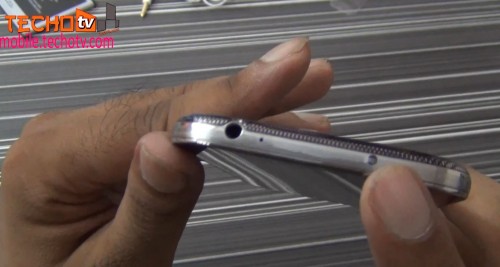 On the left, we've volume rocker which is thin single bar, not separated for volume up/down control.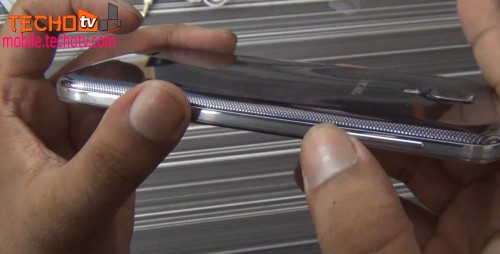 On the bottom, this is speaker grill. The middle bar of this grill is little curved extending outward. On the top of front, there is earpiece and bunch of sensors including front camera and notification led light. On the bottom part, we've slim home button and two capacitive touch buttons.
The back panel is really light, can easily bend, can easily break as well. Even though, it is of plastic, I do like its design. It is so shiny and reflective that you can not say that it's black fully. Galaxy S4 supports micro-sim.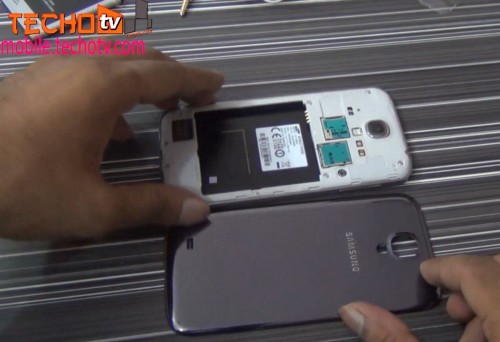 As you can see, we've micro-sd slot which supports micro-sd of upto 64gb capacity. Beside it, we've micro-sim slot. You can watch our tutorial on how to cut your normal sim card into micro-sim by visiting our youtube channel. There is plastic covering on the lens of camera as well.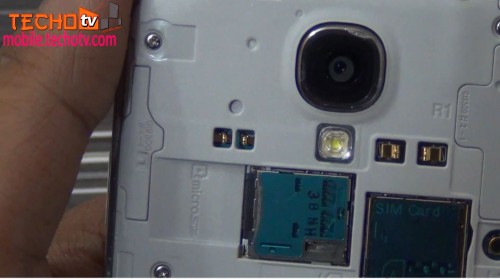 Take a good look at all the engraving and the labels embossed inside to differentiate the original from duplicate if you ever encounter fake galaxy s4.
Watch Galaxy S4 GT-I9500 Unboxing, Full Hands-On
Feel free to ask any questions related to Galaxy S4 handset. Stay connected with us for more SGS4 videos, reviews, and tutorials. Check latest price of Galaxy S4 in India and its specifications on the linked page.