Price changes especially when it goes towards south, are always welcome by new customers, and at the same time are resented by early adopters. Samsung Galaxy S4 launched in India with a bang at Rs.41,500. It sold in pretty good numbers and now within 20 days of launch in India, the price has gone down officially by about Rs.1200, currently selling at Rs.40,300. If this price decrease is any indication, expect further price decrease in upcoming time. It's not uncommon for the price of newly launched top handsets to decrease, but this case is seen as unhealthy by those who spend their bucks during early days of release. Well, however, the caveat of price decrease is known to early adopters, yet they can't suppress their urge and curiosity, their craving to get their hands on the devices as soon as possible, and so they go ahead. Who to blame then?
Yet, there is one fine case where Apple iPhone wins. The price depreciation doesn't flag so early in case of new iPhones. They maintain their market value to the original pricing for much longer time.
Anyways, for new customers, who're smiling reading this post, who haven't yet bought Samsung Galaxy S4, can now buy it for Rs.40,300 from usual sales point or if you do a little research or take help of our phone price finder tool, you can even buy it for lower price. As per our, Samsung Galaxy S4 Price page which is being updated daily with the latest price of SGS4 from top online retailers like Flipkart, Saholic, Infibeam, Tradus, eBay, Snapdeal, Shopclues, etc, the lowest price is Rs.37,699 on Shopclues. That's really a good deal.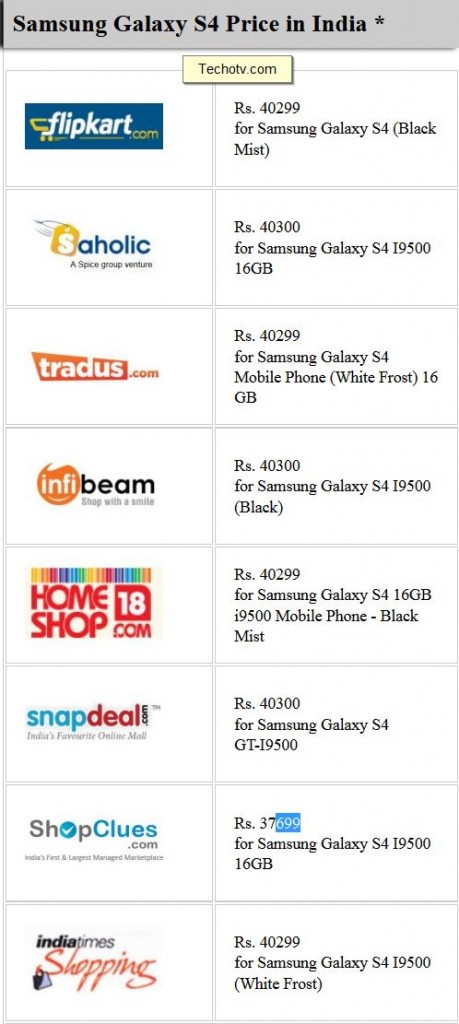 Note that this article may get old and so the price given in this article may go outdated, but the linked page in the above paragraph for latest Galaxy S4 price is updated daily. So, use that page to keep watch over the price of your favorite wish-listed phone and buy when you think the price has dropped to the right level (although don't expect very high price drops unless Galaxy S5 is at the verge of launch).
The price decrease of SGS4 in India makes this phone more attractive buy in comparison to HTC One which is lately being made available in India and currently selling at Rs.42,900.