At a dedicated launch event today in Gurgaon, Samsung has officially rolled out Galaxy S4 in India with clear schedule of availability and hint of its price. Hold your breath as the big news comes here. The price of Galaxy S4 in India is set at Rs.41,500. So, the price is now officially out and we can see that it's cheaper than the price of HTC One (priced at Rs.42,900). With smart pricing of Samsung and very definite and timed release date of SGS4 in India, it seems that the high-end race is again in the hands of Samsung.
Galaxy S4 will start selling from 27th April, 2013 i.e. tomorrow. It'll be first available for sale between 12 noon to 4pm from Samsung e-store online ( samsungindiaestore.com )and in select Samsung premium brand stores in Delhi, Mumbai, Bangalore and Hyderabad as per announcement, but I just checked Samsung India e-store and they're selling it the moment I'm writing this report. So, if you want to be among the early adopters, hurry up as the first 400 successful Galaxy S4 orders will get special accessory as bundled offer. The phone will start shipping from tomorrow. After 4pm tomorrow, the phone is likely to be available from other retail stores as well so feel free to check out your favorite stores for galaxy s4's stock.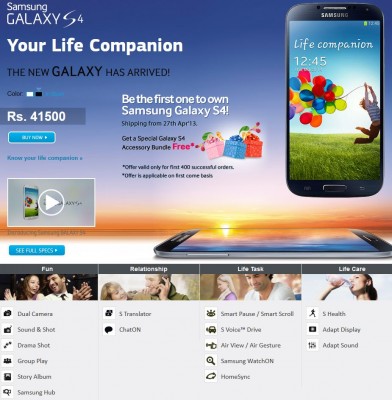 The Indian variant of Galaxy S4 will feature Exynos Octa processor based on bigLittle architecture utilizing Cortex-A15 1.6GHz quad-core processor along with Cortex-A7 1.2GHz quad-core processor. Both the processors don't work at the same time. Based of performance needs and demands, one of the two processor runs. This kind of architecture and implementation is done for battery-saving measures. India will not receive Snapdragon 600 based S4. If you're concerned Also, the S4 variant introduced in India will not work with LTE (4G) network, although the chipset inside supports all bands of LTE 4G network.
FAQ Related to Samsung Galaxy S4 India
What's the model name/number of Galaxy S4 available in India?
Ans. GT-I9500ZWA
Which processor variant is equipped in SGS4 India?
Ans. Exynos Octa processor variant.
Which one is better? – Exynos Octa variant of Snapdragon 600 ?
Ans. Both the processors are different, but when it comes to performance, they're a hair different speaking on broad terms. Exynos is built by Samsung whereas Snapdragon 600 is Qualcomm's product. 4G LTE prioritized markets like US, UK, etc are getting Snapdragon 600 variant whereas those without effective 4G LTE network are getting Exynos variant. Taking general opinions of masses, users are more inclined towards Exynos variant, rather than SD600 variant.
What's storage variant of Samsung Galaxy S4 available for sale in India?
Ans. – 16GB
Can I buy 32GB SGS4 in India?
Ans- Not for now!
Does Galaxy S4 support 4G LTE network in India ?
Ans. – NO
What's the introductory offer with GS4 ?
Ans. – For early adopters, special bundled accessory offer is available. Those customers who buy from Samsung India Estore online can get benefit of this offer, but the offer is limited to first 400 successful orders of SGS4. Furthermore, All GS4 buyers will get vodafone bundled offer with unlimited 3G internet (FUP applies – Fair Usage Policy), 3000 minutes worth of local and STD voice calls, 750 local and national messages. This doesn't mean that your phone is locked to vodafone network. You can just avail Vodafone bundled benefits on your vodafone number. Rest assured, You can use your phone with any network of your choice. What's disappointing is that this offer is limited to Vodafone network. Samsung should have fetched deal will all operators in India to provide some sort of similar benefit.
Can I buy Galaxy S4 from local retail markets?
Ans. – Starting 27th April, the phone will be available in local markets as well. There may be delay of few days based on the location where you're situated and how responsive local shops in your area are.
Which Galaxy S4 color is available for sale/purchase in India??
Ans. – Black and White for now!
Isn't the price tag of Rs.41,500 too high for SGS4 in India?
Ans. – The price is lesser than HTC One. Of course, the price is higher than Sony Xperia Z which is currently selling at Rs.35k-36k INR. If you don't want to spend Rs.41,500 for SGS4, you need to wait for sometime as the price will eventually go down and the early adopters always pay higher premium! The price in other countries like US is lower because of the contract based network-locked phone sale offer that is prevalent in such countries, unfortunately no such contract-based sale offer in India.
Is there a dual-sim model of Galaxy S4 available in India?
Ans. – As much as you want, believe me – I want it too and many other Indians also desire for dual-sim model, but unfortunately Samsung didn't release any dual sim model of their flagship phone here.
For specifications and other posts related to GS4, check out recommended posts section below.