Originally, Samsung Galaxy Tab was soon iPad competitor, but soon things didn't turn as well as Samsung expected. Apple's iPad remained unchallenged. Now, Samsung has tried again to compete against iPad, but this time they're focused on Note series which is taken more in tablet sense by consumers. In fact, when you think of Samsung tablet, "Note" rings louder in your mind than galaxy tab series. Hence, Samsung launched Galaxy Note 10 earlier and now is ready to launch Samsung Galaxy Note 8.0 at MWC, Barcelona. This is not another rumor as the news is officially confirmed by Samsung's chief of Mobile Communications JK Shin. We need to wait for 1 month for official spec-sheet of this upcoming tablet when the tablet will be officially announced at MWC. But, if you're curious, read ahead as we've presented all rumors, reports, news surrounding Galaxy Note 8.0 here in this article (We update this article often).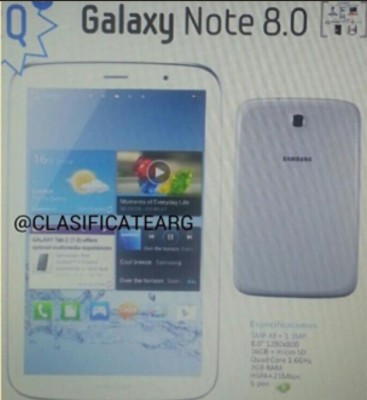 Galaxy Note 8.0 Specification
Being referred as iPad Mini competitor or say android alternative, it packs (based on leaked rumors and reports) :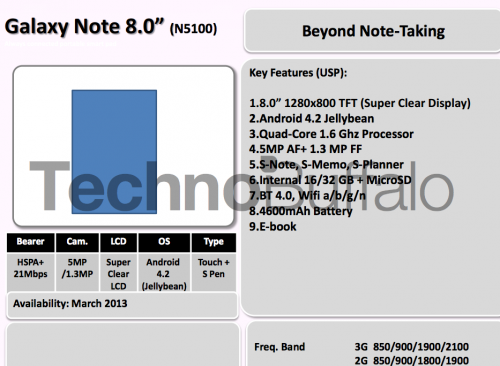 1.6GHz quad-core Exynos Processor (If you wanna know – is it Exynos Octa 5? – Well, the answer is no).
2GB RAM (well, I've doubts regarding this. I think of about 1GB of RAM as it is considered as iPad Mini competitor, not iPad 4 competitor)
8 inch screen size with HD resolution of 1280*800 pixels. It is SuperClear display. (Don't expect SuperAmoled display of 8-inch screen size). Based on the given screen resolution and display size, we'll get about 188ppi (pixel density). On the display front, Galaxy Note 8.0 turns out winner as iPad mini has 1024*768 resolution (But maybe, another upgrade/revision of iPad Mini is in the pipeline and so Apple may surprise us in the 3rd-4th quarter of the year by providing Retina display in iPad Mini 2. Anyways, that's long time, especially in the world of technology).
5 megapixel rear camera and 1.3mp front facing camera. Whether the primary camera can shoot 1080p videos or not – will be known when the product is finally released, but we hope it could.
16/32GB internal storage with support for external memory card.
4G LTE (only in regional models in select countries), 3G (HSPA+ – 21mpbps), 2G cellular connectivity. Some reports say that Samsung may release two specific variants of Galaxy Note 8.0 – first being WiFi only version, second being WiFi+ cellular as Apple does with iPad.
WiFi, Bluetooth 4.0.. Presence of NFC is not confirmed but we hope it to be NFC capable because that would certainly make it easy to share content across smartphones and tablets.
4600mAh battery. Lets see how many hours will this tablet be able to run, once the product launches. Apple has a good advantage with its tablet and users certainly remark of good battery backup in iPads. Let's see if Galaxy Note 8.0 could stand on this front.
S-pen since this is Note series. We'll certainly get Samsung's proprietary S-pen stylus for note-taking and other similar usage.
Multi-window, S voice, Popup Play, Smart Stay, Smart Dial, latest iteration of Touchwhiz Nature UI, etc will certainly be featured on this tablet.
Android 4.2 Jelly Bean – Now this is also good news as this is the latest version of Android.
Galaxy Note 8.0 model name is GT-N5100.
Samsung Galaxy Note 8.0 Release Date, price
The release date of Samsung Galaxy Note 8.0 is scheduled for March as this tab will start selling from March, this year. The price of Galaxy Note 8.0 is not known nor we have info from any source regarding the same, but we do expect pricing info details at the official announcement event at MWC. From the leaked images, it seems that Samsung has finally settled on uniformity as it is designing all its latest smartphones, tablets along the similar design quota of Samsung Galaxy S3. We expect the weight to be about 300-400g and thickness to be considerably low because as from the leaked image of Galaxy Note 8.0 above, it is also touted as excellent e-book reader. and And we've also observed 'White' color to be the preferred choice of Samsung, these days. But, as usual, we'll get this tablet in some other color choices as well, but those colors may not be available initially. What do you think of Note 8.0? Are you excited? Do you think it will be able to capture the market, which is currently occupied primarily by Apple tablets. In India, low-cost budget tablets have already flooded the tablet market, so this would get tough for Samsung to pursue successful sales in Indian markets.