Few months ago, Apple released a cheaper and smaller version of iPad Mini. Whenever Apple releases an innovative device, competitors like Samsung jump into produce a much more competitive device to bring down the sales of Apple. We are now talking about the iPad Mini killer, the Samsung Galaxy Note 8.0.
Well, Apple may release an upgraded version of iPad Mini in the forthcoming months. By then, the iPad Mini killer device from Samsung may be already launched. The current version of iPad Mini comes with a 7.9 inch screen that supports a display resolution of 1024 x 768 pixels. The Samsung Galaxy Note 8.0 is going to sport 1280 x 800 pixels on its 8 inch screen.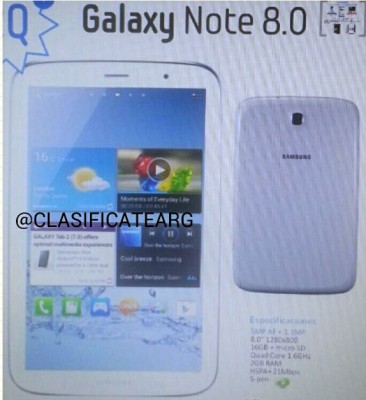 A leaked image of the Samsung Galaxy Note 8.0 was released by @ClasificateArg. The image is not the official one from Samsung but it does give us an idea about the looks of the forthcoming Galaxy Note 8.0. When you see the leaked image of Galaxy Note 8.0, you will feel that the device is a hybrid of Galaxy Tab 2 7.0 and Galaxy Note 10.1. The image was brought to light by Twitter user @ClasificateArg through SamMobile. The image also shows a presence of front-facing camera as well as rear camera. It also appears as if it is a magnified version of Galaxy Note 2.
The Galaxy Note 8.0 will be featured at the Mobile World Congress 2013. According to the recent rumors, the Note 8.0 is going to run on 1.66GHz quad-core CPU. The other features include 2GB RAM, 5MP camera at the back and a front-facing camera of 1.3MP, S-Pen (stylus), aGPS, Wi-Fi and HPSA+ connectivity, Android 4.2 and a battery of 4600mAh. It will be available in two internal storage options namely 16GB and 32GB. It will also contain a microSD external storage slot.
The Apple vs Samsung battle continues to get bigger and bigger. On 21st January, Samsung Mobile President, J.K. Shin had told Samsung will be releasing a new tablet sporting the same kind of design that is offered by iPad Mini. He also announced that the device will be unveiled at MWC 2013 which will be held from Feb 25th to Feb 28th. He had also announced the unveiling of Galaxy S4 without mentioning the release date.
We feel that the Samsung Galaxy Note 8.0 will be priced much lower than iPad Mini. This will effectively help in lowering the sales of iPad Mini. The pricing of the Galaxy Note 8.0 is likely to fall somewhere in the range of iPad Mini and Nexus 7.  The S-Pen stylus is an optional accessory which can be availed by paying additional money, as per rumors.
The iPad Mini supports LTE connectivity whereas the Note 8.0 lacks this feature and only offers +HSPA connectivity. So, it's completely up to you to choose a device that is priced low and offers better features or go with the iPad Mini that offers 4G LTE with similar features. Still, there are many more details that are yet to be disclosed and confirmed on Galaxy Note 8.0 which can be only confirmed at the upcoming MWC 2013 event.