The mighty Samsung Galaxy Note III, the phone of this month, the phablet king of this year, is releasing in India soon as the official launch date has been confirmed by Samsung India. They're sending press invite for launch event to be held in New Delhi on September 17. As has been the norm in the past, as soon as it is launched, it will be up for pre-order from Samsung official India estore and within a week, it'll start selling online as well as in offline stores. To accompany the launch of this phablet, the controversial smartwatch, Galaxy Gear, is also releasing. The price for these devices are not revealed. So, make your guess in comment section.The newly announced Galaxy Note 10.1 2014 Edition tablet may not be launched at the event.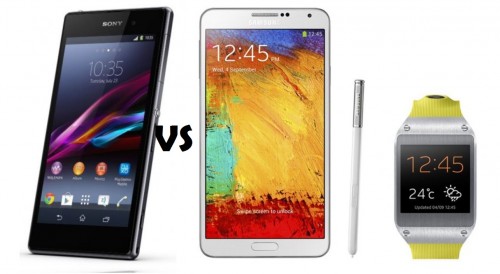 Just a day after i.e. on September 18, Sony India is launching its flagship Xperia Z1, successor to the waterproof Xperia Z. Here again, neither the price nor the availability details are revealed, but we're just a week away. We hope that Sony doesn't price its Z1 ridiculously high. Xperia Z1 has top-notch specifications like LG G2, but the most appealing aspect of the device is its Sony 27mm G Lens powered 20.7 megapixel camera. Consumers will have choice of 3 awesome colors – Black, White and Purple for Z1. Other devices that could make debut at Sony India's launch event are Cyber-shot QX10 and QX100 lens-style cameras.
We've already discussed why Galaxy Gear is not the smartwatch you wanted. About Note 3, we can say that it is powerful and attractive. In India, Exynos variant of Note 3 is expected to launch. Based on past not-so-good experience with Exynos chipset in galaxy s4, some of the users are not very happy with Note 3 exynos news, but in the wake of the newly released videos that demonstrate how Note 3 exynos chipset can work as true octa core processor utilizing all cores at the same time or balancing power-saving or performance features as required, we're not certain about Snapdragon 800 versus Exynos 5420 comparison until we get hands on such unit. If you're Note 2 user, you need not upgrade to Note 3 because Note 2 is still a powerful smartphone many are satisfied with.
So, is any of the trio on your shopping list? What's your best price guess for these gadgets. Share your views in comments!