Samsung Galaxy Grand Quattro (also known as Galaxy Win Duos) is Samsung's answer to budget quad-core smartphone market. Boasting of quad-core processor, 1GB RAM, 4.7 inch wvga display and dual sim with dual standby features. This smartphone is available in Indian market at about Rs.14-16,000. I bought it for about Rs.14,500 online. It's available in creamy white color only in India. Frankly speaking, I don't like white color. Anyways, let's  go through unboxing of galaxy grand quattro: (click on each of the images embedded below to see them in full size. For unboxing video, scroll down to the bottom of this article)
The box is also white-colored, fully labeled with specs, model name and number. There is nothing special to talk about the box package. The box could be easily opened from one side.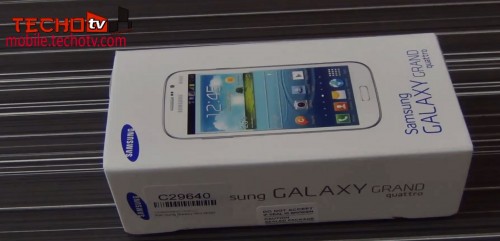 The handset was covered with plastic protection on its back, while on the front screen guard/screen protector is pre-installed so one doesn't need to buy additional screen protector for galaxy grand quattro handset.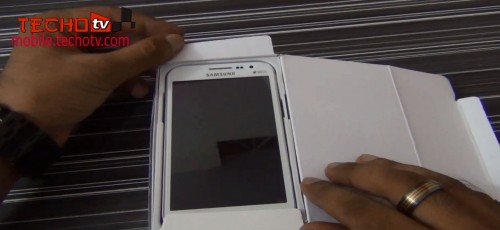 It has silver polish on all sides making the edges shiny and reflective. That does add to the beauty of the phone, or may make it look cheap (depends on user's taste and feel). For me, the silver finish is appreciate-worthy given Samsung doesn't really care a lot about its phone design. Quattro looks and feels thick. An user who has used galaxy s2 or galaxy s4 of Samsung (like me) is not going to digest thickness here, even though the bottom eges are kinda curved to give lessened impression of thickness.

The charger and data cable are complement of each other. The data cable connects to the charger adapter to server as charger wire. Samsung has not provided full standalone charger like it used to. Samsung has started bundling this kind of charger with all its new smartphone be it galaxy s4 or grand quattro as the case here. However, the charger wire i.e. data cable is long. It's longer than that provided with galaxy s4. So, you won't have to complain about charger adapter and data cable integration together. The data cable plugs easily and firmly in the charger adapter.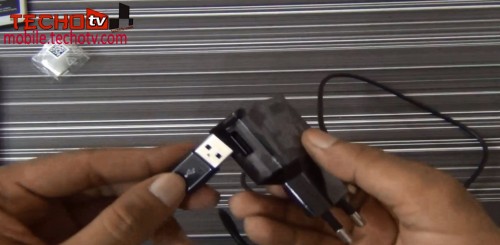 The battery of Galaxy Grand Quattro is of 2000mAh capacity.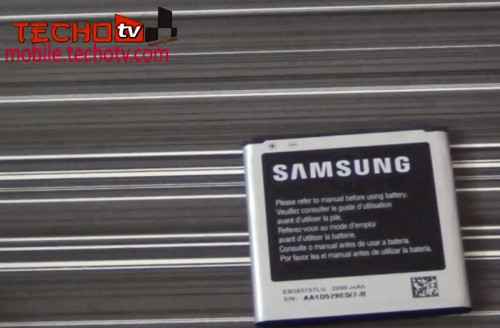 The earphone is also the new kind Samsung is bundling these days with its smartphones. The earphone contains volume control as well. The wire of the earphone is of the round type. This earphone looks similar to other earphones in modren Samsung Galaxy series handsets.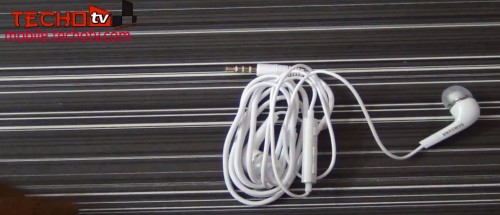 We compared this earphone with galaxy s4's earphone in the video embedded at the bottom of this article. The build quality of Galaxy S4's earphone is slightly better than that of Galaxy Grand Quattro's. Watch the video to see the difference.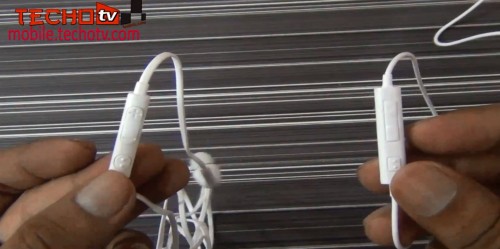 Samsung has also bundled a pack of earbuds which are quite useful for in-ear headphones as is the case here.

The 5-megapixel camera, led flash and speaker, are all located at the back together and close. The speaker grill is kind of exposed. The camera les is square shaped.

Micro-usb port is located at the bottom as usual. There is physical home button while there are two capacitive touch buttons. The home button is also made of plastic.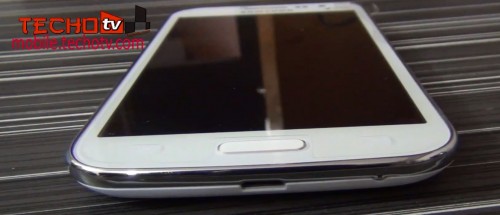 There are two sim card slot. 1st sim card slot is located at the usual position that you find in any other modern Samsung galaxy smartphone i.e. above the battery. The 2nd sim card slot is located below the battery, not underneath the battery. Samsung Galaxy Grand Quattro supports micro-sim card only. You can not insert regular sim card in any of the slot. Also the sim-card slot doesn't have push to eject mechanism so pulling out the sim card may be little difficult. 1st sim card can not be inserted without taking out the battery where as 2nd sim card can be inserted easily. It supports micro-sd of upto 32GB capacity. The micro-sd card slot position is weird i.e right on the top of 1st sim card slot. This means that micro-sd sits on the top of 1st sim card.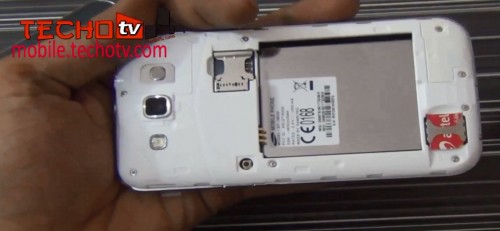 The backplate is clean white without any design on it. It's not very strong though, but is of average quality. It's made of plastic as well. It can bend easily diagonally.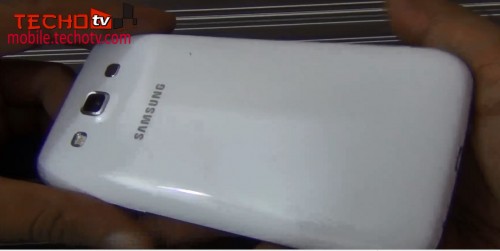 User manual is also there inside it. When you start the handset for the first time, it starts with the usual startup wizard which guides you through initialization of the handset. When a sim card is there inside the phone, it automatically sends a sms and so you may be charged when using unique sim card for the first time with galaxy grand quattro android smartphone. It features latest 4.1.2 Jelly Bean OS. It also supports smart dual sim which means both the sim are always on. Sim card management feature is easy though you may take some time to understand it if you're using dual sim Samsung android smartphone for the first time. We'll come with full in-depth review of Samsung Galaxy Grand quattro soon so stay connected with us. Don't forget to subscribe and comment.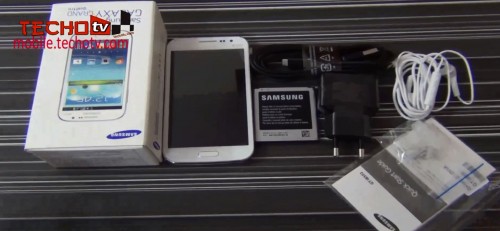 Watch Galaxy Grand Quattro Unboxing, and detailed Hands-on
We've this smartphone with us, so if you've any queries, feel free to ask us in comments!