[sch t="m" i="duration" c="PT1M33S"][sch t="m" i="thumbnail" c="https://techotv.com/wp-content/uploads/2013/08/galaxy-grand-quattro-daylight-camera-sample.jpg"]
[sch i="description" c="Samsung Galaxy Grand Quattro smartphone has 5-megapixel rear camera which can shoot images of 1920*2560 pixels and record videos of 720*480 pixels"]. So, the recording resolution is not true 720p HD (1280*720). The picture quality is amazingly good. The images are sharp, clear. The camera lens capture good amount of light and so the images are indeed bright. The embedded video above is raw, unedited. We've also embedded the recorded sample media details below for greater details about the type of encoding, bit rate, frame rate, audio channels of the recorded video.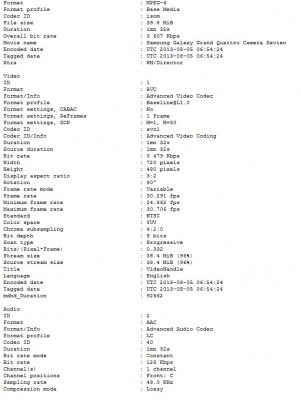 These images embedded below are captured using the 5-mp rear camera of galaxy grand quattro. These are also raw, unedited. Observe the picture quality yourself. Click on these images to view them in their original size and dimension.