Every company is prospective to bank profits trying to maximize exposure to their windows 8 devices lineup which consists of windows 8 tablet convertible or ultrabook or All in One PC with touchscreen support. Customers, alike, who are eager to purchase their next touchscreen computing device running the latest windows 8, are trying to find more and more about exciting products with reasonable prices. No wonder, Samsung is prepared to square off with competition with its own products lineup which starts selling in store from October 26 and are also available for preorder on Samsung official website. In this post, we want to provide you a brief account on Samsung Windows 8 tablet hybrid convertibles.
Samsung ATIV Smart PC 500T
This is intel atom processor based windows 8 tablet hybrid convertible device measuring 11.6 inch x 7.2 inch and is 9.65 mm thick only weighing 748 gram. So, this makes this tablet ultrathin, sleek, light and very portable. It runs full windows 8 on promising intel atom processor z2760 with clock speed of 1.5 GHz. The screen size is 11.6 inch so you're getting a slightly bigger screen than 10 inch tablet form factor but the slightly larger screen size is answerable to the hybrid lineup this tablet belongs to, so that you could use this tablet by attaching a physical keyboard as a ultrabook. Screen resolution is 1366*768 and the brightness counts upto 400 nits. It has RAM of 2GB (DDR2L). It comes in 64 GB SSD storage capacity. There is 2 megapixel HD front camera with 1.6W stereo speaker and internal mic as well. For connectivity, we've wifi, gigabit LAN, bluetooth 4.0, 1 USB 2.0, Micro HDMI, Headphone/mic jack, Multi card slot, docking connector. It also allows you to use S Pen to take notes, make drawings, etc. S Manager and AllShare to make sharing and maintenance easy.  It runs on 2 cell rechargeable battery and comes with 40W AC adapter. You can pre-order Samsung ATIV Smart PC 500T at cost of $749.99 from Samsung online store or get it from retail stores when it becomes available i.e. from October 26, 2012.
Samsung ATIV Smart PC 700T
This is truly a high end windows 8 tablet convertible hybrid because it is powered by the powerful intel core i5 processor 3317U clocked at 1.70 GHz measuring the same in height and width as ATIV Smart PC 500 T i.e. 11.6″ x 7.2″ but is about 3 mm thicker as it is 12.7 mm tick and weighs 125 gram more (857 gram). The increase in thickness and weight is due to the high-end configuration that this tablet hybrid possess. To add to its performance capabilities, it has 4 GB of RAM, intel HD Graphics 4000. The display is of the same size as 500T counterpart but the screen resolution is 1920*1080 Full HD which means great display quality and really vivid and rich colors, image and video quality. It comes in storage capacity of 128 GB SSD. This is advanced not only in terms of horsepower but also in terms of camera as it has 8 megapixel HD rear camera and 2 mp HD front camera along with internal mic and 1.6 W stereo speaker.  To keep its juice flowing, it is powered by 49Wh 4 cell Li-Pro battery.  It also has micro-sd slot, wifi, lan, bluetooth 4.0, micro HDMI port. One notable port is presence of USB 3.0 in this case. All these technical configuration make this tablet powerful like ultrabooks and can be recommended to those who are really look forward for ultrabook tablet hybrid without compromising with either performance or portability. You can buy Samsung ATIV Smart PC 700T online from Samsung Store for price of $1199.99 or wait for few days to buy it from retail store as it will be available from October 26, 2012.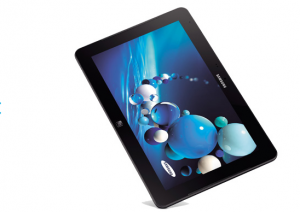 Difference Criteria
Samsung ATIV Smart PC 500T (XE500T1C)
Samsung ATIV Smart PC 700T  (XE700T1C)
Price
$749.99 USD
$1199.99 USD
Processor
Intel Atom processor Z2760 – 1.5 GHz
Intel Core i5 Processor – 1.7 GHz
RAM
2GB RAM
4GB RAM
Storage
64 GB SSD
128 GB SSD
Graphics
Integrated
Integrated intel HD 4000
Display
1366*768
1920*1080
Camera
2.0 mp front HD
8mp HD rear camera, 2mp HD front camera
Thickness
9.65mm
12.7mm
Weight
748gm
875gm
Connectivity
1 USB 2.0
1 USB 3.0
OS
Windows 8
Windows 8 (64 bit)
Battery
2 Cell Li-Pro 30Wh
4 Cell Li-Pro 49Wh
Rest of the specs are similar. In the table above, we've listed the major differences between the two windows 8 tablets hybrid convertible pc.
The comparison table given above should clear your confusion and doubts and should make your purchase decision easy. If you're still confused, I'd advise you to go for 700T if you're ok with little less battery life and want a very powerful tablet, otherwise go for 500T. Both these tablet hybrids come with keyboard dock accessory for use like a ultrabook/laptop. Also, compare the above specs and features with Microsoft Surface Tablet. If you've any question, put it in comments below.
Update: Both the variants have been released in India also. The price of Samsung ATIV Smart PC 500T in India is Rs.53,990 and cost of Samsung ATIV smart PC 700T in India is Rs. 75,490. Do you think the price is right? Don't forget to compare it with Dell XPS 12 convertible and Asus Taichi 21.