Often, we need to change the resolution and filesize of images or digital camera pictures stored on our computer to share it on facebook or web because images of lower resolution has low file-size and it takes very less time to upload them. Pictures taken via digital camera generally have higher resolution and thus higher file-size. TO reduce the file-size, we need to open the image in any image-editing software like photoshop or others and then change the resolution. What if we can do the same by just right-clicking on any image. How easy it would be! I know that on windows os, you don't get such option with right-click but here in this post, we'll tell you how to do it.
How to reduce file-size of images or digital camera pictures
Just go to this link to download Image Resizer for windows. After downloading, install the program. Now right-click any image and chose Resize pictures option. Select from the predefined resolution or specify custom resolution. Click on ok. The resized image will be saved in the same directory/folder with a different filename. Share that image on the web or facebook if you want to.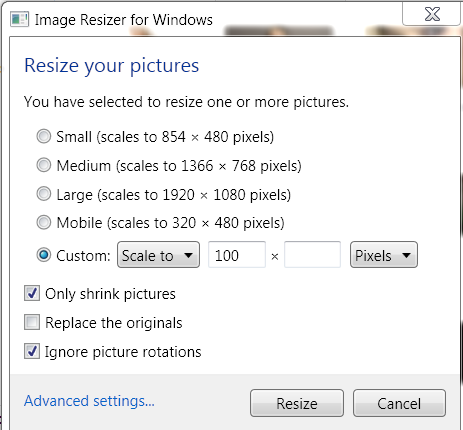 You can even use it to do batch processing i.e. changing of pictures resolution of several files at once. Just select all such files together by ctrl+click method and then right-click on any one and follow the procedure as mentioned above. This will resize all pictures together and create separate version of each. If you don't want to create separate version, you can select Replace the originals option while resizing but we recommend not to tick this option unless you're 100% sure and certain as you might not be able to get back the original image. This program works for all windows os be it xp, vista, windows 7 or windows 8. This software is free i.e. freeware. You don't need to pay anything. Just download it and enjoy. Note: If you scale a low res pic to higher resolution, the picture will get pixeleted and the quality will deteriorate depending on the original image quality and resolution. Further, when resizing, sometimes the dialog box pops up a few seconds later, so you may be required to wait a little so don't worry, this software works well without any problem and it can be used to reszie any image file format including jpg, png, bmp, img, gif, etc.