Rcom has launched bundled offer with iPhone 5s/5c when bought from the company's store on 2 years contract. This offer from Reliance is unique and first of its kind in India and marks the beginning of subsidized contract-based smartphone sale in India. This has really stirred high-end smartphone industry in India and is definitely positive indication of similar future contract-based smartphone launch offers. Here are the complete details simplified, queries, faq about this bundled offer plan.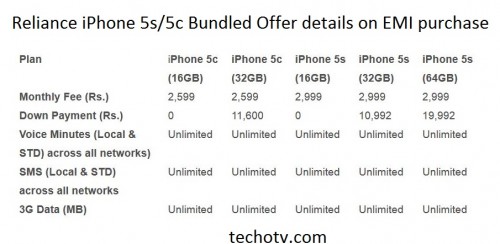 iPhone 5c 16GBcosts Rs.56376 with this bundled offer (incl. tax) on upfront payment (no monthly payment required for 2 years).
iPhone 5s 16GB costs Rs.65976 with this bundled offer (inclusive of tax) on upfront payment.
On EMI Payment via credit card, iPhone 5c costs Rs. 2599 each month for 24 months.
On EMI for iPhone 5s, Rs. 2999 will be deducted each month for 2 years.
If purchased on EMI, The total cost for iPhone 5c Rs. 62376 and for iPhone 5s -Rs. 71976
As per general rules of EMI purchase, the entire final amount is blocked on your credit card and you must have the required total amount available on your credit limit prior to purchase.
The bundled offer (usage benefit) from Reliance is same for both the smartphone i.e. customer will get Reliance postpaid connection with Unlimited calls, sms, 3g, 2g, free roaming (incoming and outgoing) with no FUP or speed capping.
iPhone is not locked i.e. you can use iPhone with any sim card/network of your choice.
The reliance sim card/connection can be used with any other handset as well.
This reliance iPhone offer sim card/connection can not be used in usb dongles so you can not use it in your 3g data card for internet.
Available in select cities only New Delhi, Mumbai, Chandigarh, Ludhiana, Bhopal, Indore, Raipur, Gwalior, Jabalpur, Amritsar, Jalandhar, Patiala, Jamshedpur, Patna, Ranchi, Bhubhaneshwar, Jaipur, Guwahati, Bhatinda, Cuttack, Siliguri. Customer can also buy from any of the given cities with a local address proof and use it in their own city. Customer can also buy it online but before placing order, pin code checking is done to ensure that customer is from one of the given cities.
No hard copy bill for postpaid monthly usage will be sent. Usage bill with itemized description of calls made will be sent only via email.
Reliance iPhone offer toll free number – 180030008989. For buying or finding more info from official website – go to rcom.co.in
For any other confusion, doubt or query, feel free to ask us in comments.
Should you buy it? Do the math and conclude yourself. This is indeed a great offer from Reliance but only suitable to those who have high monthly usage. So, if you spend more than 1500 on your mobile bills, you can consider this a great buy as this gives you truly unlimited everything (calls, sms, internet). However, since it can not be used in 3g data card (but can be used with other handsets, also iPhone can be used with other network or connection or sim card), beware if you're buying it primarily for unlimited 3G internet. Also consider Reliance network reliability and situation in your area as you'll be bound to use Reliance for 2 years because of your commitment or else your investment into this offer will be waste. Moreover, the last quarter of 2014 is likely to be flavored with 4G internet speed and telecom niche so consider that also (though that is not much relevant in my view for now).