Lately, in an effort to promote Reliance 3G online recharge via Reliance official website, Reliance is offering free 10 % extra 3G data on any of the 3G data packs across all 3g circles in India. Compared to Airtel 3G, Reliance 3G is cheaper as Reliance offers 10 GB of data usage for just Rs.1099 whereas Airtel offers 10 GB of data usage for Rs 1500. On Rs.1300 Reliance offers 15 GB of data usage whereas Airtel doesn't offer any data packs higher than 10 GB. Coupled with the current promotion of 10% extra data on online recharge, the benefit further adds up. For example, if you recharge your reliance number with Rs.1300 i.e. 15 GB data pack. Your total 3g data will be 16.5 GB instead of 15 GB according to the promotion. I've already tried this on my number and it works very well without any problem. Note: The extra 3g data benefit is applicable only on recharge made by rcom official website. The link for reliance official recharge website is given below. Also, check the image below for complete list of Reliance 3g Data tariffs.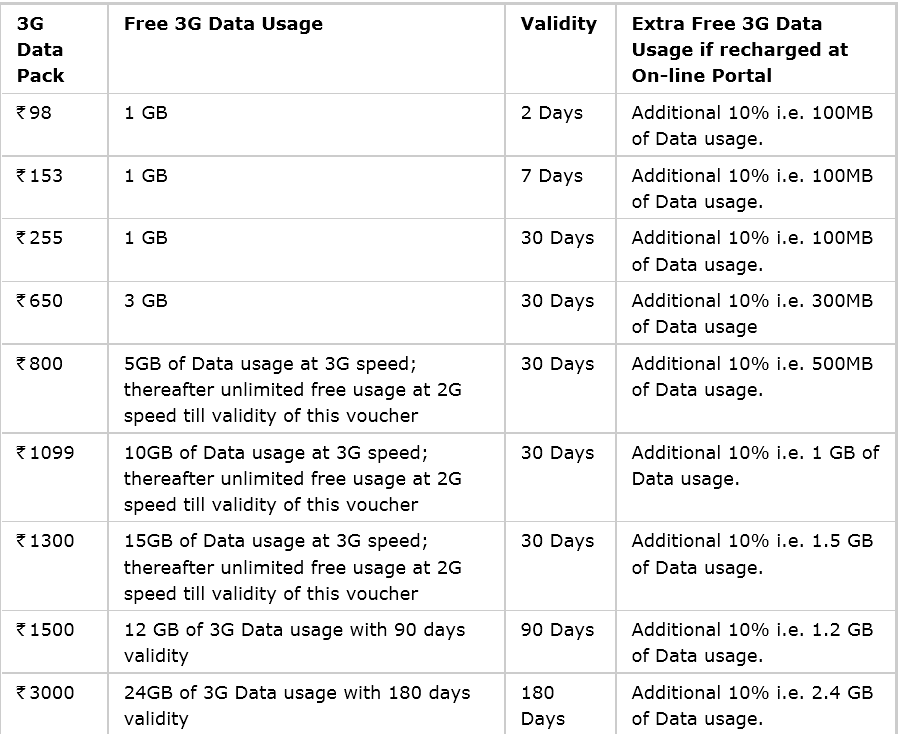 How to avail this Free 3G data benefit on Reliance ?
Just visit Reliance Online Recharge Official website here.
Fill your mobile number and email address and hit on continue button.
Check your mobile number properly on the next screen and hit on confirm button.
Now chose Packs and then GPRS/Data packs from the options below.
List of all 3g data packs will be displayed. Just select the desired one by clicking on Buy Now button.
It will show you the details of the selected pack. Check it and then hit on Pay Now button which will take you to payment selection page.
Now, chose your desired payment method i.e. debit card(atm card), credit card, netbanking.
Now, on the next screen select your bank and proceed with the payment.
Fill the required information. Once the payment completes, you'll be redirected back to reliance website where it'll display you the status of your recharge alongwith the transaction id and other details for future reference.
Bonus Tips :
How to Find the name of the owner of any Reliance number
Just Today, I observed that if I recharge any reliance number by the official reliance website, it displays the owner name at the completion of recharge on the website. So, to find the name of owner of any Reliance number, just make recharge of Rs.10 on that particular number via this link . After payment completion, it will show you the name of the owner of the reliance mobile number on the status page of recharge. So, if you're receiving prank calls or miss calls from unknown number and if that particular number happens to be on Reliance network, you can use this method to track that person. To find whether the unknown number is a Reliance number, visit Mobile Tracker .