Did you forgot gmail account password? Or Have your gmail account been compromised i.e hacked? Or the worst case i.e. you forgot your gmail username? Or you're getting some kind of weird error message when you're trying to login gmail like Temporary Error(502), Account Lockdown (unusual activity), certificate error, etc? Well, you have come to the right place for help but wait, we don't want to take your precious time explaining all the recovery steps which may or may not be applicable to you. To ease gmail account recovery, the gmail team has made a useful interactive troubleshooting guide which on the basis of your gmail sign in problem type, takes you to the right approach to your gmail account recovery. Using the suggestive gmail recovery tool, you can easily recover your gmail account in unfortunate cases and troubles. Given below is How To:
Just go to this page here.
Chose the type of problem you're facing. It'll then show you your next move.
Follow the instructions as mentioned. If you succeed, hurray! Otherwise proceed with the gmail recovery tool.
You'll be able to recover your account. If you're still not able to, just comment us here and we'll try to help you in every way possible or you may contact gmail support.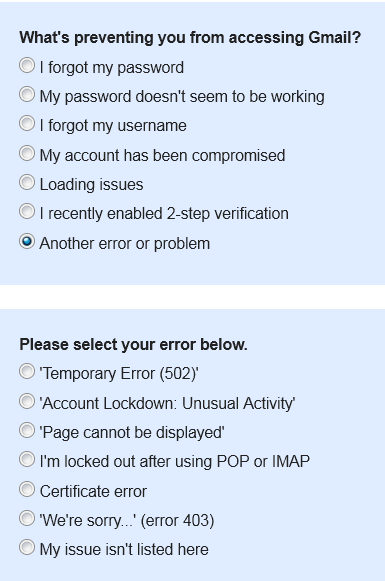 Prevention is better than cure. Follow safe practices when you sign in gmail. If you gmail account is in good standing, make sure you've set up recovery options properly in your account i.e. alternate email address and phone number and security questions.
How to setup or change recovery options in gmail
Go to this page here. Log into it using your gmail account usernames and pasword details.
Under Mobile phone, Add a personal phone number. You'll have to verify your phone number. TO verify it, gmail will send you a code as sms onto your mobile number. You'll have to enter the same on the page there. If you lost your password in future, your password will be sent as sms to this phone number which you enter here.
Under recovery email address – Add another email address (not the same as your gmail account address).
Review your security questions at the bottom, check and memorize the answers or edit them if required. These security questions are asked when you try to recover your gmail in unfortunate cases.
If you're more cautious and concerned about your gmail account security, you can enable 2-step verification. With this enabled, whenever you try to login gmail, you'll receive a code via sms or voice call (whichever you prefer), you'll have to enter that code as well beside your account username and pass. So, this adds additional security as even if somebody hacks your gmail password, he won't be able to get your phone for the verification sms received during sign-in attempt. Unless you really need this feature given below, don't enable this because sometimes this may result in lockdown of your account if not done properly.
How to enable to 2-step verification in Gmail .
Just head to this page here.
Sign in using your acc details.
Understand how it works. Proceed. Add your phone number. Select your country.
Verify your number with the codes received on your number.
Turn the settings on. Done!
There is also a smartphone application called Google Authenticator for this security feature. By installing that app on your android phone, blackberry or iPhone, you'll able to generate verification code each time you try to login without any internet connection or mobile network availability or sms. Downloading of this app is recommended. Install it. Then link your account with it and select the criteria of code generation method i.e. time based, etc.
These were the preventive measures to make yourself safe from gmail account hacking. Keep reading our blog for more security tips and online safety.