Video on How to Prevent gmail from automatically adding people to chat contacts list
Or Read the tutorial if you're on low bandwith : Gmail is the most popular and dominant web based email service and my readers reading this post most probably are gmail users. But the question is does gmail care for our privacy ? If you send a mail to someone and if that person replies back, you make few conversation with that person via email and soon you'll see him/her in your chat list in gmail. So, now that person would know when you're online and when not. He/she can ping you any time. What if you made few conversation with your foe, do you want your foe to appear on your chat list? Moreover, I am kind of busy person and I don't want everyone with whom I make communication via few emails to appear in my chat list automatically. So, how do I do this? How do I prevent gmail from adding contacts to my chat list automatically based on just few conversations? Here is a way to do the same. Just log into gmail and visit your gmail settings. Hit on Chat settings tab. Scroll down and Under Auto-add suggested contacts, chose the radio button marked only allow people I've explicitly approved to chat with me or see when I'm online. Save Changes..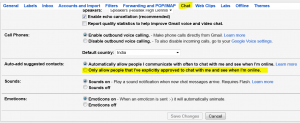 With Google plus integration into gmail, managing chat contacts and all this is going to be a daunting task for those who don't want to be disturbed. Anytime solution : Remain Invisible !
And by the way, if you don't need this change for yourself, you might want this for your girlfriend ;)