Samsung galaxy android smartphones be it galaxy s2, s3, s4 or any other galaxy phone, all of them has a physical home button which can be pressed to go to homescreen or which can be held for few seconds to launch task manager or recent apps list. Option and back buttons are capacitive which means that you just need to tap there instead of pressing any button physically. Capacitive buttons are convenient, easy and faster to use. I've always hated Samsung for its physical home button. It feels tiring to hold it for few seconds to see list of recent apps for easy switching to other recently opened apps. Also, if you're multitasking kinda user, you'll find it really frustrating to switch from one app to another by holding the physical home button for few seconds. Like me, you'll wish for virtual key for home button i.e. a replacement shortcut to access features of home button.
There come third-party apps and the advantage of being on Android os. I searched for the best apps to solve my issues and in this post, I'm sharing the same with my fellow readers. The name of the app is MyHomeButton. It's available for free from Google Play Store. This app is simple. It adds two shortcuts in notification drawer (panel), one for home button, other one for recent apps and task list. So, this solves our issue of pressing home button again and again or holding it for longer duration to bring recent tasks list for switching between apps.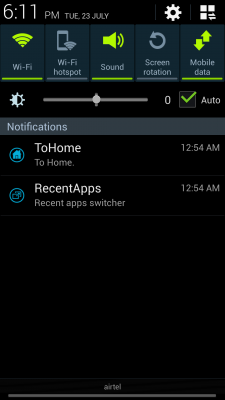 Visit Google Play Store and download MyHomeButton from here.
Launch app after installation.
You'll get three options.
Tick To Home. This will place a shorcut for home in notification drawer.
Tick Recent Apps Switcher. This will place a shortcut for Recent apps/task list in notification panel so you don't have to press and hold home button for longer duration.
Instead of creating any shortcut on homescreen or creating any widget, it creates shortcut in notification drawer because notification drawer can be easily accessed from anywhere on your phone, from any apps, even from games. Furthermore, the placed shortcut can not be cleared from notification panel, you'll be able to use this without any more hassles.
I recommend installing this app, on Samsung phones. This will also cause less wear and tear of Home button and its increased longevity.
This app works with other phones and tablets as well.
This app doesn't bring any obtrusive ads or adware, or similar thing; so you can safely install it as I'm posting this after testing it on my phone.
This app doesn't require root so it can be installed on most android phones. Those who do not have physical home button on their phone need not install this as this is of no use for them.
Subscribe to our blog and leave a comment if this post helped you! We'll keep bringing you more similar tips and cool android apps.
Techotv Rating for MyHomeButton android app: 5/5