Noone can forget the big patent-war between Apple and Samsung, the litigation which is still ongoing in US courts. So, if you've been waiting for a little such drama in Indian courts, here it comes and it may be the biggest patent infringement suit in India on account of claimed damages of 100 crore! Ericsson, one of the biggest patent holders in mobile technology, has sued domestic company Micromax over patent-infringement of 'standard essentials' patents covering wireless technology of GSM, EDGE, 3G. As reported by Economic Times, Ericsson has been trying to strike a license deal with Micromax for over 3 years, but the two companies couldn't reach to an agreement leading to legal action from Ericsson claiming whopping Rs.100 crores in damages. The disputed devices of Micromax include products from Ninja series, Funbook Talk, and the Canvas 2 series.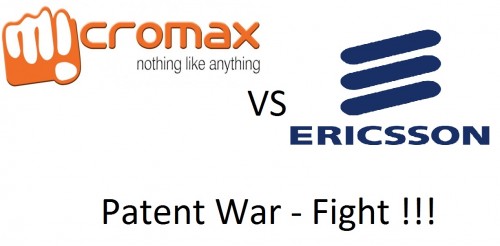 Justice Manmohan of Delhi High Court has directed Micromax to pay 1.25%-2% of the sales price of disputed devices as royalty fee in the court for about 1 month as interim order. The court has also ordered the two companies to negotiate a FRAND license agreement and the two parties have agreed to this. Ericsson is also given permission to inspect consignment of Micromax devices as it arrives at customs. Once, the consignment is cleared by Ericsson claiming no objection, the consignment will be handed over to Micromax. Advocate Pratibha Singh representing Ericsson on this case appreciated the swiftness and promptness exhibited by Indian court in handling of big ticket patent litigation.
A Micromax Spokersperson acknowledged that the company is trying to negotiate a license agreement on FRAND terms (Fair, Reasonable and Non-discriminatory) with Ericsson. He objected to further comments citing legal matters. This case is interesting as Ericsson holds several technology innovations whereas Micromax doesn't hold high-profile technology patents, unlike in case of Apple and Samsung where both the parties are big tech giants holding tons of patents. However, since this is case of 'standard essential patents', the damage claimed may not be well received by the Court.
The outcome of this patent litigation will be interesting to watch as this may lead to hammer on other domestic companies like Intex, Lava, Karbonn, Spice, etc. Micromax is the biggest domestic player in the country and so it's the first to be embroiled in the court. We'll keep our eyes and ears on for the next hearing on this case so keep reading news updates from us. If the damage settlement amounts to huge numbers, this may add to the cost of handset prices resulting in imminent price increase in budget phone in near future. Your take on this case in comments!