Oppo Find 5 which was announced in December, 2012 and released later globally in February, 2013, but was not available in India then, is now selling in India at Rs.27,445. AndroidGuruz, a startup which is acting as brand representative of several Chinese brands so that they could sell their products in India and provide warranty support and services, has launched this phone. Oppo Find 5 White color model price is being set at Rs.27,445 whereas Oppo Find 5 midnight black color model is selling at Rs.31,259. It's weird that the price difference between the two color variants is so large i.e. about Rs.3,000 price differences, just because of color? No other differences are there in the internal specifications of the two color variant models. Moreover, the black model is already at 'out of stock' status which hints us that the black model is not at all available in India (maybe, AndroidGuruz is awaiting the import shipment of the phone) as of writing this news report.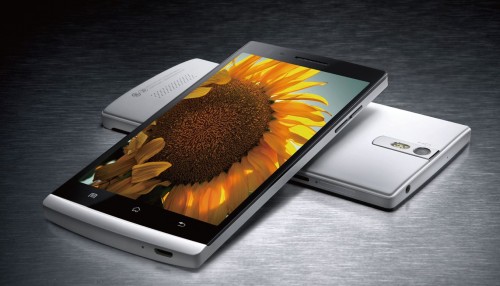 [box]Update: Oppo is not officially launched in India by the manufacturer i.e. Oppo. Oppo official representative has confirmed that AndroidGuruz is not official partner or distributor of Oppo.[/box]
At price of Rs.27,445, Oppo Find 5 sports pretty good specification that makes this phone quite attractive deal for smartphone lovers. It has Full HD 1080p IPS display panel on front of 5-inch screen size. Since the display is IPS panel, expect great viewing angles from the device. Design wise, the handset looks impressive as well. With thickness of 8.9 mm only, it doesn't feel like a thick brick. Even the camera is of 13 mp with autofocus, hdr support. The camera can also shoot high quality 1080p videos. On the front also, there is 1.9 mp camera. Even it has the impressive Snapdragon S4 Pro Krait processor with 1.5GHz quad core clock-speed. Adreno 320 GPU is there on the chipset which further appeals to gamers as this won't let you down when you demand for more. And those who do several tasks on their phone, there is 2GB of ample RAM inside to keep the experience lag-free, swift and smooth. 3G, WiFI, NFC, A-GPS, are all supported. Point to note – It's not dual sim phone unlike normal expectation of dual sim capabilities from Chinese brands. It even promises HD sound via Dirac HD Sound enhancement technology inbuilt.It has 2500mAh battery inside, although the battery is non-removable so you're limited to using it. It comes with 2 free Oppo NFC Smart tags which allows users to quickly send info, or engage in entertainment or change profiles with just a simple tap. It comes in two internal storage variants i.e. 16GB and 32GB models. It doesn't have memory card slot so you're basically limited to what you're buying. Furthermore, In India, only 16GB model is available and the price mentioned above is for 16GB model.
As impressive as it looks on the paper, so impressive is its price. The only demerit that we find is inconvenient support and warranty channels, lack of proper after-sales support throughout India. What do you think? Put your valuable opinion in comments!
A quick recap of Oppo Find 5 Specifications
Screen Size of 5 inch (12.7 cm).
Display Resolution: 1920x1080
Display Type: , IPS display, multitouch, One Glass Solution
CPU: 1.5GHz Quad core processor
There is 2 GB RAM.
It comes with internal memory of 16/32 GB.
WiFi- Wi-Fi 802.11 a/b/g/n
Bluetooth: Yes, 4.0
Primary Camera at the rear: 13 megapixel
Front-facing camera- 1.9mp
Out of box, it is loaded with Android 4.1 Jelly Bean OS.
Battery Juice of 2500mAh.
More here: Oppo Find 5 Full Specification, price