It's quite surprising the way the world of android devices are evolving every proceeding moments. You buy a new device and soon you find yourself craving to get your hand-on that another new device launched with a new upgrade. For example, you bought the beautiful HTC One X+ with NVIDIA Tegra 3 processor, then you get the news flash : NVIDIA launches Tegra 4 processor that consumes 45% less power than Tegra 3, and is the world's fastest mobile processor. How do you feel then? You'll feel like you bought old generation device adding to buyer's remorse. But, my friend, the world is leaping, evolving rapidly in niche of technology. You don't need to feel the 'remorse', rather you just need to develop a sense of appreciation and a sense of satisfaction. You can't get your hand-on everything new, but you can surely appreciate the developments by witnessing the advancements as they happen in modern prospering world of technology. Hence read ahead and appreciate it!
As we indicated in the above paragraph that NVIDIA, mainly known for its powerful gpu in our computers, has announced the launch of NVIDIA Tegra 4 processor which has Cortex A15 quad core chip along with a fifth low-power core to save battery life. The fifth low-power core is also present in NVIDIA Tegra 3 which is also a quad core processor, but here in case of Tegra 4, we've second generation low power fifth core which makes the Tegra 4 about 45% more power efficient in comparison to Tegra 3. Furthermore, Tegra 4 has 72 custom NVIDIA GeForce GPU cores which make it about 6x more powerful than Tegra 3 promising much more realistic graphics, game play and support for higher resolution.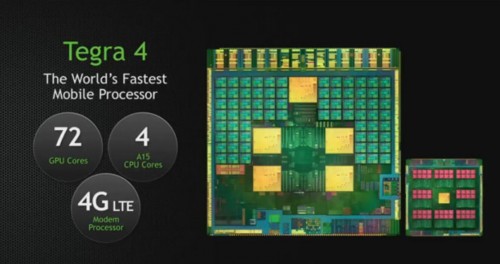 NVIDIA Tegra 4 VS NVIDIA Tegra 3
45% less power consumption in comparison to Tegra 3.
6 times more powerful graphics chip than Tegra 3.
Faster processor with 2.6x faster web browsing and apps performance.
Computational Photography architecture.
LTE via optional NVIDIA Icera i500 chipset which is 4 times more poewrful than predecessor.
4k ultra high definition video support
Like Tegra 3, Tegra 4 doesn't have inbuilt 4G LTE chip, but 4G LTE Voice and data capabilities can be added by the optional fifth-generation NVIDIA Icera® i500 processor, which is claimed to be 4x more powerful than its predecessor and also 40% the size of conventional modems.
Another touted feature of Tegra 4 is its computational photography architecture, which automatically delivers high dynamic range (HDR) photos and video by utilizing the processing power of the GPU, CPU and the camera's image-signal processor together. Its HDR capability captures images, including those taken with a flash, the way they are seen by the human eye — with detail in both bright and dark areas.
Since this is b2b product, we don't know about its price. What we're eager to know is that when we're going to see Nvidia Tegra 4 powered smartphones and tablets!