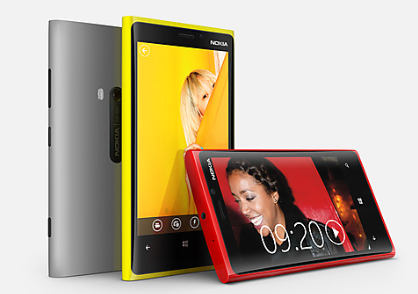 Take a deep breath, suck in your tummy and HOLD it – we're going to reveal about the beautiful Lumia 920 smartphone from Nokia, the same company which has been the no.1 mobile phone brand in yesteryears and now contending to get back to its earlier-held reputation, which has been announced lately and is running windows phone 8 os.
Processor, RAM, GPU
Powered by dualcore 1.5GHz snapdragon S4 processor, which consumes less battery than quad-core alternatives, Nokia Lumia 920 is a powerful phone. The cores of processor power up and down independently as per the demand and hence is battery friendly. TO add to that, Adreno 225 GPU and 1GB of RAM (yeah, Nokia is now presenting a phone with good hardware) is there which will keep your device smooth and hiccup-free even when multitasking and gaming.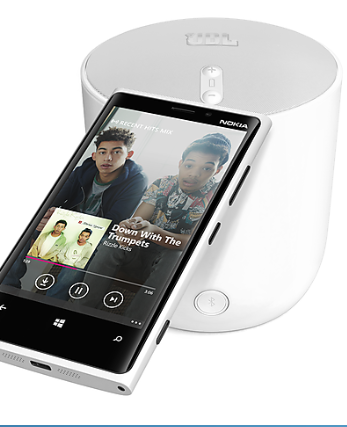 Display
4.5 inch PureMotion HD+ IPS display with resolution of 1280*768 (332 pixel density i.e. ppi) is claimed to be very bright, fast and touch-sensitive. The display sports luminance of 600 nits, aspect ratio of 15:9, and refresh rate of 60Hz. The multi-touch screen is very sensitive and can even respond to touch with hand-gloves on. The display retains its vividness and visibility even under direct sunlight as claimed by Nokia. Polarization filter, ambient light detector, automatic brightness control are other features of display of Nokia Lumia 920 windows phone 8 smartphone. Watching video on this device feels really awesome.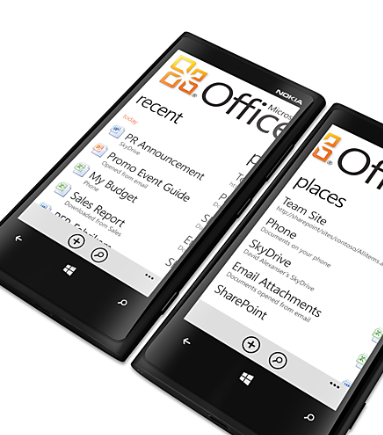 Nokia PureView Camera
The much touted part about this phone is that it contains 8.7 megapixel Nokia PureView Camera with short pulse high power dual led flash. It supports 4x digital zoom. The camera has Carl Zeiss Tessar lens and can capture amazing photos even during low light conditions. It is also claimed that it can tolerate good amount of shakes to produce blur-free snaps or videos. Nokia has always been equipping their smartphones with best camera capabilities and so they couldn't do otherwise to their flagship phone. Secondary camera i.e. the front camera can capture photos of 1280*960 resolution. When it comes to video recording, the camera can capture full HD i.e. 1920*1080 res videos. The Front camera can capture 1280*720 resolution videos.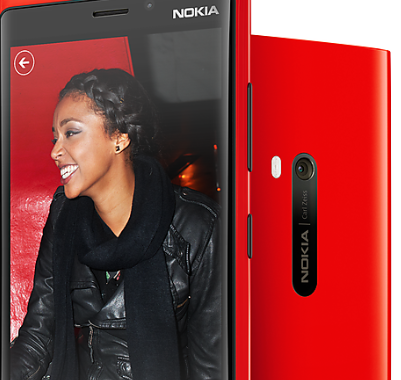 Connectivity :
It supports all network types like 2g, edge, 3g, and even 4g(LTE).  With LTE cat 3, it can provide downloading speed of upto 100Mbps. With HSDPA cat 24, it can provide speed of upto 42.2 Mbps. NFC or Near Field Communication support is also there. Wifi and bluetooth 3.1 are present. GPS is also there. Offline Maps, Turn by Turn voice navigation, Nokia Maps and Nokia City lens are other features to help you with your transport and navigation requirements on the go.
Size, Form Factor and Appearance
With a height of 130.3mm, width of 70.8 mm, thickness of 10.7mm, Nokia Lumia 920 weighs just about 185g. The form factor is of Monoblock type. It has size dedicated hardware keys namely – camera, windows start key, power, volume, search and back.It looks gorgeous and is available in black, white, yellow, grey and red. So, in whichever color you want, you can get it.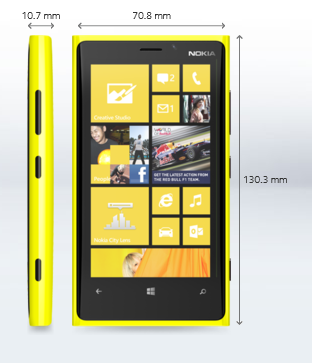 Other Features of Nokia Lumia 920 :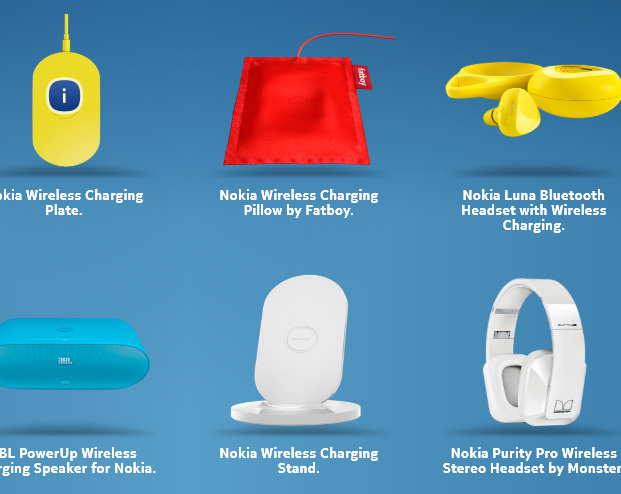 Battery of 200o mAH capacity, with Maximum – standy time of 400h, 2G talktime of 17h, 3g talktime of 10h, music playback of 64h, video playback of 6h.
32 GB of storage capabilities plus 7GB in skydrive.
3g video calling available.
Qi-compatible wireless charging support so that you can charge Nokia Lumia 920 wirelessly by adding on a wireless charging shield. Given below is the image of Nokia Lumia 920 phone with JBL powerup wireless charging speaker. Listen to music while your devices charges itself wireless using this. Several such accessories(you have to buy them) are available including mobile wireless charging plate, wireless charging shell.
Lots of accessories support like Nokia Luna bluetooth headset with wireless charging, nokia purity pro wireless stereo headset, wireless charging pillow, etc.
Awesomeness of windows 8 phone.
Nokia Lumia 920 Price
The price of Nokia Lumia 920 has not yet been announced as on 6th september 2012 but we will update this post with the latest price of this Nokia phone as it becomes available for sale and purchase sooner. Start saving your money if you plan to purchase this handset because as we expect, it will cost around Rs.30,000 or 550 $.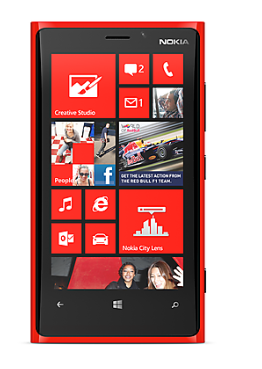 Nokia Lumia 920 VS Nokia Lumia 900
There is considerable difference in specifications between the two handsets. The successor Nokia Lumia 920 is definitely doubly advanced in terms of hardware in comparison to its predecessor Nokia Lumia 900. Nokia lumia 920 has dual core processor where as lumia 900 has single core. Lumia 900 has 512 MB RAM whereas its successor has 1 GB of RAM. Further the new handset has 2000 mAH battery whereas Lumia 900 has 1820mAH battery. Nokia Lumia 920 has 32 GB of storage whereas it predecessor has just 16 GB of storage capacity. HD display is present in 920 whereas in 900, the resolution is just 800*420. See the image below for detailed comparison between Nokia lumia 920 and lumia 900. (Thanks to Engadget)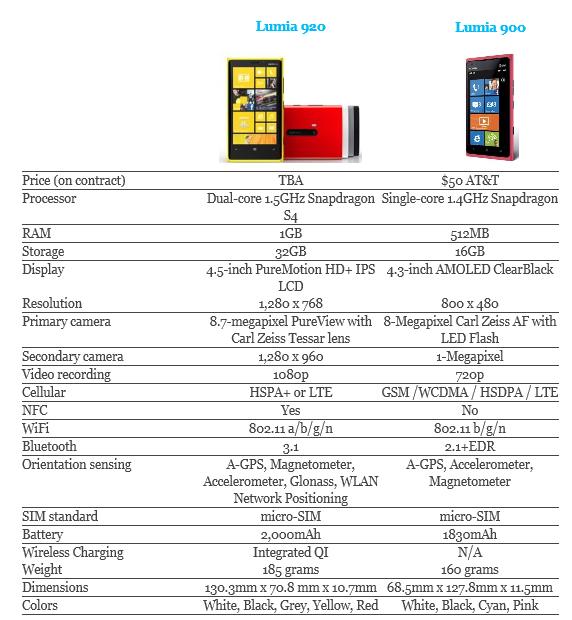 Techotv Rating for Nokia Lumia 920 phone : 4.1/5. There are lots of goodness in this smartphone but again it is not revolutionary. It is rather evolutionary phone from Nokia. At present, the competitors are offering quad core processors and even pumping RAM to 2Gb. Further it a windows phone 8 device which is not yet as popular as Android is or iOS is.
What do you think of this phone, mention your views in comments below.