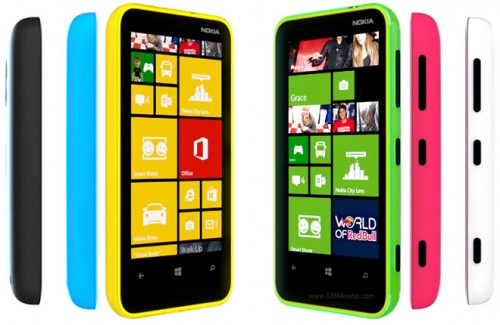 After a long speculation, [sch i="description" c="Nokia has finally made the much anticipated Lumia 620 available in Indian mobile market, last week. Lumia 620 is the latest offering from the Nokia house having the most demanded Windows 8 operating system for mobile with an affordable price"]. This smartphone offers decent look and the same software that runs under its higher priced big brothers' shell – the Lumia 820 & 920, with an exciting price tag of INR 14,999/-. We have tried this phone to discover the features and also checked whether it is a good alternative of Android phones available in this price range for the anticipated buyers.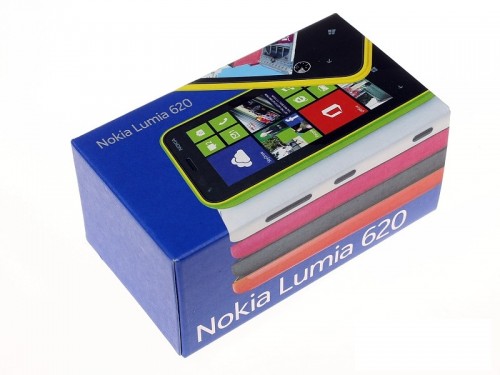 Design
Firstly the designing, Nokia has given Lumia 620 a compact decent sturdy look available in vibrant new colors – lime green, orange, magenta, cyan, black, white and yellow. We also noticed Lumia 620 is thicker (11 mm) than the previous Lumia 610. The removable plastic shell of the phone is made by a technology called 'dual-shot'; which gives this phone a new colorful texture of dual color effects. This technique is applied firstly by casting two layers of polycarbonate; a single base layer with a base color and another second translucent layer with a secondary color to produce a dual color effect. For your convenience, if we take the lime green color; it is a combination of yellow & cyan colors.
On the front side of Nokia Lumia 620, there is a 3.8 inch touchscreen display and below the display the three touch sensitive standard WP keys – Home, Back and Search can be seen. The sensors and secondary front facing VGA camera are sitting above the screen; while the earpeice is located just at the middle of the sensors and a small Nokia branding. The 3.5 mm headphone jack is housed on top of the body panel. On the backside of the body panel, there are the 5MP auto-focus rear camera, LED flash and an external speaker grill hole as the grill is housed inside to prevent muffling of sound. The microUSB port is at the bottom of the panel and the volume rocker, power/screen lock and physical camera buttons are given on the right side of the panel made of black plastic material, while the left side of the panel is empty. The back panel cover is removable and under the hood there is a battery compartment. Under of that, a micro-SIM card tray is given which can be pulled out with a small plastic extension. Sometimes it got stuck and we had to pull it out manually during the review process. An external microSD card slot is available there for memory expansion. Overall, the phone easily fits in the palm, and if we compare it to other smartphones those are easily available in the market nowadays with cheaper price; it appears small in term of body size as the dimensions are of 115.4 x 61.1 x 11 mm. It is also very light and weighs only 127gm.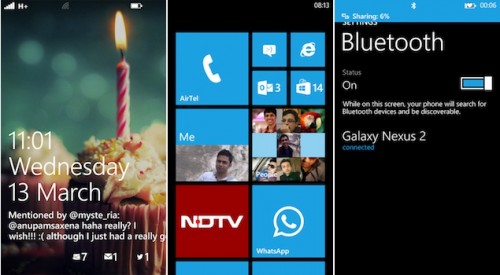 Display
[sch i="itemReviewed" c="Nokia Lumia 620″] features a 3.8-inch ClearBlack TFT 16M colors capacitive touchscreen with 800x480p (~246ppi pixel density). The screen produces vivid, bright, warm images and having the contrast ratio of: 1068:1 (nominal) / 2.142:1 (sunlight). The touchscreen was well responsive and sensitive. We would say Nokia has not compromised this part as buyers are very much conscious with the touchscreen functionality these days. Under sun visibility was good as the screen is not so reflective and viewing angles were also decent. Swiping and scrolling up / down were smooth and typing on the phone's small display was quite easy.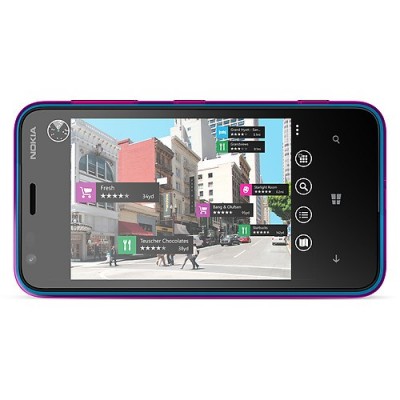 Lumia Software, UI
Lumia 620 is a Windows phone that runs on Windows 8 operating system for mobile and it is pleasing to see the new WP 8 operating system features many new enhancements to bring freshness and also improves the functionality and performance. The new Lumia 620 offers resizable live tiles, multi-core processor support, USSD commands support, NFC and many new features. You will see the tile-based UI which looks very different from the iOS and Android UI and does not offer ease of usage and customizing the UI. But this time, Nokia has come up with some applications that can make some difference of using Windows Phone 8-powered smartphones such as Cinemagraph, HERE Maps, HERE City Lens, Smart Shoot, HERE Drive+, Nokia Care and Nokia Music. However, the platform cannot compete with the number of apps that the iOS and Android operating system offer and also suffer from long unsolved problem of not having a common notification hub. The WP 8 OS does not feature true multitasking and as a result apps like Twitter and IM+ are unable to show the recent updates unless you use them personally. The new WP 8 OS is very low memory consuming and resource efficient; and we never faced low memory issue.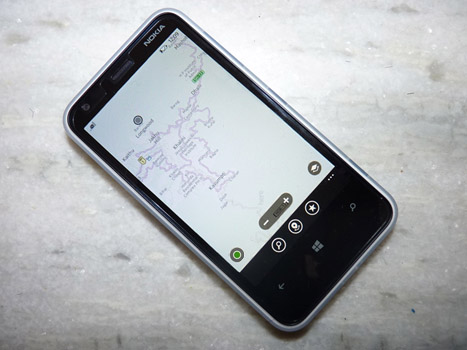 The positive side of Nokia's proprietary apps bring freshness to the software. HERE Maps app is very much accurate and easy to use and even better than Google Maps, but Nokia loses out at the time of covering the detailing part such as names of business, data/landmarks added by users; that the Google offers better. The Here Drive+ app is reliable and offers valuable complete offline driving navigation which we loved a lot. There are also softwares for professionals like an efficient email client, Skype integration and the mobile version of Microsoft Office. And again we are satisfied with the applications that the device offers, but our request will be not to compare Lumia 620 with other smartphones specially running on Android OS as both have some unique functionality.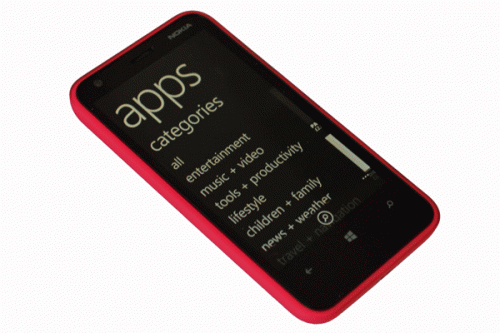 Nokia Lumia 620 Performance
Now, coming to the hardware part; Lumia 620 features a Dual Core Qualcomm Snapdragon S4 Krait processor clocked @1GHz, 512MB of RAM and a Adreno 305 GPU. It has 8GB of internal memory and you can expand it up-to 64GB with the support of external microSD card. The phone also has a 7GB SkyDrive space for uploading files in the cloud storage. As we mentioned earlier, WP 8 is not a resource hungry operating system and with 512MB of RAM the device did not lag for once while we were reviewing.
We have unique Nokia Music app comes with a free one year of subscription which is something worth checking out. The music and video player are decent and does not lack anything and we played Full HD 1080p videos easily without any rendering issue. Watching YouTube HD video clips over high speed Wi-Fi network was also a great experience for us. Browsing webpages on the native HTML5 browser was good experience, pages were loaded in real time and pinch to zoom in / out feature worked perfectly. The external speaker audio output in Nokia Lumia 620 was good. We have played some HD games on this handset without any issue or problem. This phone does not feature FM radio, a common feature used quite a lot these days and WP 8 OS does not support it practically.
Nokia Lumia 620 Camera
The Nokia Lumia 620 sports a 5 Megapixel auto-focus rear camera with LED flash that offers the Cinemagraph and SmartShoot features. Take a good look at Lumia 620 camera samples above. Now, you can capture images of friends without giving any expression and animate them later by adding smiles, etc with Cinemagraph which allows you to bring life and motion to still images. You can also take a series of pictures at one time and store the best one with the help of SmartShoot feature. Camera's zoom in capability is up to 4x. The images we took indoors as well as outdoors were not satisfactory as the images lack of true colors and also had poor detailing. Under low-light with flash, images suffered from slight noise. It also has a secondary VGA camera with a resolution of 640×480 pixels that is convenient for video conference and chatting. The rear 5 Megapixel camera is capable of video recording with a resolution of 1280×720 pixels @30 fps. We feel, at this price tag camera's image quality is acceptable but not up to the mark.
Connectivity
The Lumia 620 supports quad-band GSM and 3G networks. The in call quality was great with no signal loss. The voice clarity of the mic and the ear speaker were good and network reception was satisfactory on both GSM & 3G network. The phone has a 1300mAh BL -4J removable battery under its hood and lasted us a full day with heavy usage during the review. We had to charge it in the night and it usually took 1 – 1.5 hr to complete the charging with the microUSB charger. We are little bit concerned with this low battery capacity but Nokia have assured us a stand by time up to 330 hr and talk time up to 14 hr 40 min on GSM & 9 hr 50 min on 3G network, respectively. There is a battery saver option available in the settings. It has other connectivity features such as NFC, Bluetooth v3.0 with A2DP& EDR, GPRS of Class B, Edge of Class B, 3G data bearer speed of HSDPA, 21 Mbps; HSUPA, 5.76 Mbps, microUSB v2.0 and Wi-Fi 802.11 a/b/g/n, dual-band. It has A-GPS with a quick lock, thanks to GLONASS; along with the ambient light sensor, the accelerometer, proximity sensor and a compass sensor which worked perfectly.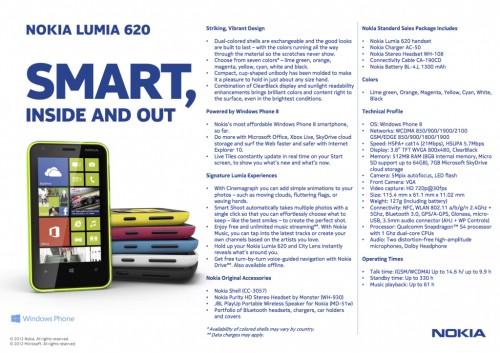 Verdict: Nokia has released their new Lumia 620 at the mid-budget segment priced at Rs.14,999/-, which is vastly dominated by the Andoid based smartphones of various mobile companies. But in this price segment, big screen Android phablets are available and some of them come under INR 10,000/- with Dual core processor and 1GB of RAM. Buyers can also taste the newly launched Android based Micromax Canvas HD A116 having 1.2GHz Quad Core Processor priced at INR 13,999/- and Xolo A1000 features stunning 2GHz Intel Atom processor priced slightly higher than Lumia 620 at INR 19,999/-. This is a fact which nobody denies that Android base device has many cool applications and also supports customization of UI if we compare to Windows base phone. We also assume the camera image quality could have been better and true multitasking with the ability to update the social media apps should have been given. But, if you want to have different looking UI with Windows powered OS then you can go for this handset and believe us this phone does provide some premium camera features along with Nokia's own premium applications that cannot be found elsewhere. According to our views, Lumia 620 is an affordable smartphone at this price range.
Rating: Our rating is [sch i="reviewRating" c="3″] out of 5. – Review by [sch i="author" c="Shubhrajit Chakraborty"].
Disclaimer: Nokia Lumia 620 review is written based on inputs from various sources.